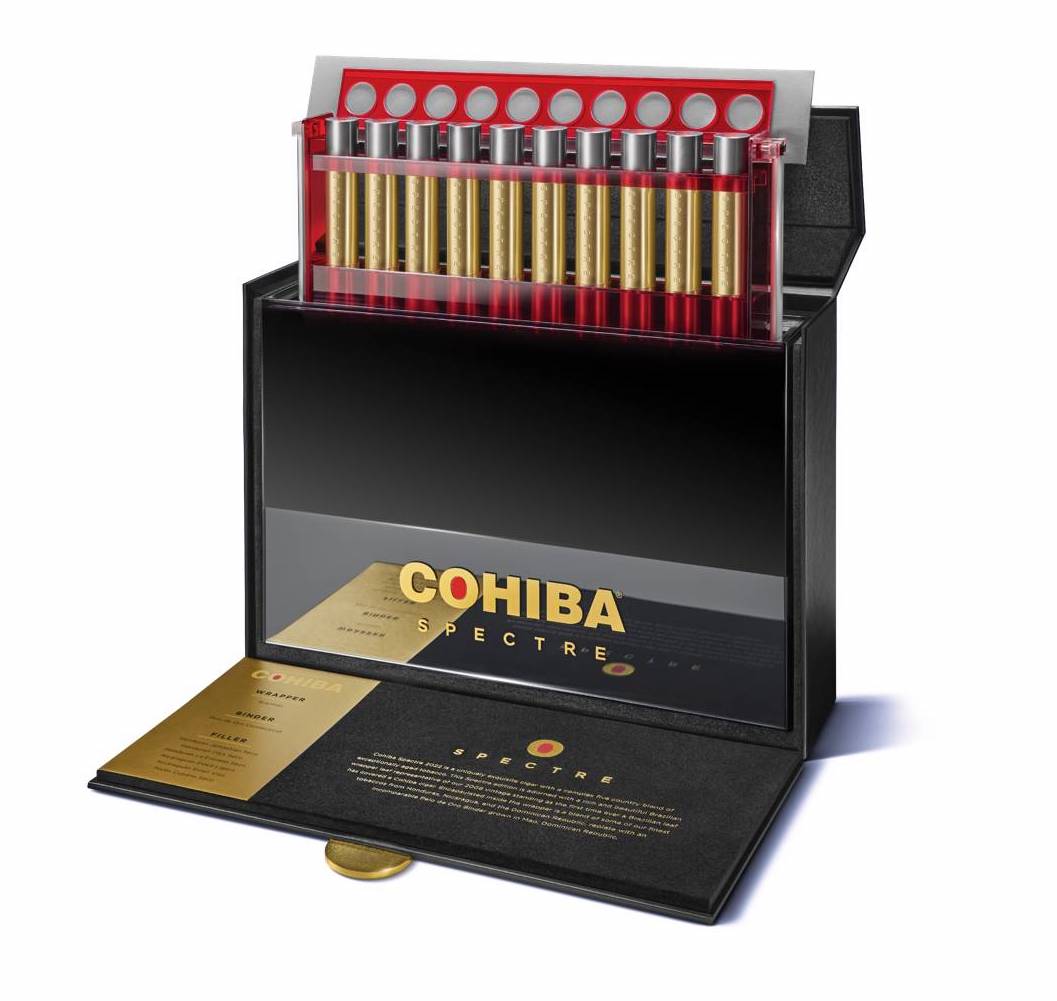 While it's a little late, General Cigar Company has announced the fourth installment of its ultra-premium Cohiba Spectre line, the Cohiba Spectre 2022.
Cohiba Spectre first made its debut in 2018 and is the most premium offering under General Cigar to date. There has been a 2019, 2021, and now a 2022 installment. Each contains a different blend and packaging. Like the previous installments, the Cohiba Spectre 2023 is a one and done release.
The Cohiba Spectre 2022 contains tobaccos that have had proprietary aging and fermentation techniques applied to them. The cigar contains a Brazilian wrapper harvested in 2008 – marking the first time a Cohiba cigar has used a wrapper from Brazil. The binder is described as hybrid of Pelo d'Oro and Connecticut seed grown in the Mao region of the Dominican Republic. The fillers consist of Honduran Jamastran, Olancho San Agustin, and La Entrada, with Nicaraguan Estelí Ligero and Viso leaves blended in harmony with Dominican Piloto Cubano. The Cohiba Spectre 2022 comes in one size -a 6 x 52 Toro. The cigars were crafted by two pairs at General Cigar Dominicana: Ms. Carmen Carolina Toribio (roller) and Mr. Bernavel Sanches(buncher); and Ms. Isabel Rodriguez (roller) with Ms. Rosmery Gomez (buncher).

A total of 600 ten-count boxes were produced. The presentation is one of the most unique to date. Beneath the soft-touch matte box, a customized hydraulic system elevates the collection of cigars, each protected in individual gold and silver tubes and enhanced with exclusive individual humidification from Integra Boost.
It is also the most expensive Cohiba under the General Cigar brand to date. Each cigar has an SRP of $129.99 and a box will cost $1,299.90.
In a press release Sean Williams, brand ambassador for Cohiba said, "Cohiba Spectre 2022 embodies our tradition of creating exceptional smoking experiences. We spent two years developing this extraordinary cigar, calling upon our passion for tobacco, commitment to craftsmanship and our love of design. As with previous Cohiba Spectre releases, the 2022 expression is peerless, and can never be replicated."
At a glance, here is a look at the Cohiba Spectre 2022:
Blend and Origin
Wrapper: Brazilian
Binder: Hybrid Pelo d'Oro Connecticut grown in Mao region of Dominican Republic
Filler: Honduran (Jamastran, Olancho San Agustin and La Entrada), Nicaraguan (Esteli Ligero and Viso), Dominican Piloto Cubano
Country of Origin: Dominican Republic
Vitolas Offered
Toro: 6 x 52
Photo Credits: Scandinavian Tobacco Group
Note: An initial press release had this cigar branded as the Cohiba Spectre 2023. General Cigar sent out a follow-up indicating the branding should be Cohiba Spectre 2022. Information was also corrected in regards to the binder.