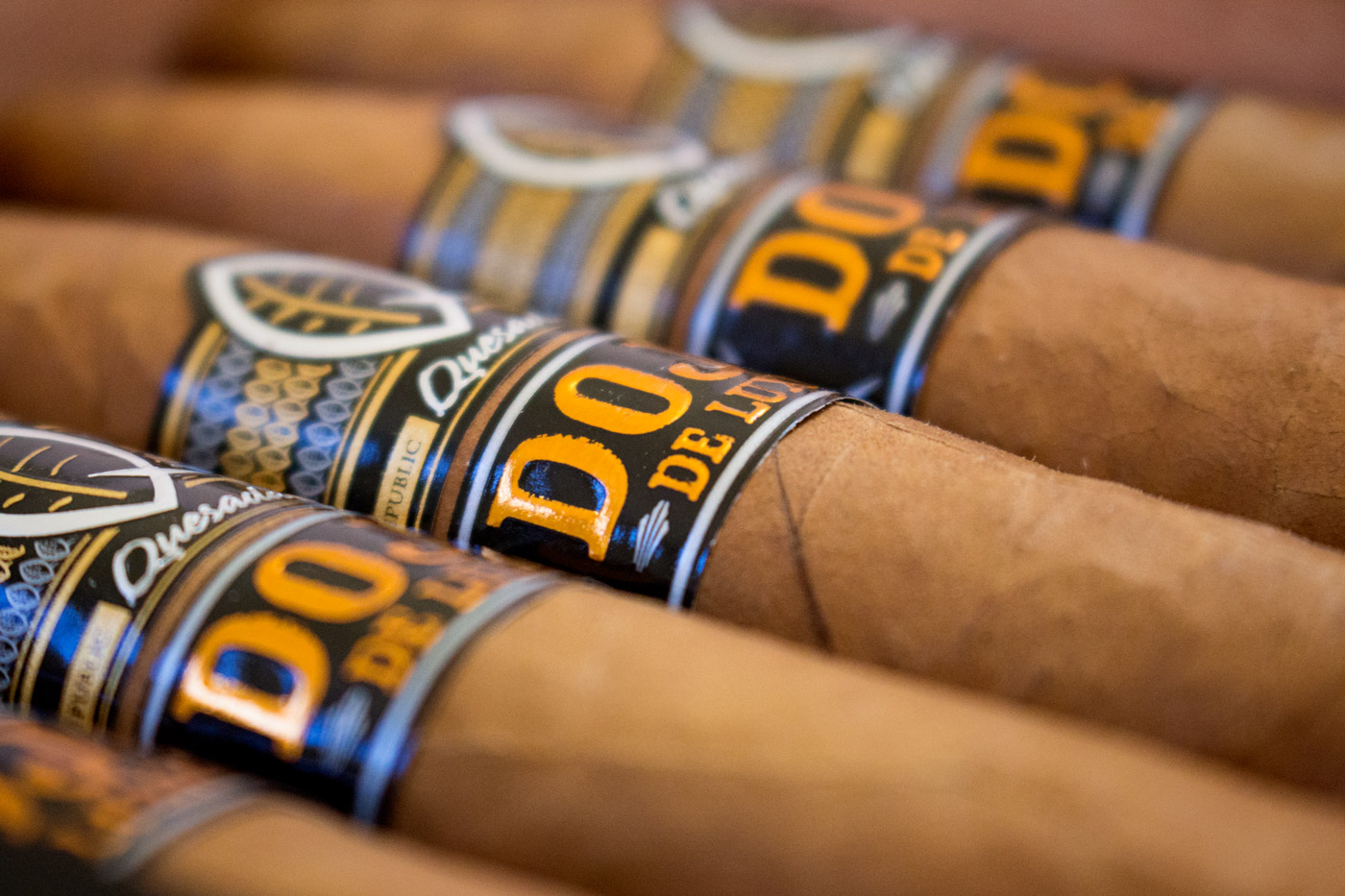 Cigar Dojo, the first and largest social cigar application / community has announced its sixth limited edition collaboration. This time Cigar Dojo is teaming up with Quesada Cigars for the Quesada Dojo de Luxe. The cigar will make its debut on February 17th at a pre-event dinner in Boynton Beach, Florida the night before The Great Smoke 2017 event. The cigar will then be available exclusively through Smoke Inn beginning March 3rd.
The Quesada Dojo de Luxe is based on the Quesada 40th Anniversary Corona Clasica blend. Blended by Master Blender Manuel (Manolo) Quesada, the Corona Clasica was released as a limited edition special off-shoot of the Quesada 40th Anniversary It was originally released in a Corona size. Last year, a second limited edition Quesada 40th Anniversary was released to Small Batch Cigar in a form of a Petit Belicoso. The new Dojo de Luxe size introduces a new 5 3/4 x 52 perfecto based on the original Corona Clasica blend.

Previous collaborations include: Undercrown Dogma with Drew Estate, Sensei's Sensational Sarsaparilla and Sarsaparilla II with Espinosa Cigars, Intemperance Whiskey Rebellion 1794 with RoMa Craft Tobac, and Viaje's Throw Down done in conjunction with Cigar Federation. With the Quesada 40th Anniversary Dojo de Luxe, the plan was to move away from the fuller and maduro cigars that Cigar Dojo had previous collaborated on.
"After creating several special releases that feature maduro tobacco (such as the Undercrown DOGMA), we were eager to explore something different, something classic and Cubanesque. We knew that Quesada Cigars would be the perfect company to create exactly what we were looking for. The blend, the vitola, everything about the Dojo de Luxe pays homage to an era gone by," commented Eric Guttormson, owner of Cigar Dojo.
Terence Reilly, brand manager at Quesada, commented, "The Quesada Dojo de Luxe uses the same components as the Quesada 40th Corona Clasica, a blend crafted by my uncle Manuel Quesada to satisfy his own personal tastes. It's a cigar that brings intense flavors to the palate yet remains smooth and balanced enough to be enjoyed as the first cigar of the day. Truly a superb smoke."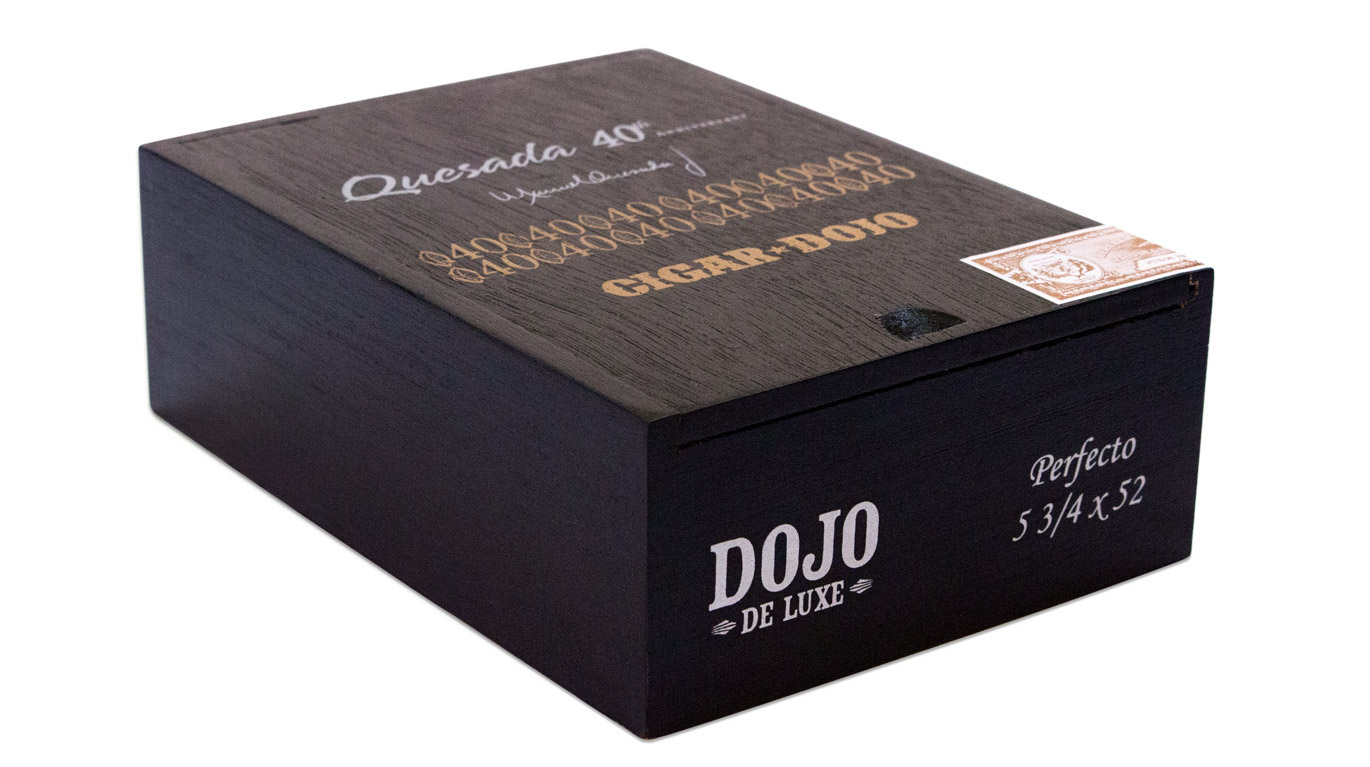 The Dojo de Luxe will be packaged in ten count slide top boxes with a total production of 500 cigars.The cigars will feature a special "Dojo de Luxe" secondary band as well. Pricing is set at $99.99 per box.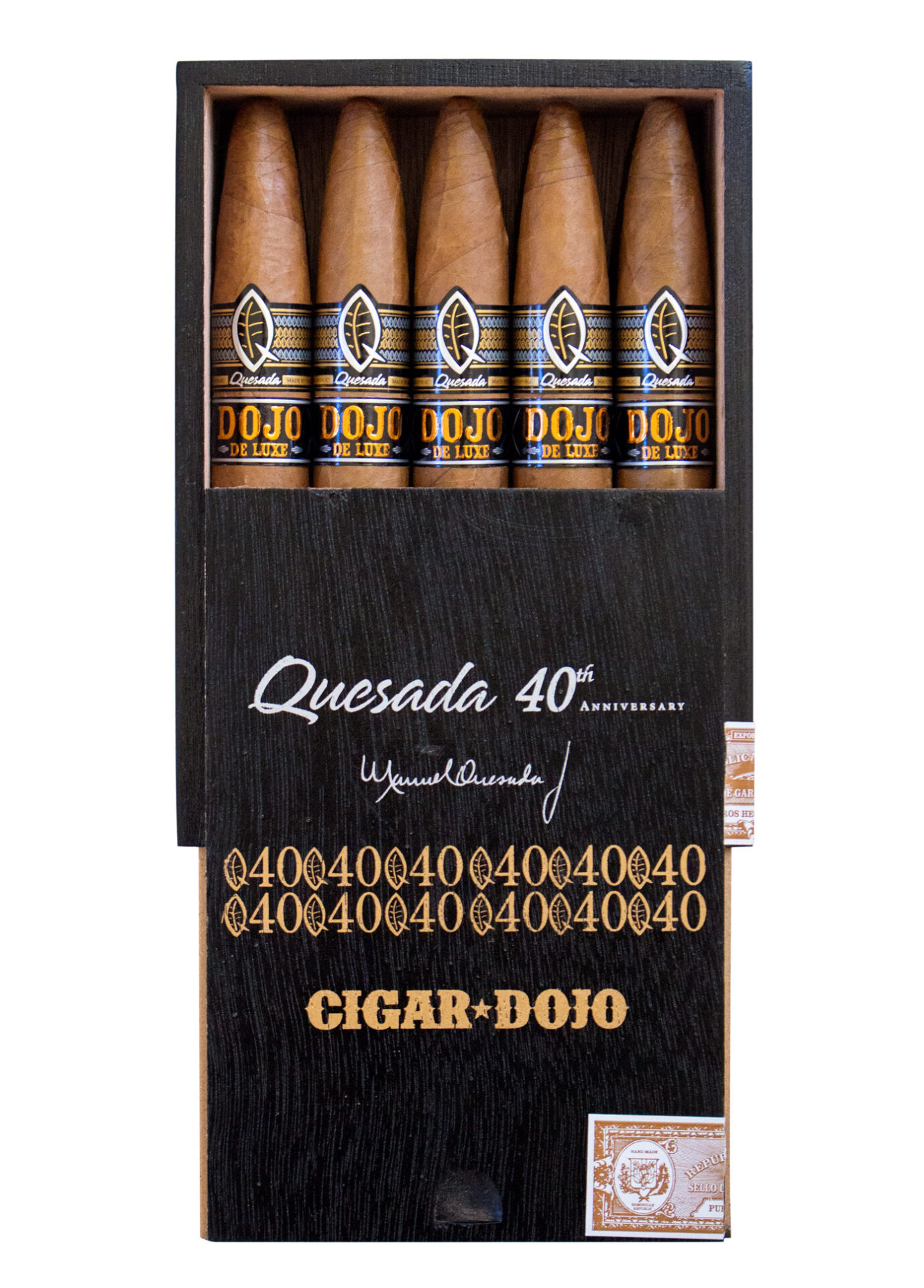 This is also the second Cigar Dojo collaboration to be distributed through Smoke Inn. In 2014, the Undercrown Dogma was also sold through the South Florida retailer. When asked about the latest Dojo collaboration, Abe Dababneh, proprietor of Smoke Inn replied, "At Smoke Inn, we're always on the lookout for unique smoking experiences for our passionate customers. Having worked with both Quesada and Cigar Dojo in the past, we knew instantly that Dojo de Luxe would be the perfect fit—an all-star collaboration between these three, innovative companies that consumers could easily identify with!"
At a glance, here is a look at the Quesada Dojo de Luxe:
Blend Profile
Wrapper: Ecuadorian Connecticut
Binder: Dominican
Filler: Dominican
Country of Origin: Dominican Republic (Quesada Cigars SA)
Vitolas Available
The Dojo de Luxe is a 5 3/4 x 52 perfecto. Other releases in this blend have been the Corona Clasica (6 1/2 x 46) and Petit Bellicoso Clasica (4 1/2 x 46)
Photo Credits:  Supplied by Quesada Cigars and Cigar Dojo