---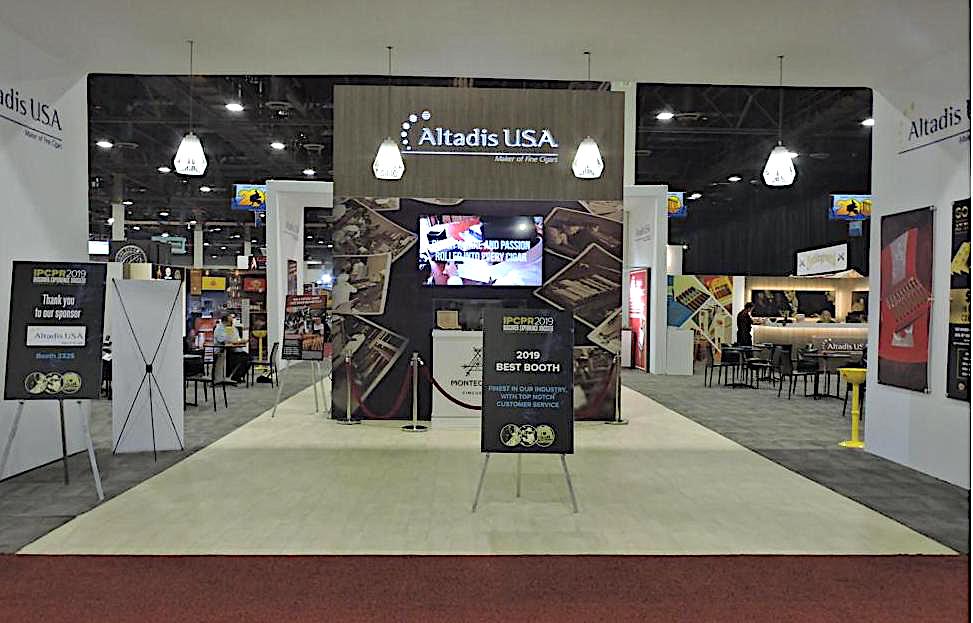 When it comes to anniversary years in the cigar industry, Altadis U.S.A was in a more unique situation than most companies in that it was celebrating three major anniversaries: H. Upmann's 175th anniversary, Trinidad's 50th anniversary, and the 50th anniversary of Tabacalera de Garcia, the largest cigar factory in the world. While it's no secret changes are coming to Altadis and its parent company Imperial Brands' announcement they are divesting of the premium cigar business, you wouldn't know it from this year's IPCPR as there was plenty of exciting products being offered.
One interesting thing was that it was a quiet year for Romeo y Julieta in terms of new offerings, but there were several other active brands.
Montecristo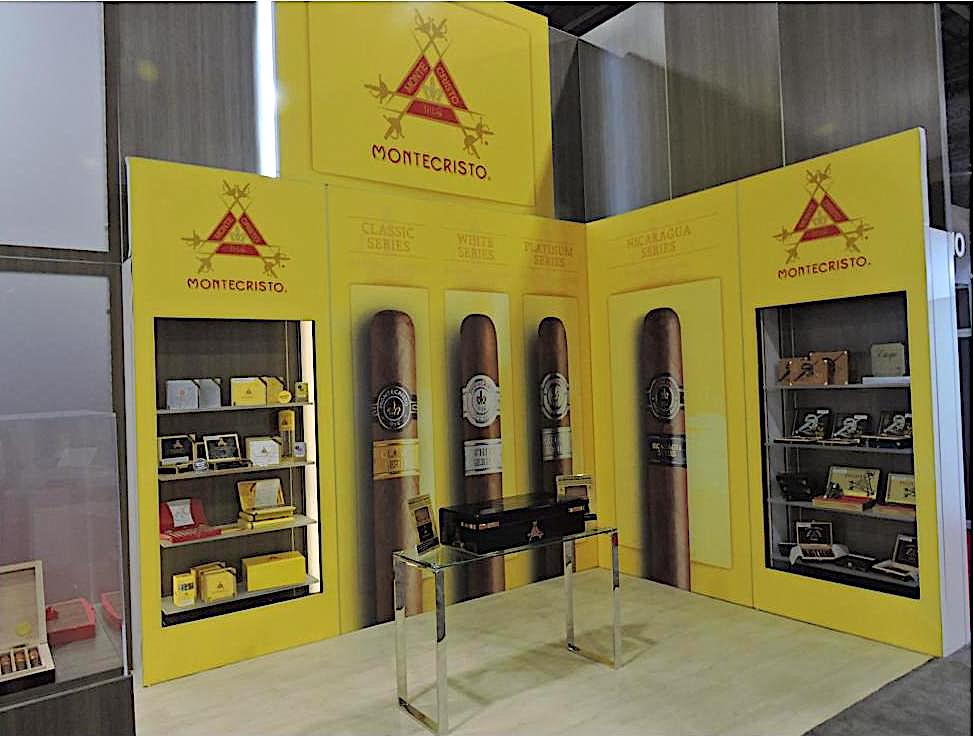 The Montecristo brand is one that is always in the forefront of Altadis U.S.A.'s exhibit and this year is no exception The featured product was the Montecristo Cincuenta, the cigar that is commemorating the 50th anniversary of the Tabacalera de Garcia factory.
Altadis turned to Elle Bleu to create a commemorative 100-count humidor. According to Altadis, the humidor is made using a method called marquetry, placing individual and shaped pieces of wood together. A total of 75 humidors were produced – each containing 100 Montecristo Cincuenta cigars in a 6 1/4 x 54 No. 2 figurado size. The price for these units is $10,000 USD.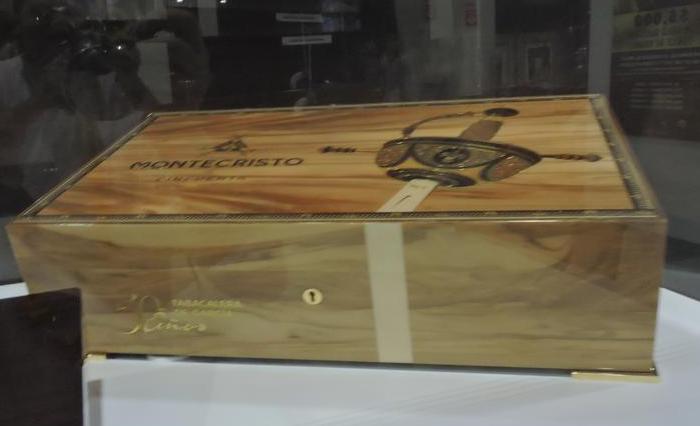 Altadis is also making a version of the Cincuenta available in ten-count boxes featuring a 6 x 50 Toro size. A total of 8,000 boxes were produced and pricing is set at $35.00 per cigar or $350.00 per box.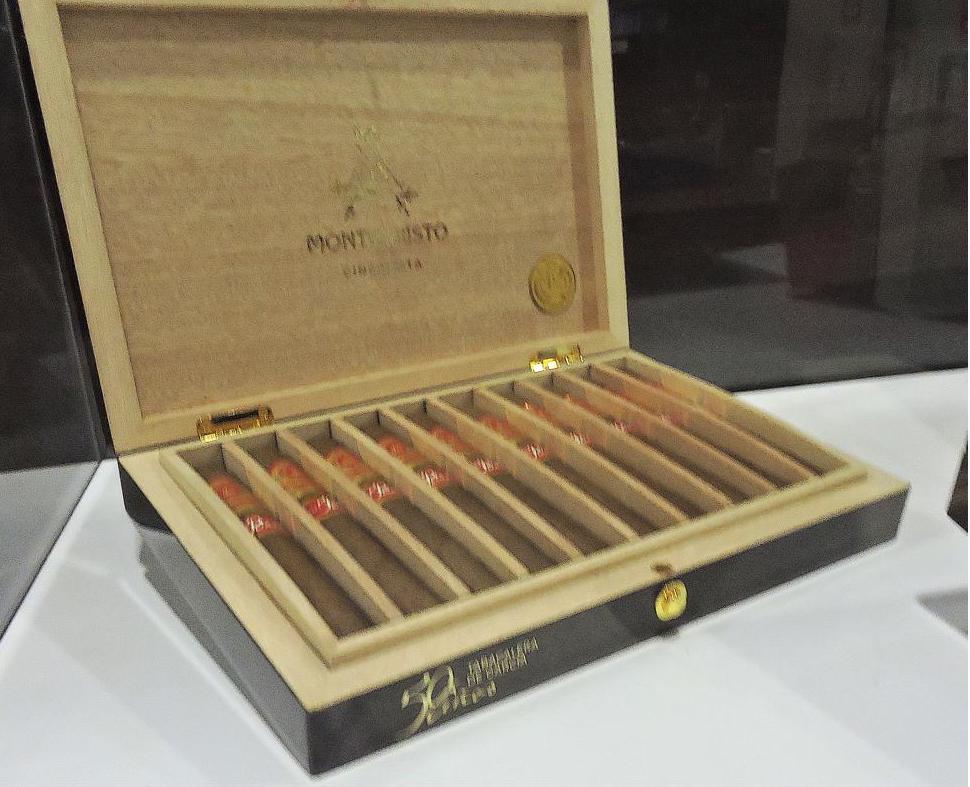 Prior to IPCPR, Altadis U.S.A. released a new offering under its Montecristo Espada line, the Montecristo Espada Oscuro. The Montecristo Espada line was first introduced in 2014 and it became the first Nicaraguan made Montecristo. Like the original Espada, the Montecristo Espada is also a Nicaraguan puro produced at Plasencia, but it uses a special Habano Rosado Oscuro wrapper that was uncovered at the Plasencia factory.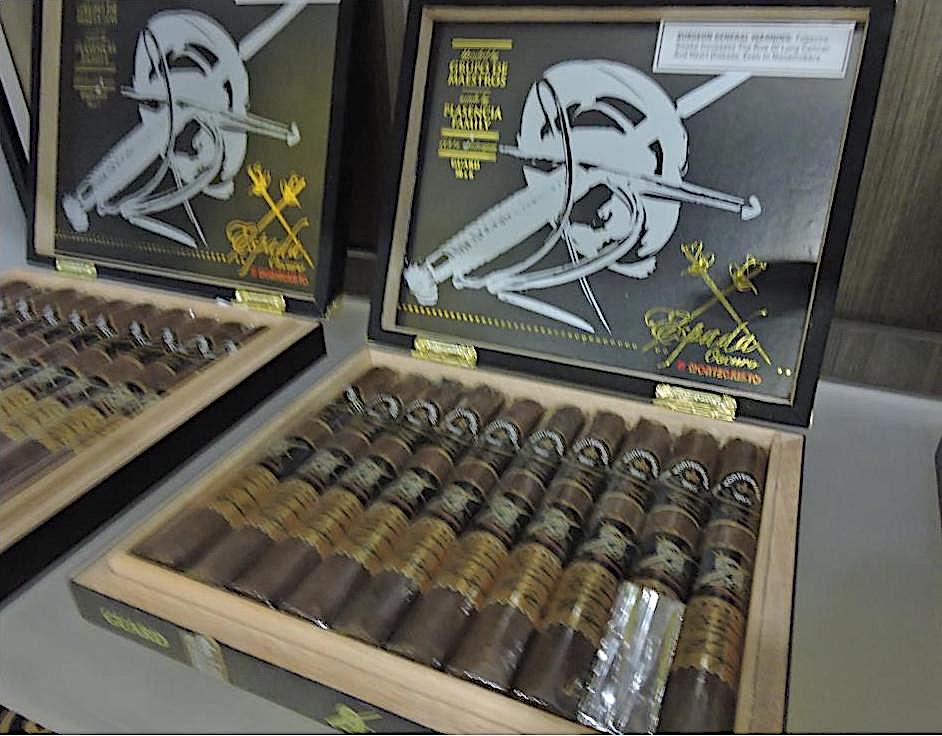 There were a couple of limited edition Montecristo Cigars that made a return. Under the Montecristo Espada line is the return of the Estoque. It's a cigar last released in 2017. Like the regular production Espada, the Estoque is also a Nicaraguan puro. At the same time, the Estoque features a completely different blend than the regular Espada offering. The Estoque comes in one size – a 6 x 50 Torpedo that the same format as the Montecristo brand's No. 2 format. The cigar is being released in a slightly different box design.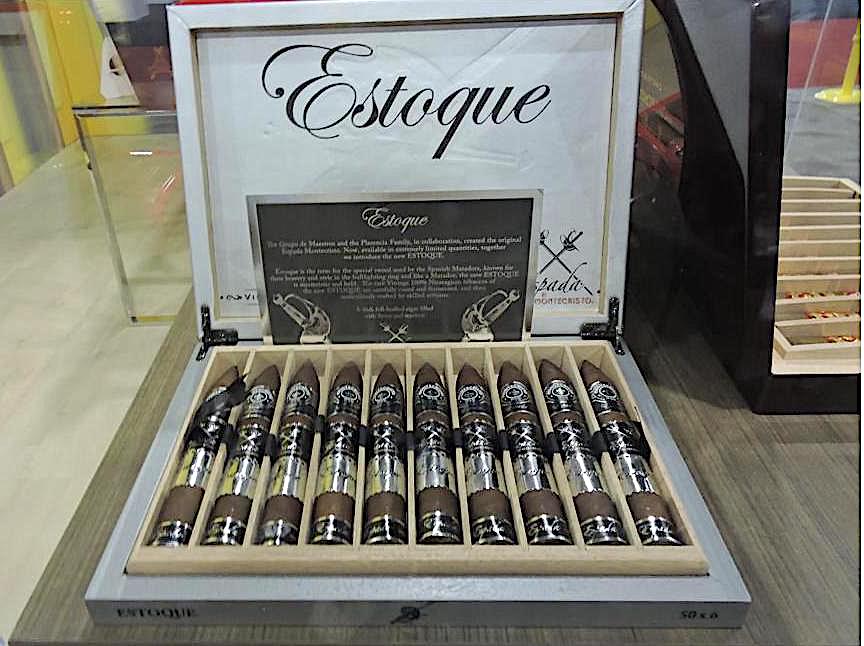 Returning for the first time in seven years it he Montecristo Epic No. 2. It's also a cigar in the Montecristo's iconic No. 2 Torpedo format. it uses a slightly tweaked blend from the original Montecristo Epic line.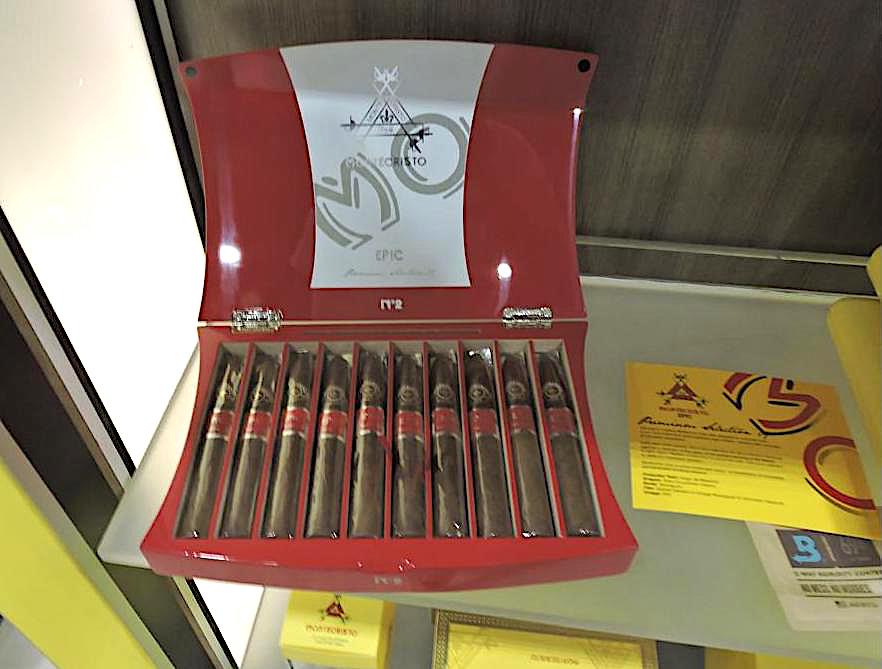 H. Upmann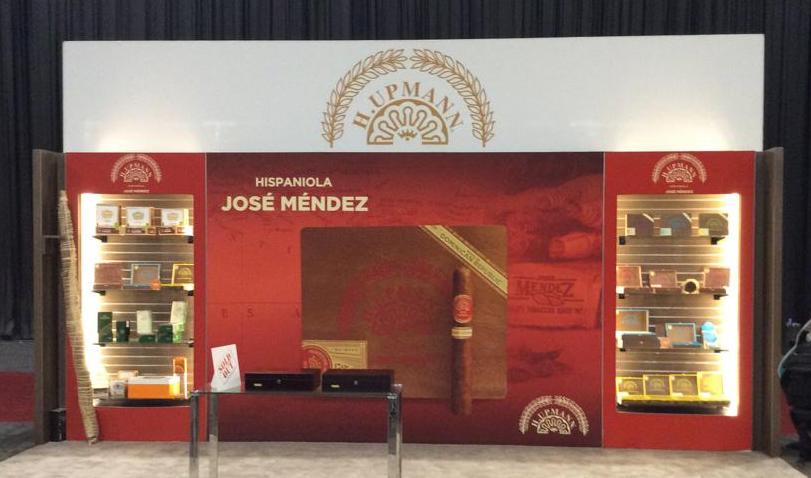 Last year, Altadis started preparing a year early for H. Upmann's 175th anniversary with the release of the H. Upmann Connecticut Grupo de Maestros. This year the party was on. Being featured center stage was the H. Upmann 175th Anniversary. For the 175th Anniversary cigar, Altadis U.S.A. turned to AJ Fernandez, who has been involved in several projects for the company, including the H. Upmann Nicaragua by AJ Fernandez. Fernandez delivered a Nicaraguan puro featuring a high priming Media Tiempo wrapper (a priming that grows above the ligero leaves on a very small percentage of plants.
The H. Upmann 175th Anniversary comes in one size – a 7 x 50 Churchill priced at $18.00 SRP per cigar. A total of 14,750 ten-count boxes will be made. In addition, 50 special 50-count humidors containing the cigar will also be made available retailing at $1,250.00 per unit.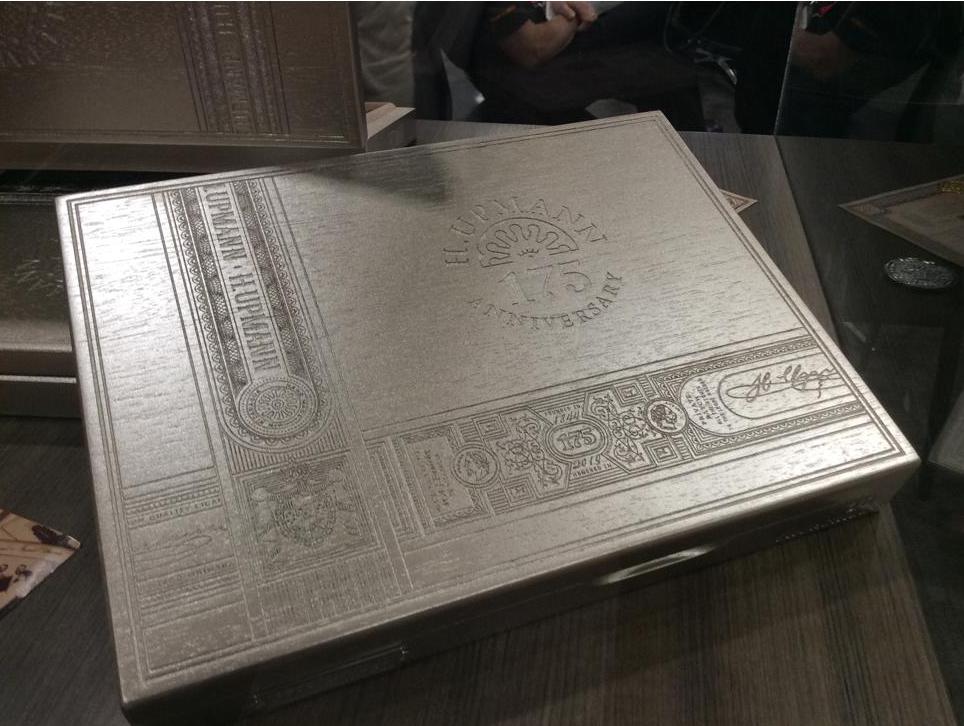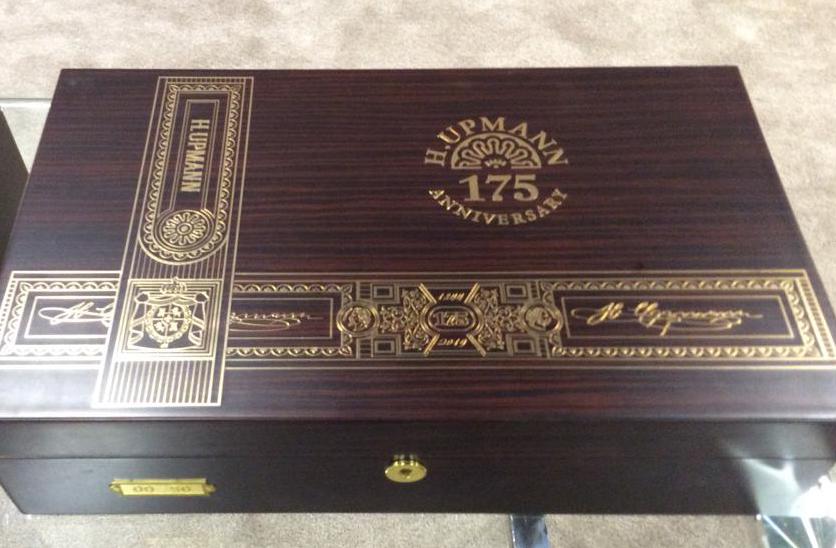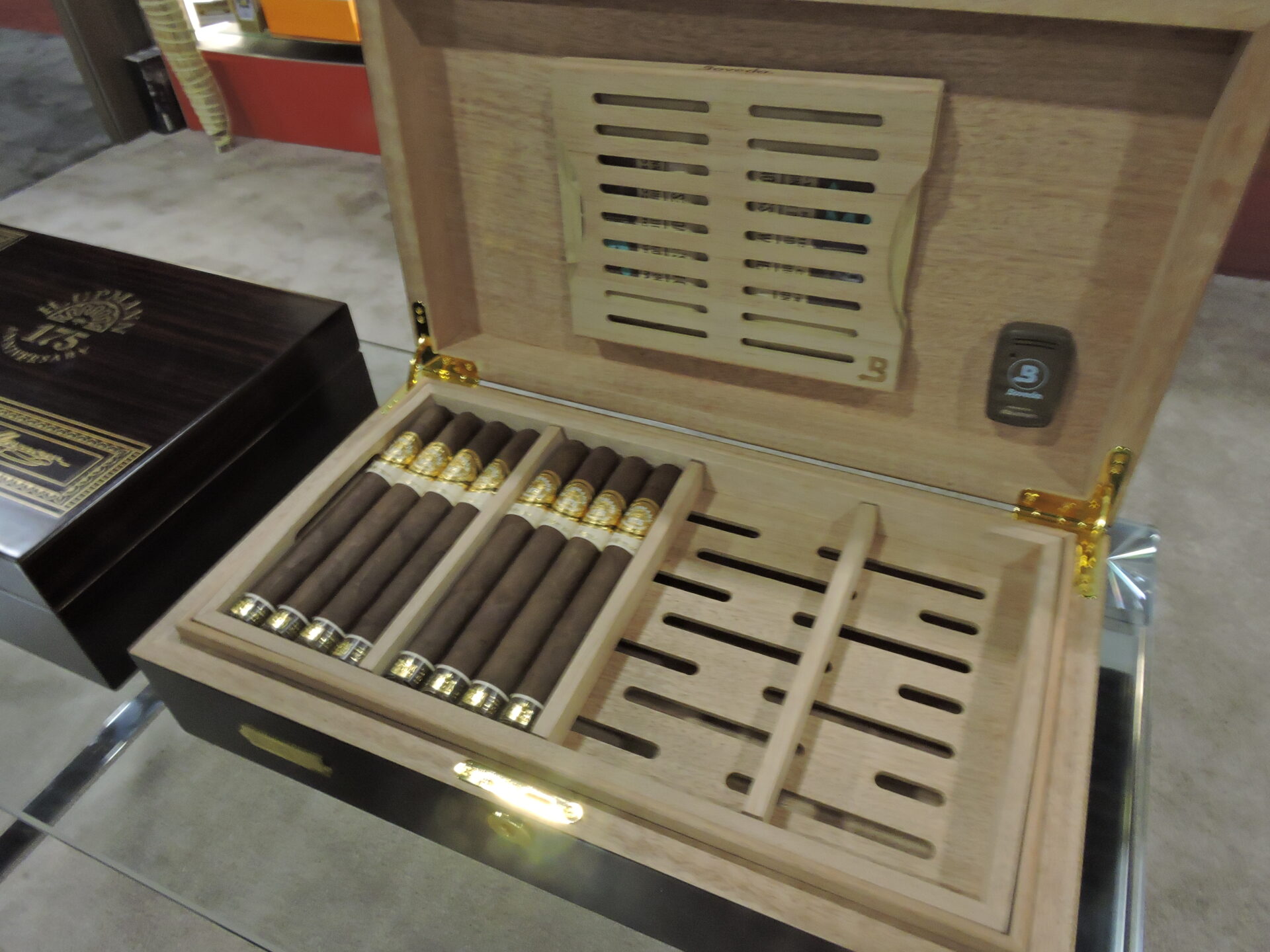 There also is a new regular production cigar called H. Upmann Hispaniola by Jose Mendez. This is a cigar being made in the Dominican Republic in conjunction with the Mendez family. The blend showcases different tobaccos from that island. The Dominican tobacco comes from Jose Mendez & Co, a tobacco brokerage operation that Altadis has worked with before. One tobacco that is leveraged is proprietary tobacco to the Mendez family known Pilotico. This tobacco has been previously made available to Altadis for the Montecristo 80th Anniversary, and Montecristo Pilotico Pepe Mendez projects. The tobacco came from company founder José "Pepe" Mendez. Mendez came from a tobacco family in Cuba. At the time of the 1959 Cuban Revolution, Mendez would flee Cuba, taking some tobacco seeds with him known as Pilotico. Eventually, Mendez settled in the Dominican Republic where he started growing the Pilotico seed in the Cibao region.
Another tobacco used in the filler is Dominican Andullo tobacco. Andullo tobacco undergoes a very different curing process than traditional cigar tobacco leaves.  This involves putting tobacco leaves in palm seed pods.  The pods are then wrapped in rope causing the Andullo tobacco to compress into a thick bar almost looking like a roll of salami.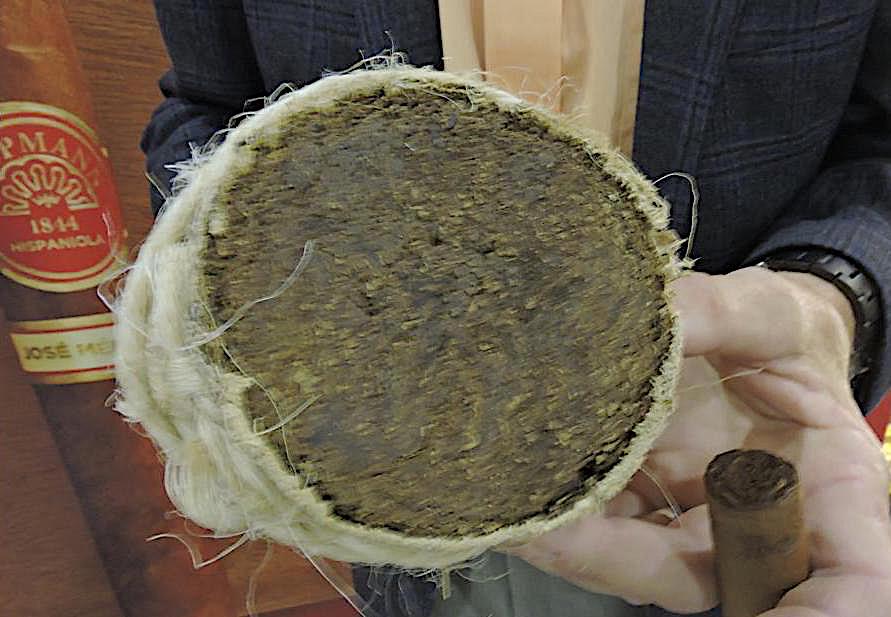 The Pilotico and Andullo tobacco are combined with Nicaraguan tobacco in the filler. A Dominican Olor binder and Ecuadorian Habano wrapper are used to round out the blend. The H. Upmann Hispaniola by Jose Mendez is available in three sizes – each in 20-count boxes.
In 2017, H. Upmann introduced H. Upmann Nicaragua by AJ Fernandez – the first H. Upmann to be made in Nicaragua by AJ Fernandez. The line features an Ecuadorian Sumatra wrapper and has gone on to become one of the most successful H. Upmann cigars in recent years. This year, a new size called Papi was introduced. Papi is a 4 x 38 offering that is entirely hand made and packaged in six-count tins.
Trinidad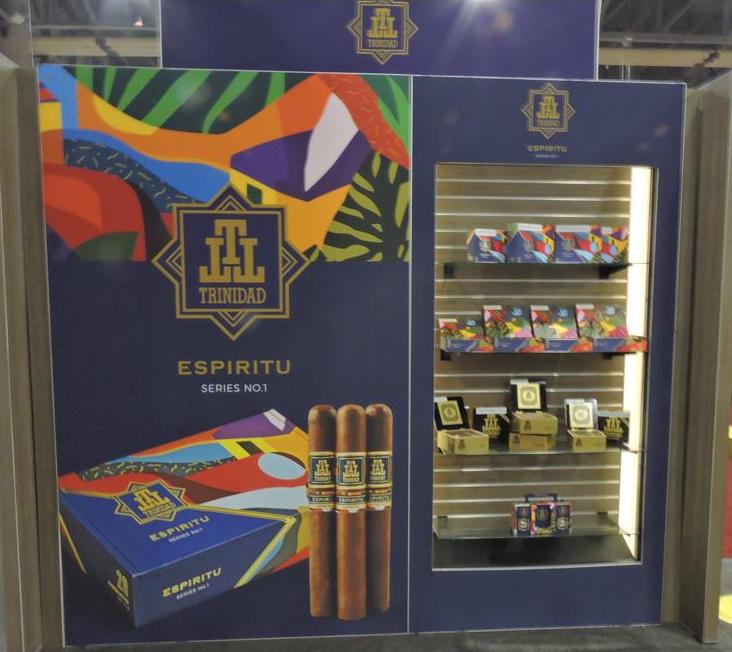 Trinidad is a brand that had been one of the less active brands. In 2017, Altadis released its first Trinidad offering in five years with Trinidad Santiago. This year, being Trinidad's 50th anniversary, Altadis had a major release with the Trinidad Espiritu. It's another cigar being made by AJ Fernandez, and it's the first blend done for Trinidad. While made in Nicaragua, the cigar pays homage to Caribbean culture. In fact, Altadis created a Spotify Channel at www.TrinidadEspirituMusic.com with accompanying Carribbean music. The cigar had a launch just before the IPCPR Trade Show opened.
Espiritu is available in four regular sizes (Robusto, Toro, Gordo, and Belicoso) plus an event only lancero size.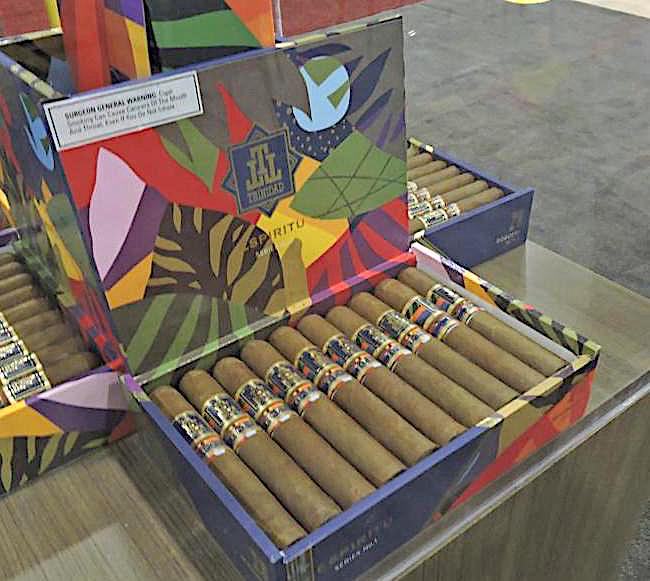 Henry Clay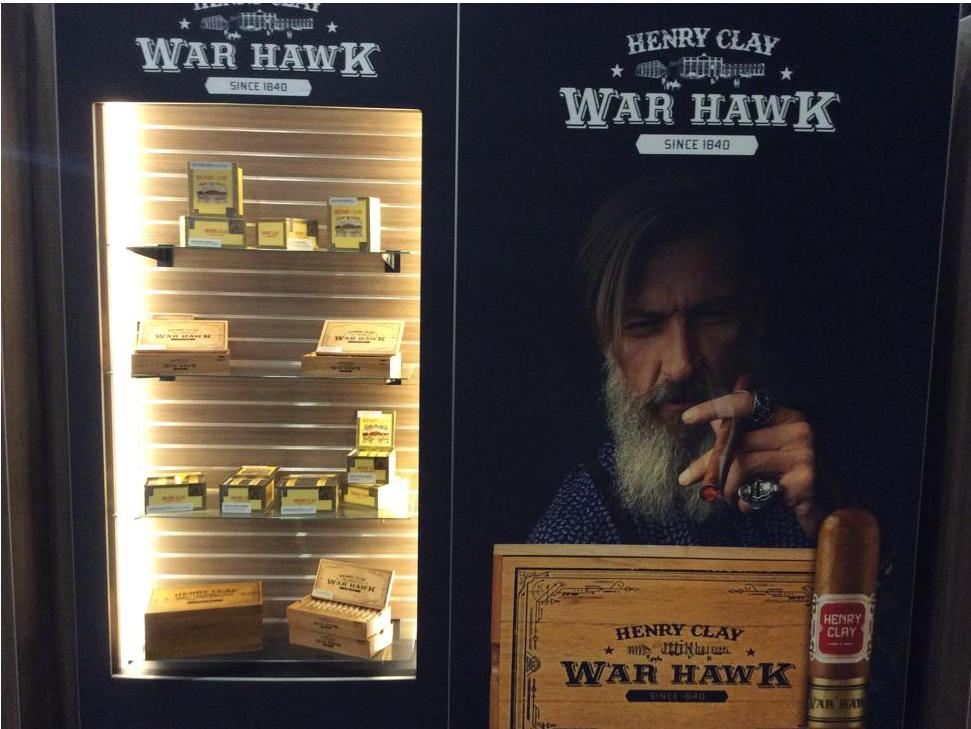 Earlier this year, Altadis released a new addition to its Henry Clay line known as the Henry Clay War Hawk. The cigar is intended to be the first of a three-part series of cigars called the Immortal Trio. The Henry Clay War Hawk will introduce an Ecuadorian Connecticut Shade wrapper offering to the Henry Clay brand.  This cigar was showcased at this year's IPCPR.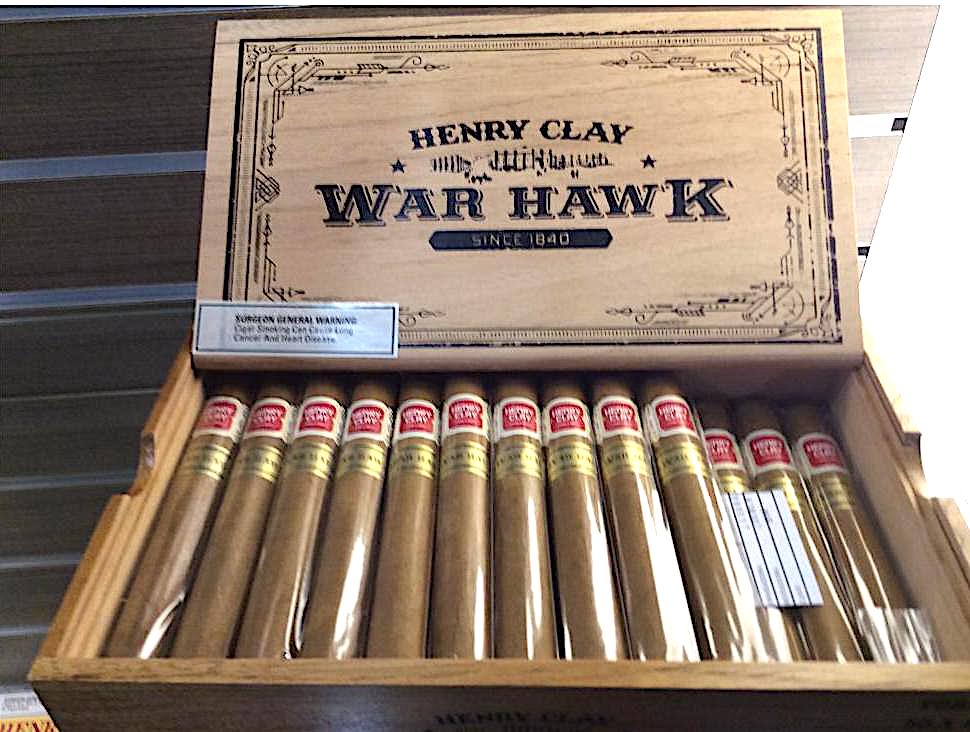 Aging Room Cigars
Altadis has been distributing Boutique Blends Cigars for the past three years. Once again, Boutique Blends was a part of the Altadis exhibit. We covered Boutique Blends in a separate spotlight report.
VegaFina
While there was no new VegaFina product for the U.S. featured, we were able to award Altadis President Rob Norris the 2018 #3 Cigar of the Year award for the VegaFina Añejado 7 Años Robusto Extra Pigtail.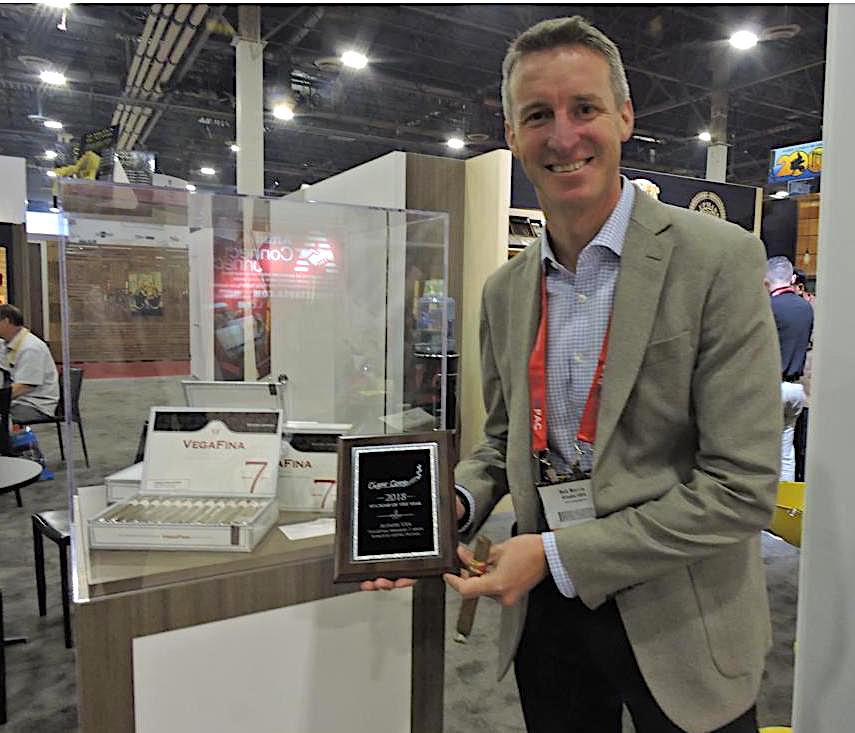 Gold Bullion Giveaway
Altadis U.S.A is known for some unique incentives for retailers making purchases at IPCPR. This year there was a drawing to win gold bullions.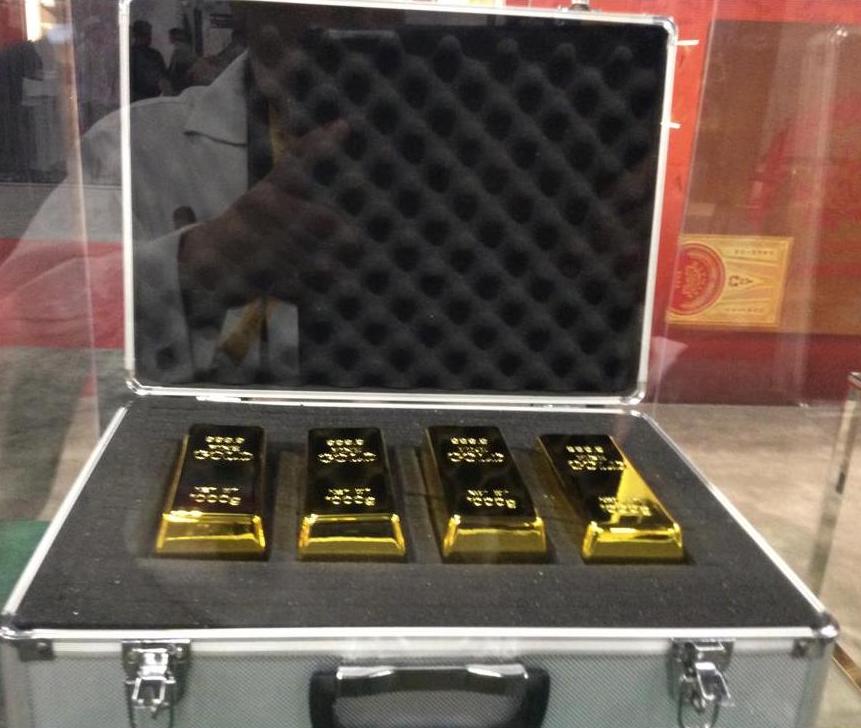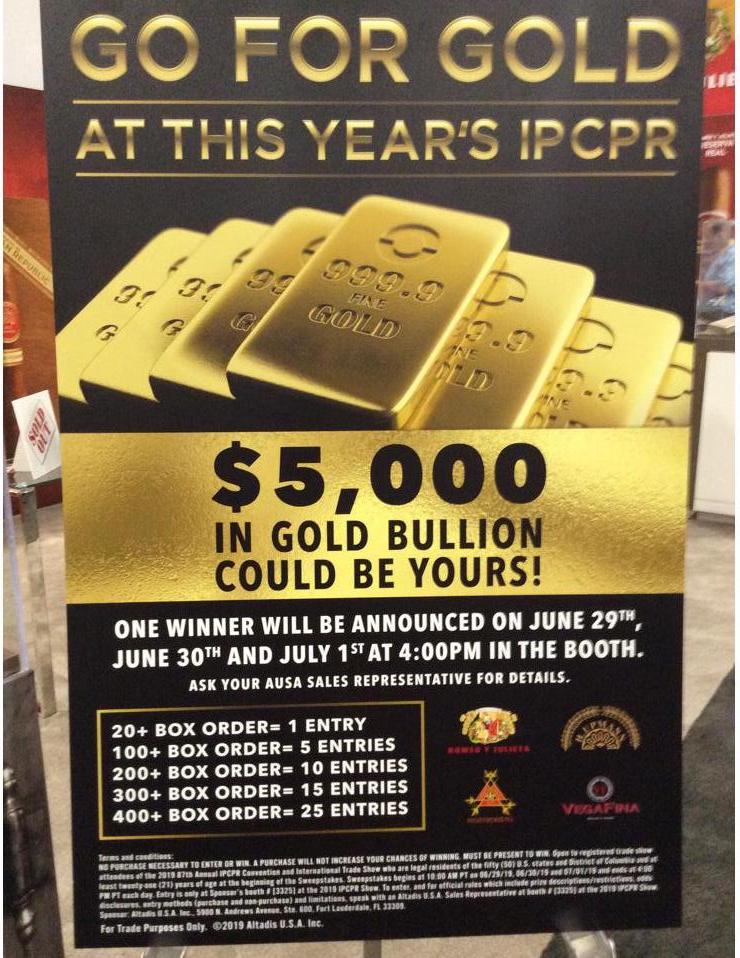 Finally a few weeks after the 2019 IPCPR Trade, we interviewed Altadis' Head of Product Capability Rafael Nodal on Episode 105 of the Prime Time Show.
IPCPR 2019 Product Reports
Photo/Video Credits: Cigar Coop, except where noted.