---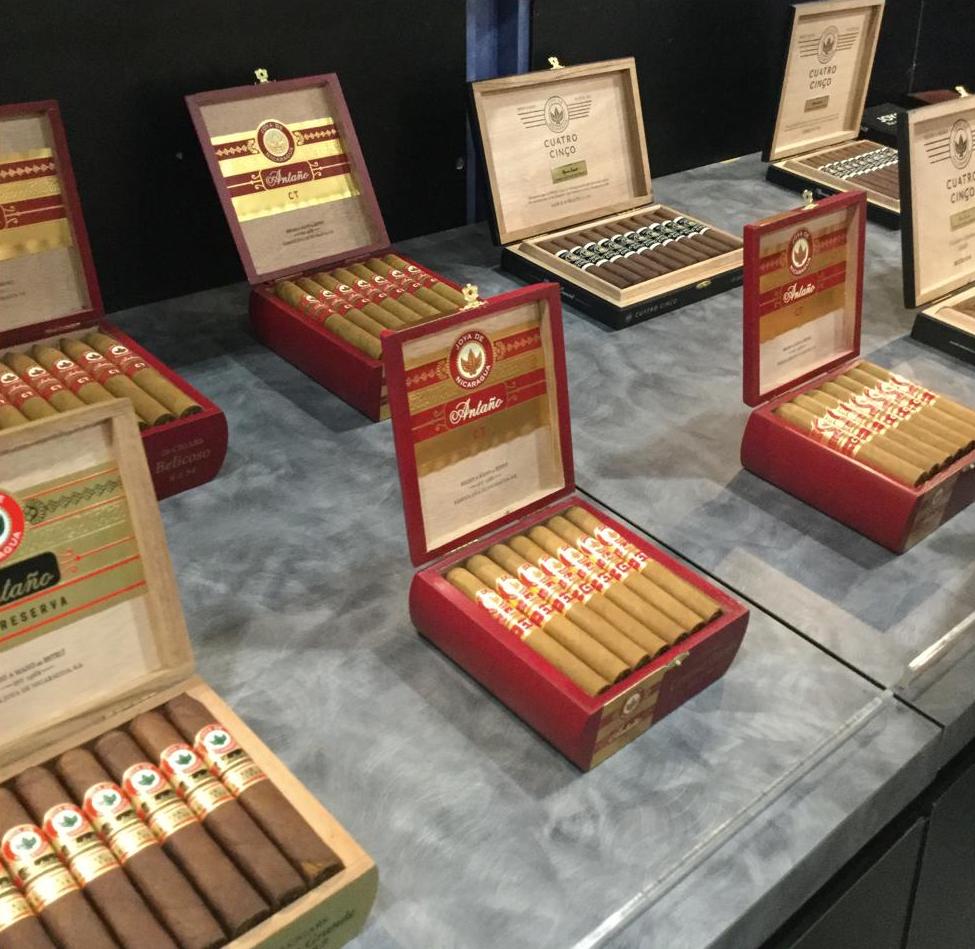 2018 was a huge year for Joya de Nicaragua. The company was celebrating 50 years in the cigar business and as a result, there was quite a bit of activity into the Joya de Nicaragua brand showcased at the 2018 IPCPR. Led by the highly acclaimed Joya de Nicaragua Cinco Decadas (which was the #1 Cigar on the Halfwheel Consensus as well one of the most talked-about cigars out of last year's IPCPR) the products released were also highly acclaimed. The big question going into the weeks leading up to IPCPR was what would Joya de Nicaragua do for an encore? For 2019 IPCPR releases, the company showed no signs of slowing down, and built on what was put in place in 2018.
As it has been for previous years, Joya de Nicaragua was a part of the Drew Estate booth. Drew Estate handles distribution for the Joya de Nicaragua brands.
One release that particularly intrigued me was the Joya de Nicaragua Antaño CT. The Antaño line is known to be the home to some of Joya de Nicaragua's bolder cigars. This year the company opted to add a Connecticut Shade cigar into the line. When the Antaño CT was announced before the show, Joya de Nicaragua said in regards to the cigar, "it seems tamer than its bolder Antaño brethren. Don't be fooled. Antaño CT is a masterful and paradoxical blend of what a cigar with attitude can be."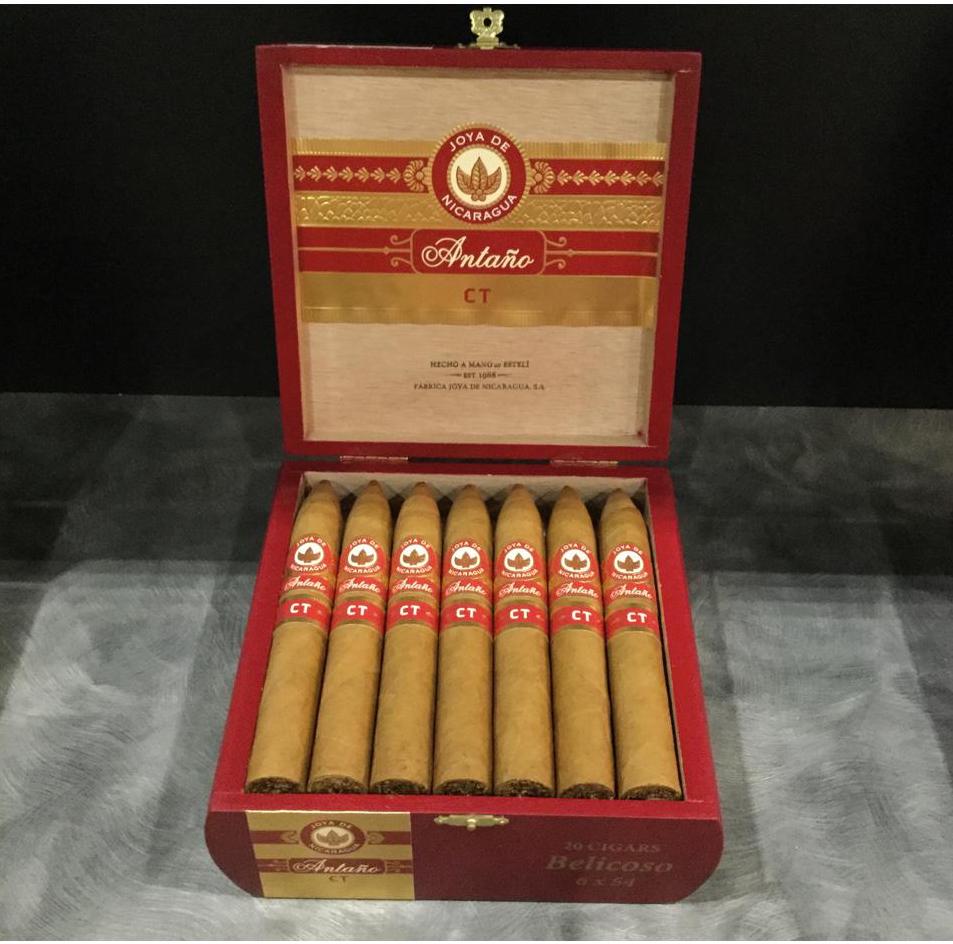 This wasn't the only Connecticut Shade Joya de Nicaragua brought into the Trade Show as they showcased a cigar known as Numero Uno. This wasn't exactly a new cigar. Numero Uno is a cigar that started out as a private blend where it was handed out to Nicaraguan ambassadors who would gift them to world leaders. It later became a Joya de Nicaragua event-only cigar. Last year, Numero Uno (called Joya de Nicaragua No. 1) was named the #1 Cigar of the Year on Halfwheel's own (non-Consensus list). It was a shocking selection considering the cigar was designated only for events.
Following the recognition, Joya de Nicaragua made plans to put the cigar into production. New packaging was introduced. It was added to the company's Obras Maestros line, a line the company is now designating for its most premium cigars which includes Cuatro Cinco and Cinco Décadas. The cigar itself is a 6 5/8 x 44 Lonsdale based on Joya de Nicaragua's Clasico blend. This cigar will be exclusive to Drew Diplomat retailers.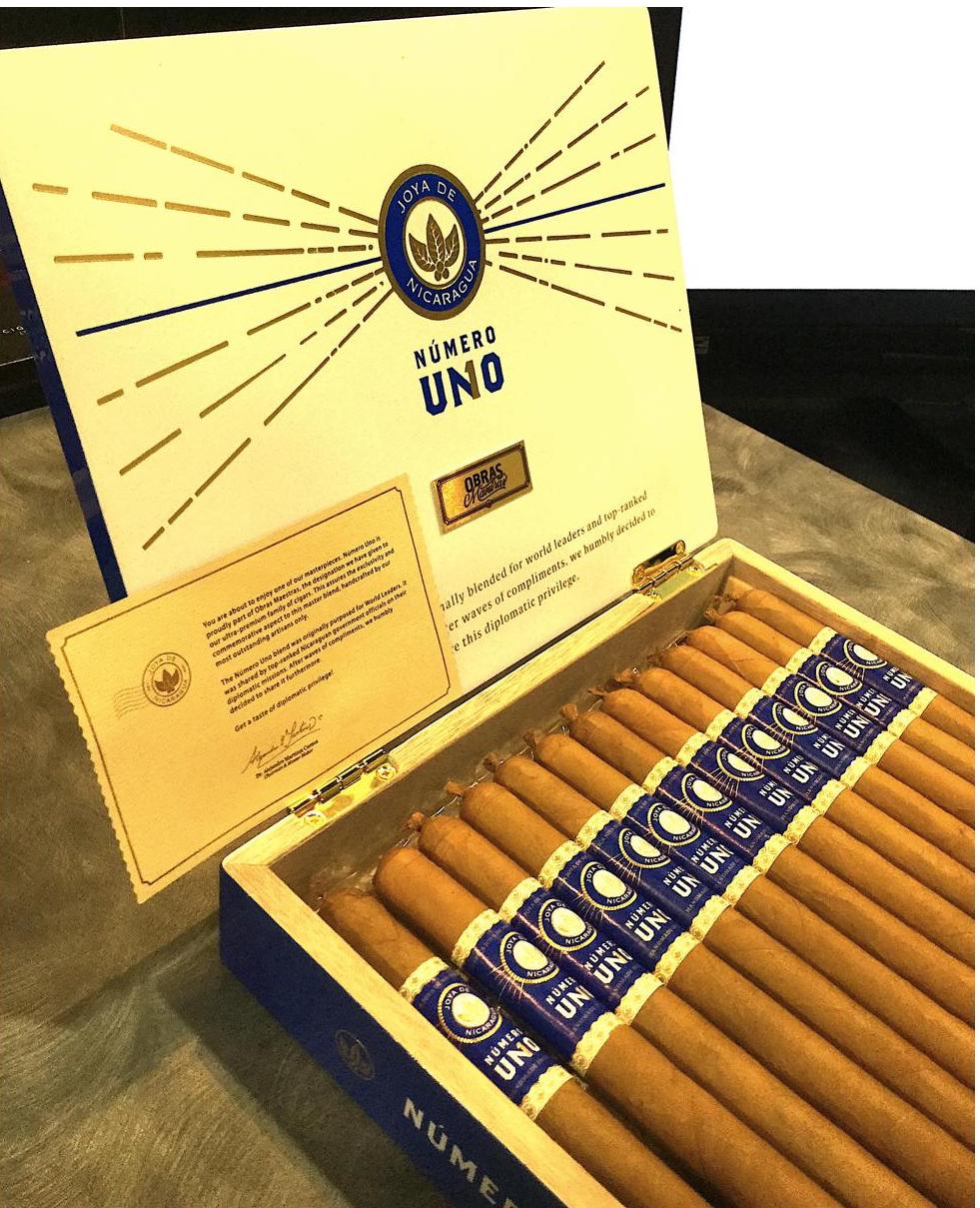 Because Joya de Nicaragua's event-only cigar was now going regular production, the company added a new event-only offering with the Cuatro Cinco Belicoso Exclusivo Eventos DDRP. It's a 6 x 54 box-pressed belicoso using the same blend as the Cuatro Cinco line. These cigars will be exclusive to those events done by Drew Diplomat retailers.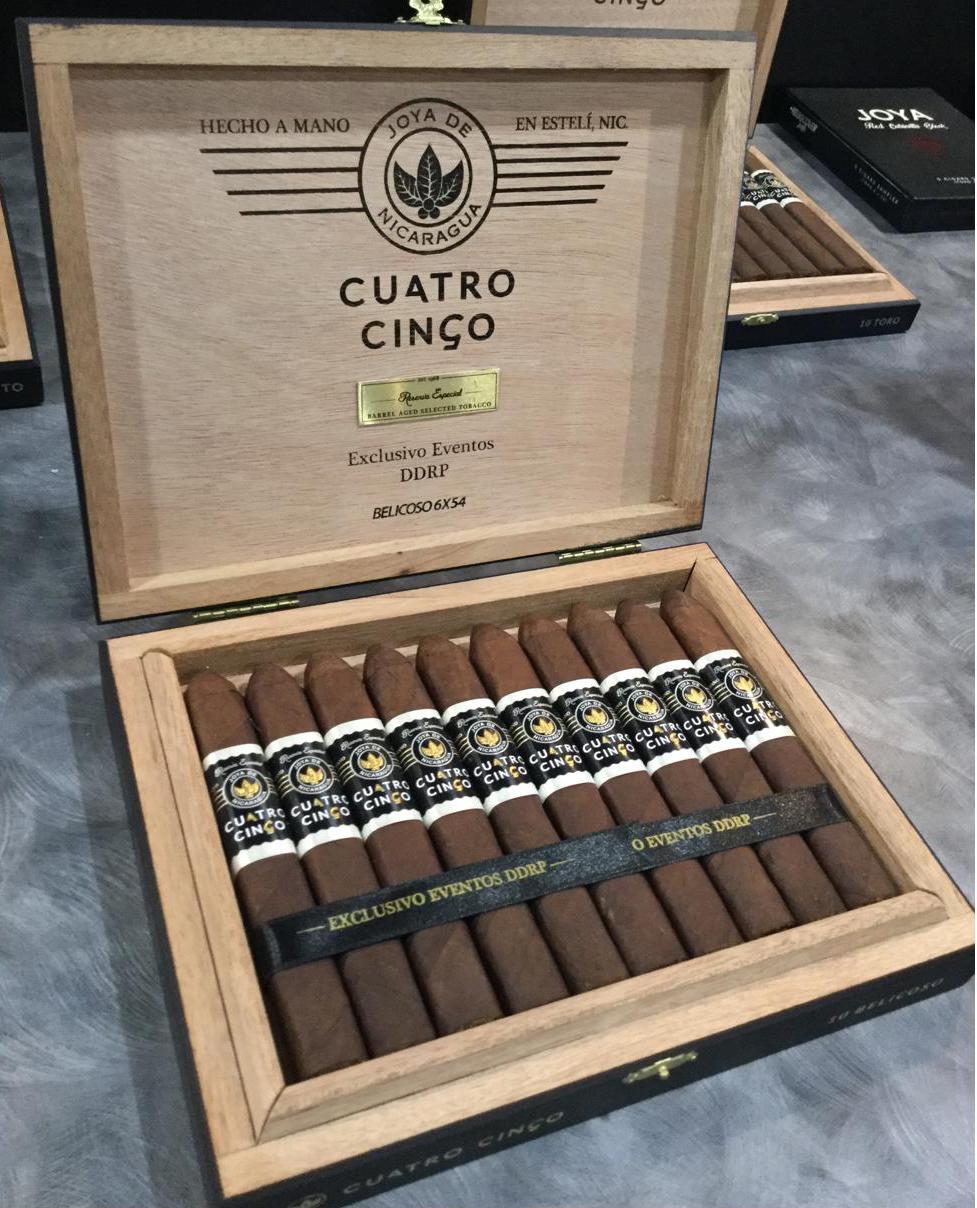 With last year's Cinco Décadas a huge hit, Joya de Nicaragua added a third size to the line with the Cinco Décadas Fundador. It's a 6 x 54 soft-pressed Gran Toro that is meant to be a tribute to two of the founders of Joya de Nicaragua – Simón Camacho and Juan Francisco Bermejo. Like the other two sizes of the Cinco Décadas line, it will be exclusive to Drew Diplomat retailers.
Joya de Nicaragua has said it will add future line extensions in upcoming years that will continue to pay tribute to the development of the company.
While we're on the subject of accolades, we gave out some awards of our own for Joya de Nicaragua to company President Juan Martinez. This included the Prime Time Awards for Large Company of the Year and Large Factory of the Year.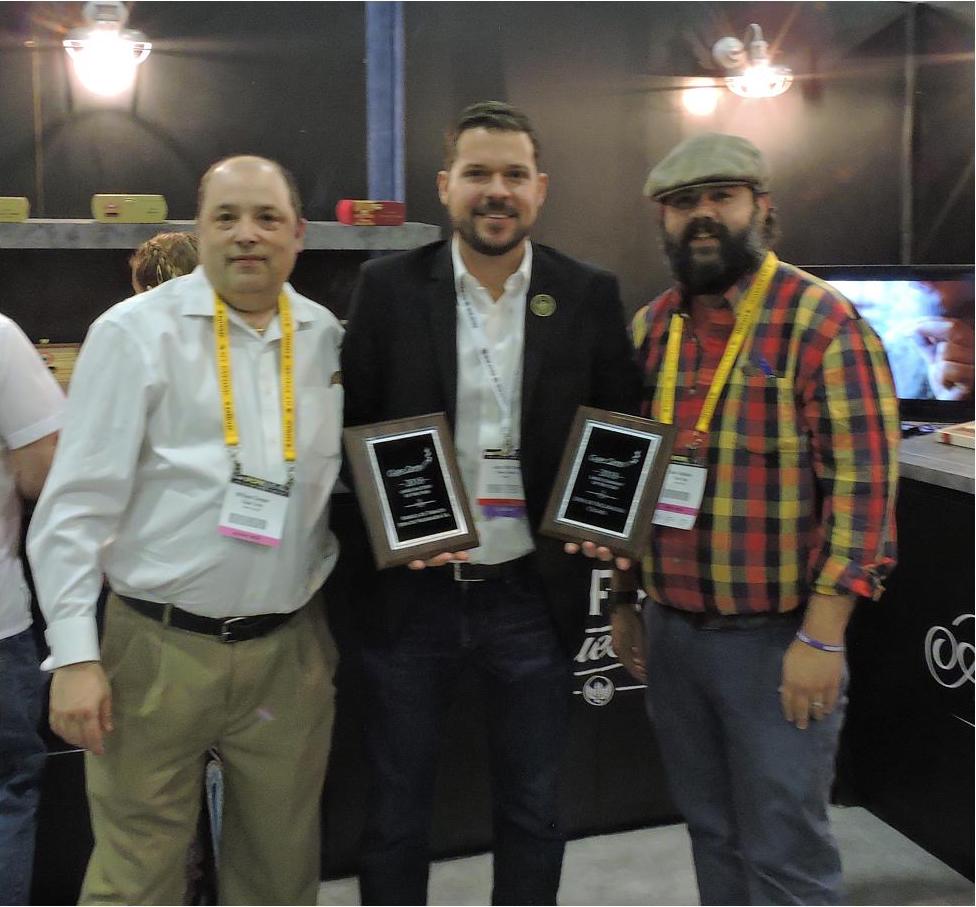 In addition, Bear Duplisea presented the award for #ElOsoFumarTakes #2 Cigar of the Year, the Joya Silver.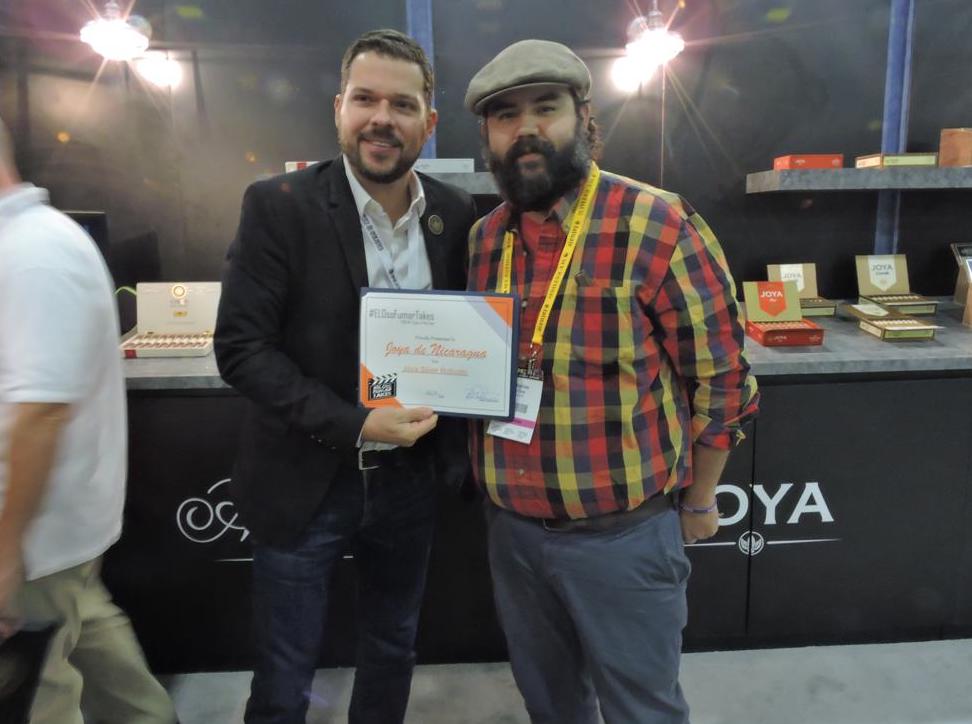 Juan Martinez also appeared as a guest on Prime Time Episode 103 shortly after the Trade Show closed.
IPCPR 2019 Product Reports
Bear Duplisea contributed content and photography to this report.
Photo Credits: Cigar Coop, except where noted.