As many know, Drew Estate was not planning to attend the 2020 PCA Trade Show. The company had announced earlier this year that it had pulled out of the Trade Show along with Altadis USA, Davidoff of Geneva, and General Cigar Company. It's clear from Drew Estate's 2020 #DESummerTakeover that the company had a strategy to roll out the releases it would have ordinarily rolled out this summer at the trade show. Drew Estate went through its usual daily product announcement cycle in early June, then held its own virtual trade show with its Freestyle Live Program, followed by a blitz of virtual events with its retailers.
The year 2020 was going to be a quieter year for Drew Estate. It followed two big anniversary years (2018 with Liga Privada's 10th anniversary and 2019 with ACID's 20th anniversary). It's going to be followed by two big anniversary years (2021 with Undercrown's 10th anniversary and 2022 with Herrera Esteli's 10th anniversary. Still, the company found a nice mix of line extensions and limited editions for its traditional and infused portfolios.
Undercrown
As we mentioned, 2021 is expected to be the big year for Undercrown as the brand celebrates its tenth anniversary, but 2020 isn't void of releases. Leading the pack is the release of the Undercrown Dojo Dogma Sungrown. It's a project being done between Drew Estate and the Cigar Dojo media outlet. It's the 19th collaboration Dojo has done with a manufacturer. Dojo's first collaboration was with Drew Estate with the original Undercrown Dojo Maduro. In 2017, Cigar Dojo awarded the Undercrown Sun Grown its 2017 Cigar of the Year. As a result, it made sense for Dojo to team up with Drew Estate on the Undercrown Dojo Sun Grown.
The Undercrown Dojo Dogma Sun Grown is a 5 x 54 box-pressed robusto that features a bolder profile than the original Undercrown Sun Grown. The cigar features an Ecuadorian Sumatra Sun Grown wrapper, a Connecticut River Valley Stalk Cut/Cured Sun Grown Habano binder, and a blend of Nicaraguan fillers. In particular, there is one leaf of extensively aged lager from the Nueva Segovia region along the border of Honduras that was selected to enhance the strength of the blend. The Undercrown Dojo Dogma Sun Grown is available in 24-count boxes priced at $244.80. The cigars are now shipping and will be available to Drew Diplomat retailers.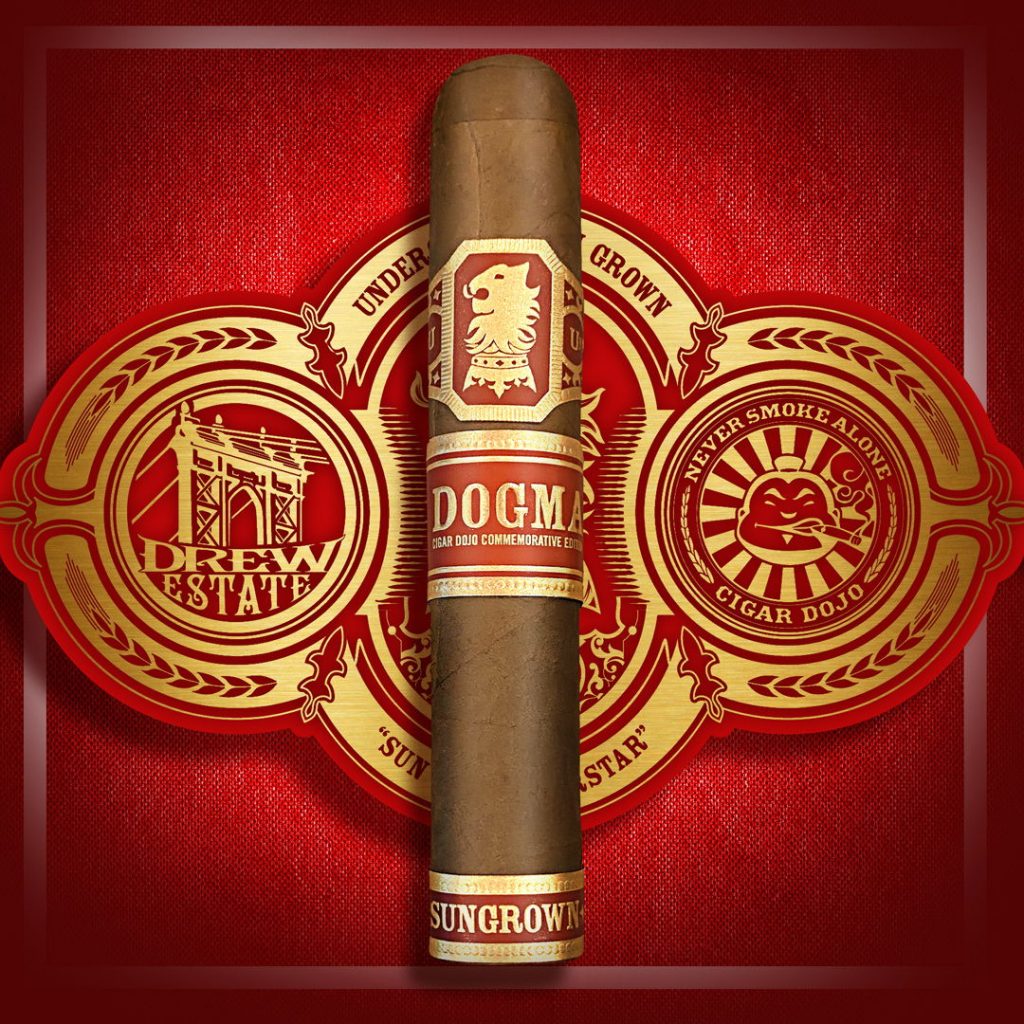 For the third consecutive year, the original Undercrown Dojo Dogma Maduro returns as well. It was back in 2018 when this cigar was brought back as an annual limited edition. It's also the second consecutive year Dogma is receiving a packaging change. This year the Undercrown Dogma Maduro will be available in ten-count petacas priced at $107.87 and will be shipping in September.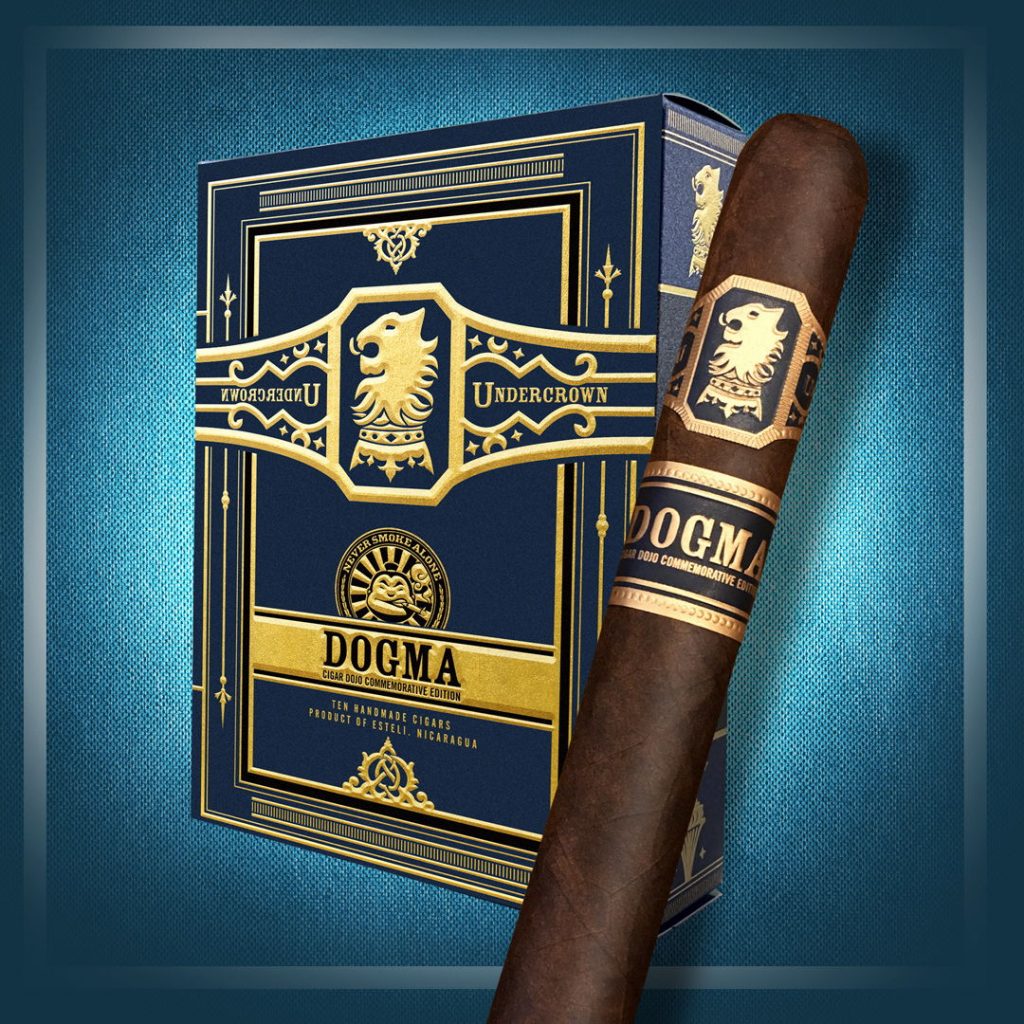 Also making a return for the second straight year is the Undercrown ShadyXX. The origins of the ShadyXX actually trace back to 2014 when Drew Estate and Shady Records collaborated for the Undercrown ShadyXV to commemorate Shady Records' 15th anniversary. The cigar was originally released as a Detroit, Michigan regional exclusive and was a 5 x 50 box-pressed belicoso based on the Undercrown Corona ¡Viva! blend. In 2019 for the 20th anniversary of Shady Records, Drew Estate brought this cigar back – branded as the ShadyXX. This cigar was released nationwide for Drew Diplomat retailers in 2019. The ShadyXX featured the same blend and size with updated packaging. Now the ShadyXX returns for another limited production run for 2020. The cigar is packaged in ten-count petacas which have had their design modified to reflect the 2020 release. Pricing is set at $104.00 per petaca.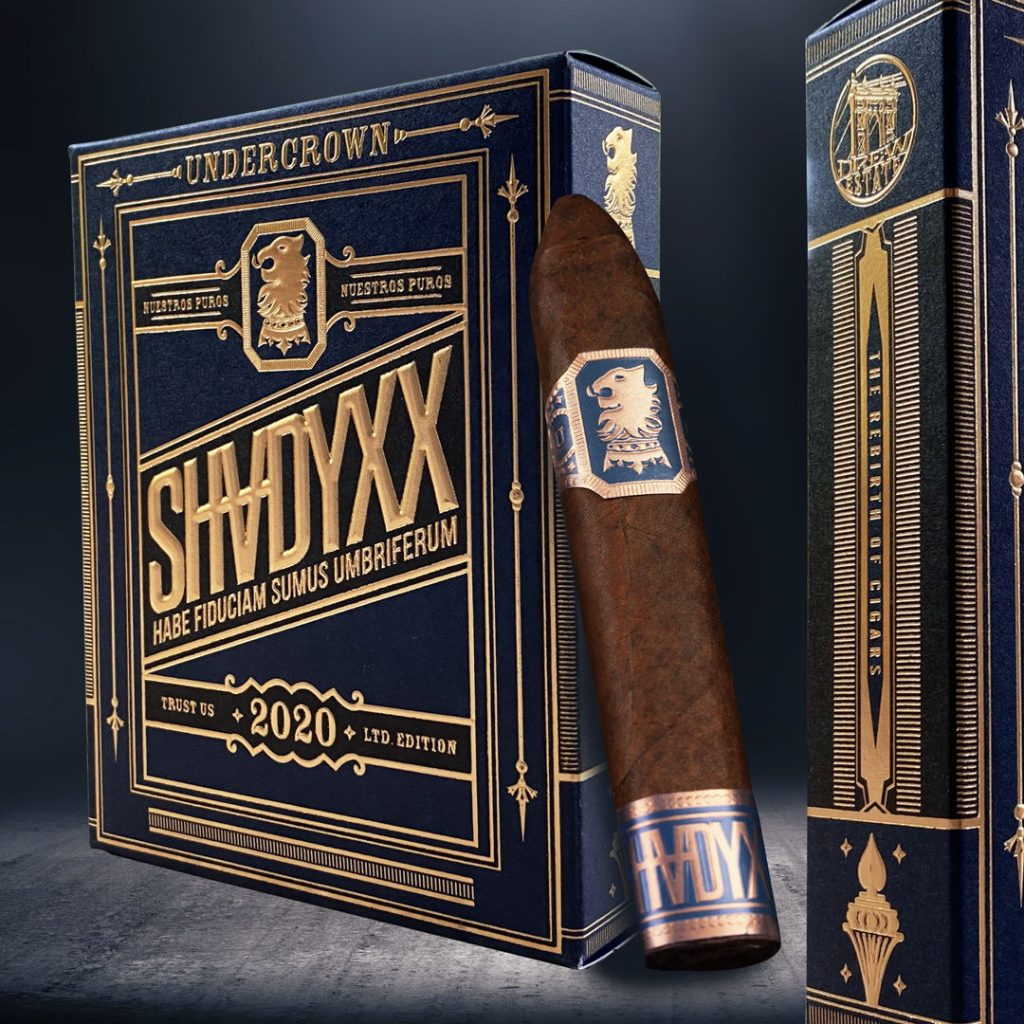 Herrera Esteli
This year Drew Estate is taking the Herrera Esteli Connecticut Broadleaf Lancero Tienda Exclusive national to its Drew Diplomat retailers. This is a cigar that was originally a shop exclusive to Stogies World Class Cigars in Houston, Texas as a part of its H-Town Lancero series. It's a 7 x 38 Lancero featuring a Connecticut Broadleaf wrapper, Brazilian Mata Fina binder, and Nicaraguan fillers. It will be available in 15-count boxes with an MSRP of $186.96.
BOTL
BOTL returns for 2020. This year the cigar is being branded as the BOTL Brown Label 2020 and will once again feature a Connecticut Broadleaf wrapper, Ecuadorian Connecticut binder, and fillers from the northern region of Nicaragua. It will once again be available in the same connoisseur sizes: Corona (5 x 44), Corona Gorda, 6 x 46), and Lancero (7 x 38). Each size will be presented in 15-count boxes. Pricing will range from 133.95 to $153.90 per box of 15.

The BOTL line first made its debut in 2012. It was a cigar created to pay homage to the brothers and sisters of our culture and passion, those with extreme knowledge and true fellowship of the premium leaf. The line made a return in 2013 and then again as a Drew Diplomat release in 2019.
Deadwood Tobacco
Drew Estate announced a new extension under its Deadwood Tobacco brand with the Leather Rose. Deadwood Tobacco was originally a line of shop exclusive cigars for Deadwood Tobacco, a retailer based in South Dakota. In 2016, Drew Estate announced it was taking the brand national. Since then it has become one of Drew Estate's more popular lines, and it has received several line extensions.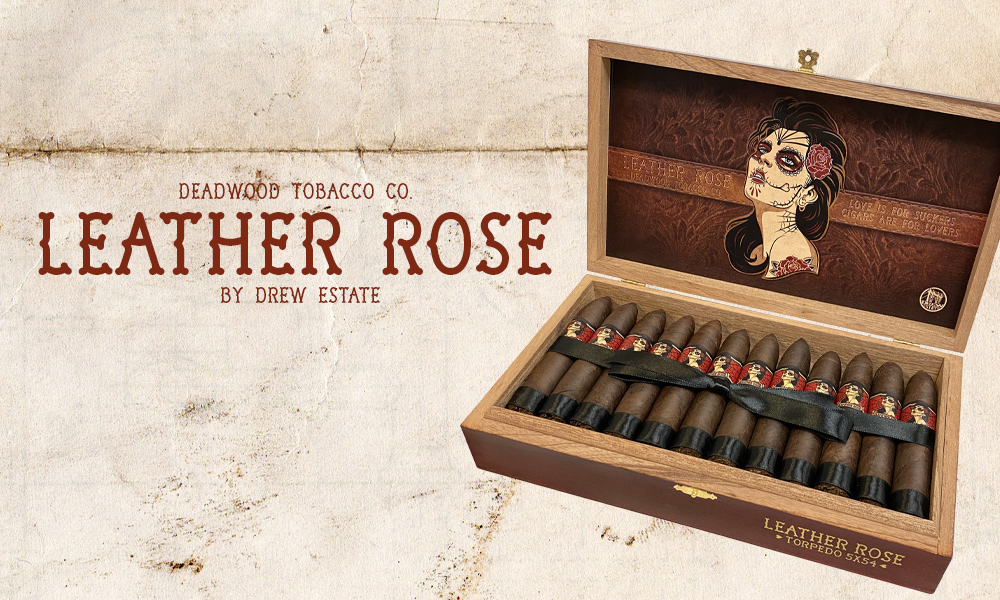 Leather Rose introduces a 5 x 54 Maduro offering that is described as the spiciest of the Deadwood Tobacco offerings. The cigars are packaged in 24-count boxes with each box priced at $194.40 MSRP. The cigar has already shipped to retailers.
ACID
ACID celebrated its 20th anniversary in 2019, so it was a big year for the brand.  For ACID, 2020 was a little quieter, but one that still had some line extensions and samplers to keep fans interested.
There are two new offerings under the ACID 20 line. As the name indicates, ACID 20 was released in 2019 to commemorate the 20th anniversary of Drew Estate. The blend features a Mexican San Andres wrapper, Indonesian binder, and filler leaves from Nicaragua. It was originally released in a box-pressed Robusto size. This year a new 6 x 50 box-pressed Toro has been added. Meanwhile, the Robusto (5 x 50) now gets a new Tubo presentation.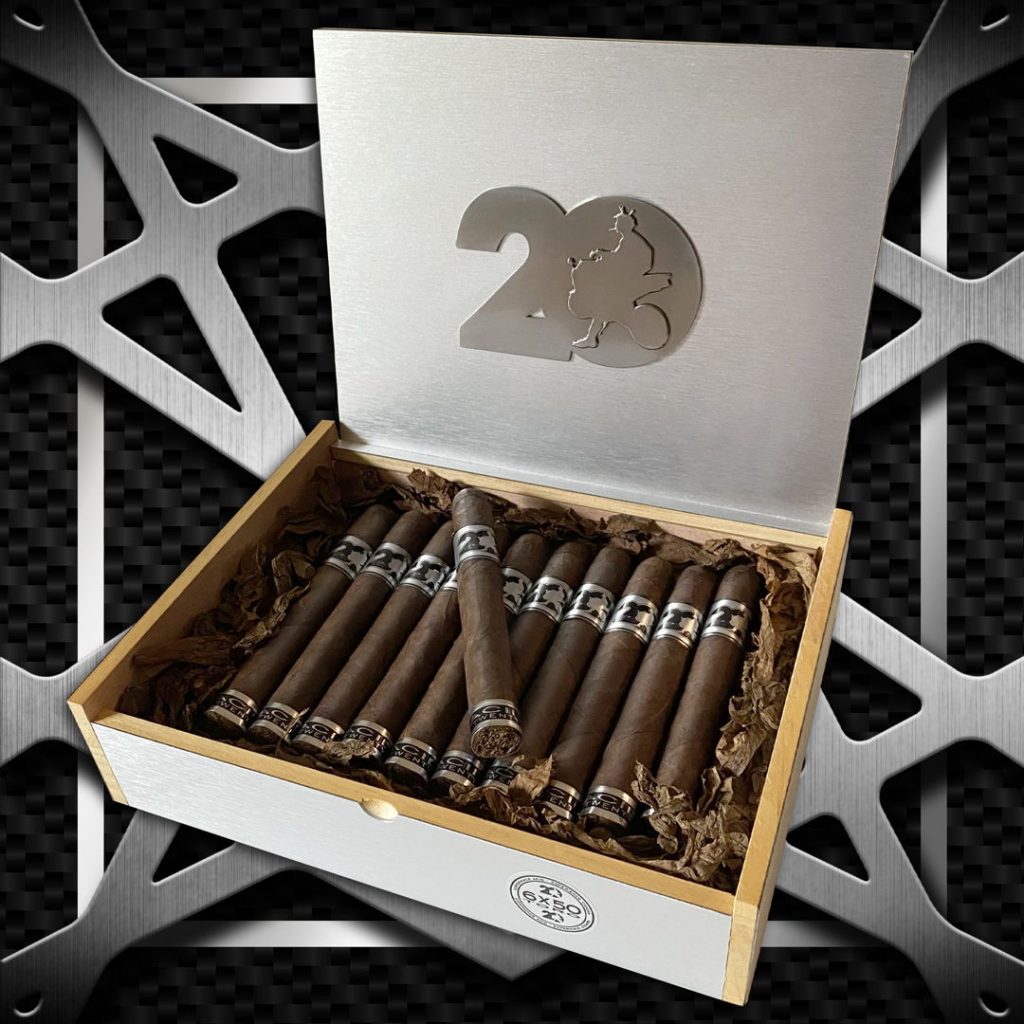 The ACID 20 Toro is packaged in 24-count boxes with an MSRP of $232.34/box and has shipped already. Meanwhile, the ACID 20 Robusto Tubo will be packaged in a five-count petaca with an MSRP of $49.25/box and will be shipping in October.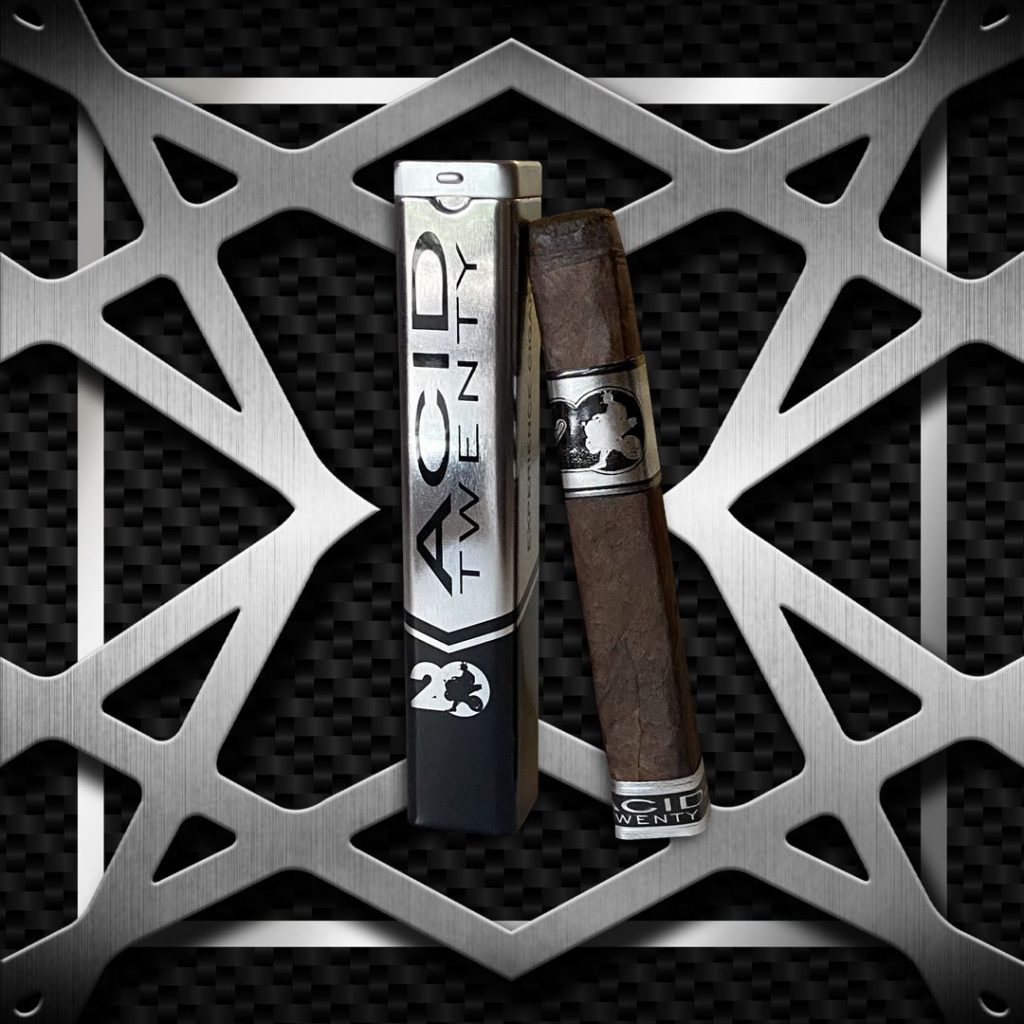 In addition, Drew Estate has also introduced the ACID 20 Bronxilla. This is a Connecticut Shade wrapped extension to the ACID 20 line that will be exclusive to Alliance Cigar. The blend for ACID 20 Bronxilla features an Ecuadoran Connecticut Shade wrapper over an Indonesian binder and all-Nicaraguan filler. ACID 20 Bronxilla is available in one size – a 5 x 54 Robusto. Each cigar features a chrome foil covering. The cigars are packaged in 20-count boxes.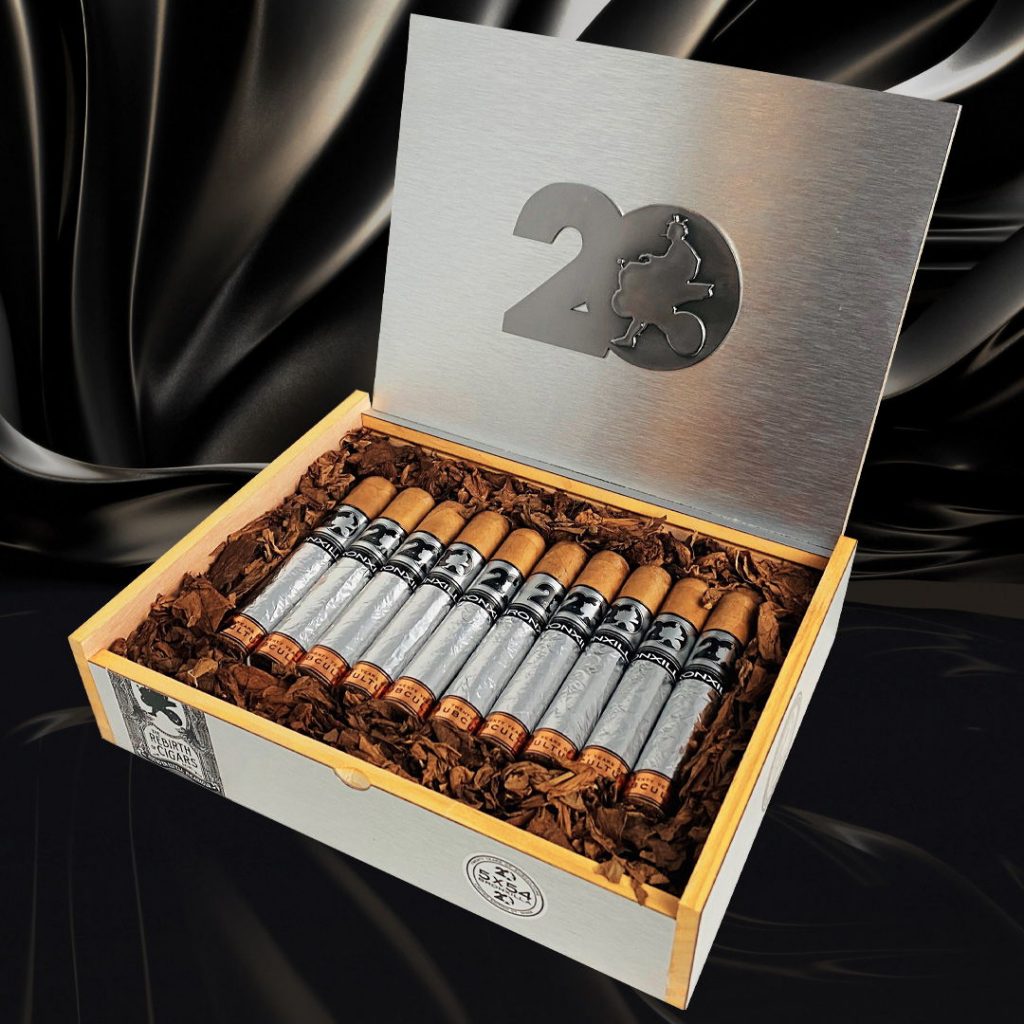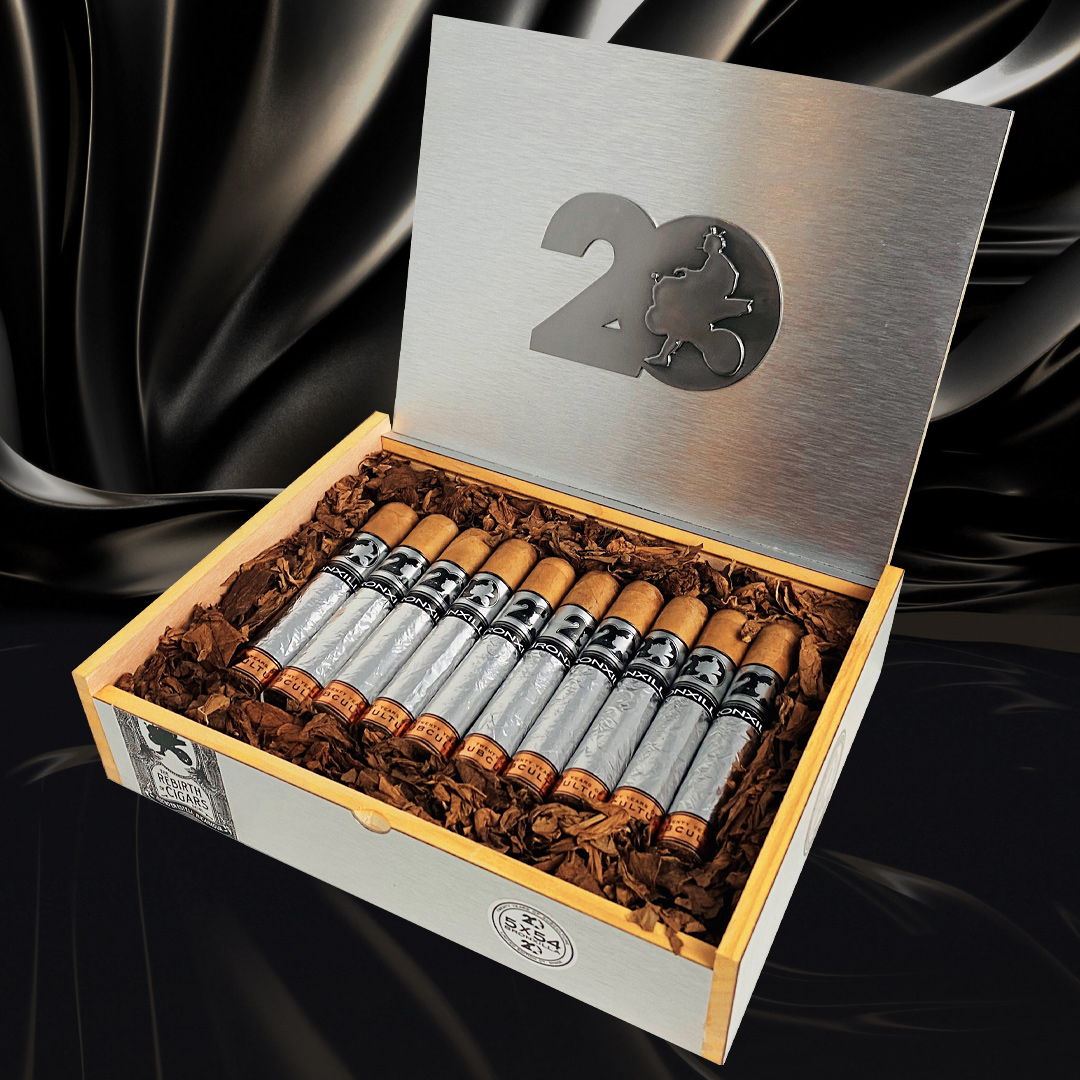 There are two new ACID Samplers. First up is the ACID Loud Pack, consisting of two of each of the following cigars: Roam, Liquid, Blondie, Nasty, and the return of the ACID Nefasto. Pricing for the sampler is $76.00 and it is scheduled to ship in September.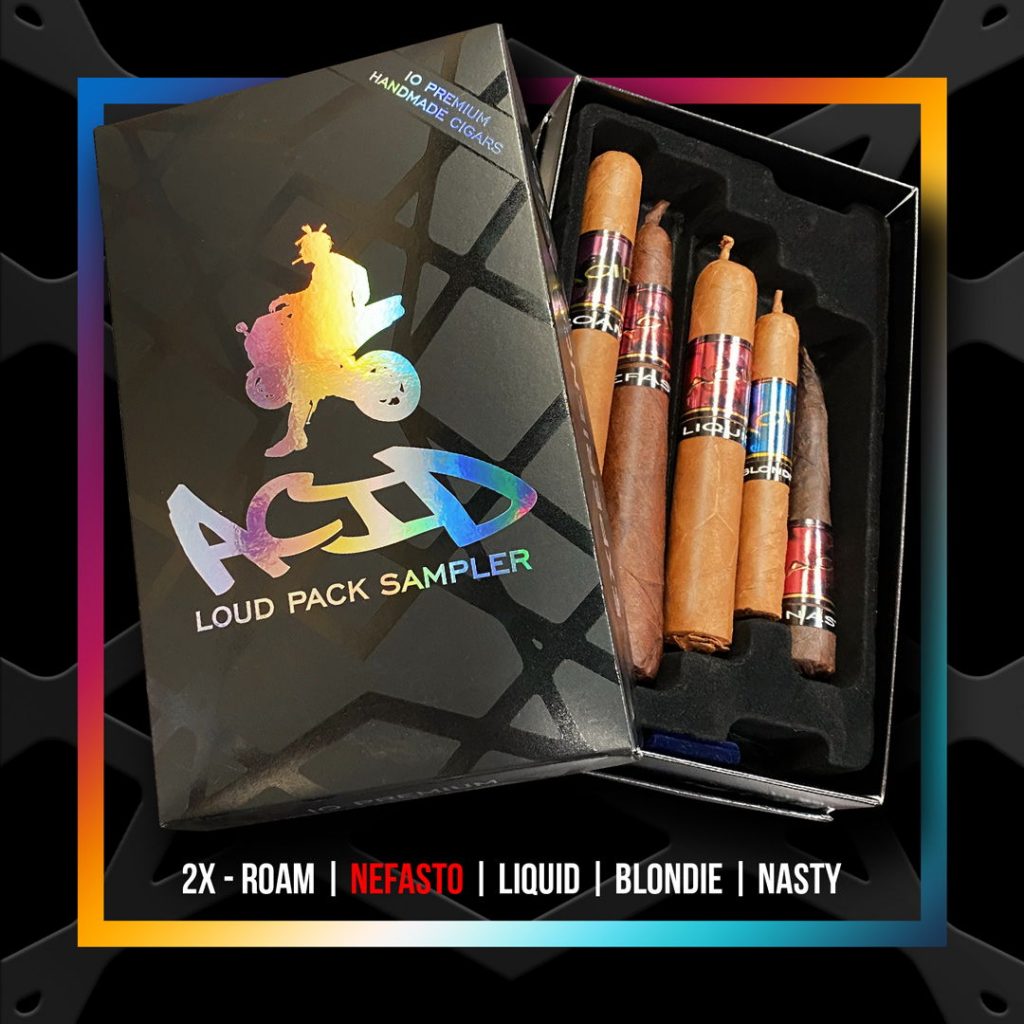 Second is the ACID Seven Wonders sampler. Seven Wonders consists of Kuba Kuba, Kuba Maduro, Blondie Belicoso, Liquid, Deep Dish, Atom Maduro, and ACID One. The sample comes in a compact travel-sized box. Pricing for the samplers is $72.00 and they are scheduled to ship in September.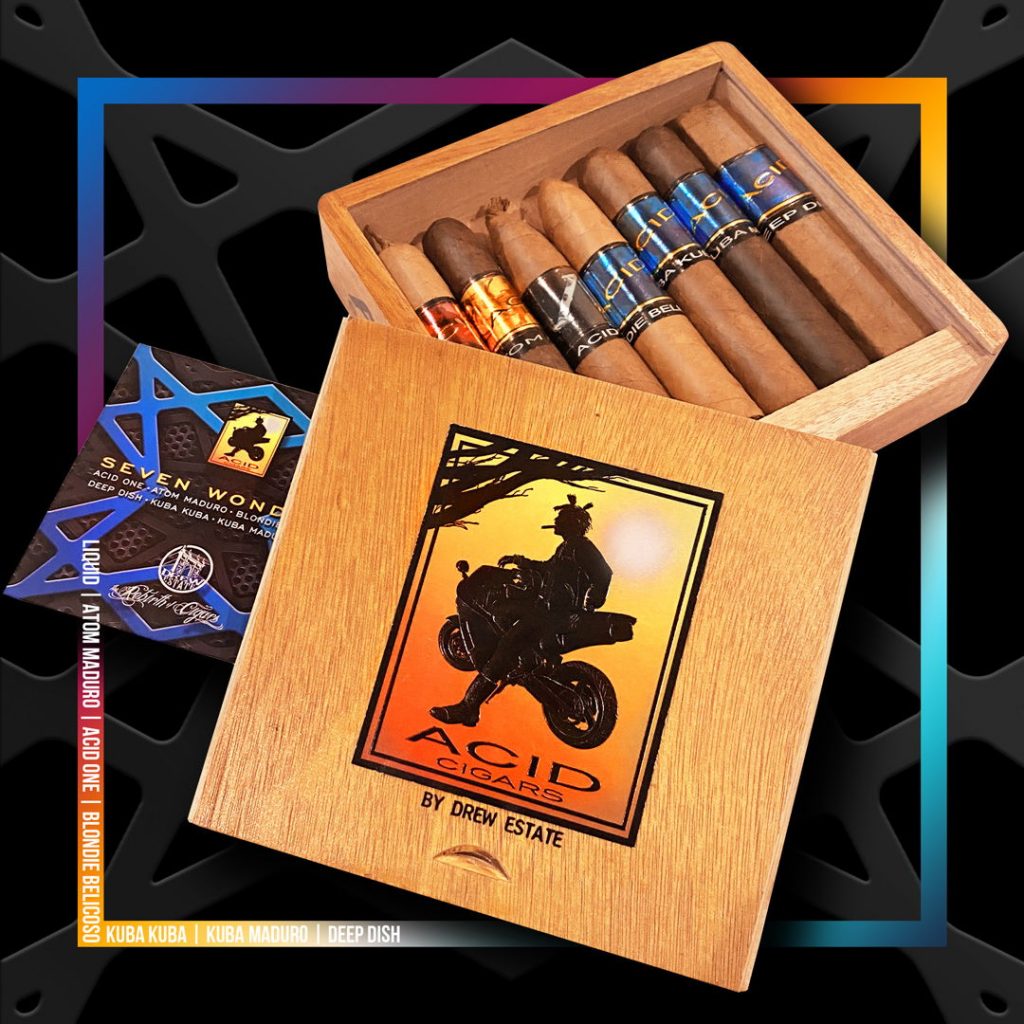 Tabak Especial
Last year, Tabak Especial received a 6 x 60 Gordito line extension. This year, the line gets a 6 3/4 x 44 Lonsdale size to both its Tabak Especial Dulce and Tank Especial Negro lines. The new Tabak Especial Lonsdale sizes will be presented in ten-count boxes – both priced at an MSRP $85.10. The Tabak Especial Dulce features an Ecuadorian Connecticut Shade wrapper while the Tabak Especial Negro features a Maduro wrapper. Both of these cigars have shipped to retailers.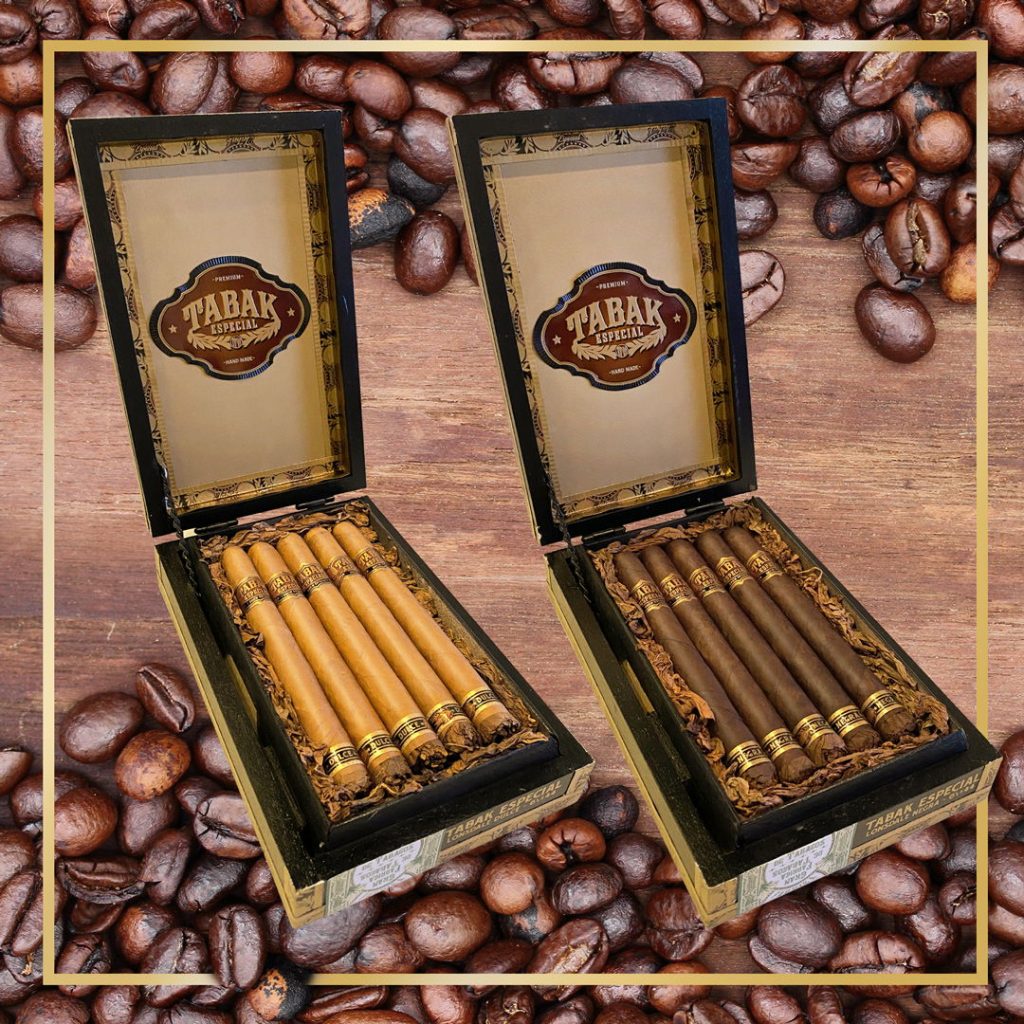 Gift Sets
Drew Estate has announced gift sets for four of its lines. Each gift set includes five Toro-sized cigars and a branded lighter that is exclusive to the gift set.
The four gift sets are:
Deadwood Fat Bottom Betty Toro Gift Set MSRP $57.99
Herrera Esteli Habano Toro Gift Set MSRP $57.99
Tabak Especial Dulce Toro Gift Set MSRP $57.99
Undercrown Shade Toro Gift Set MSRP $57.99

——–
Joe Gro, Digital Marketing Manager for Drew Estate appeared on Prime Time's Virtual Trade Show 2020 to discuss the happenings for Drew Estate's #DESummerTakeover
Product Reports
Photo Credits: Drew Estate, except where noted.
Video Credit: Cigar Coop
Update (8/31/20): Added ACID 20 Bronxilla, which was announced after this article.