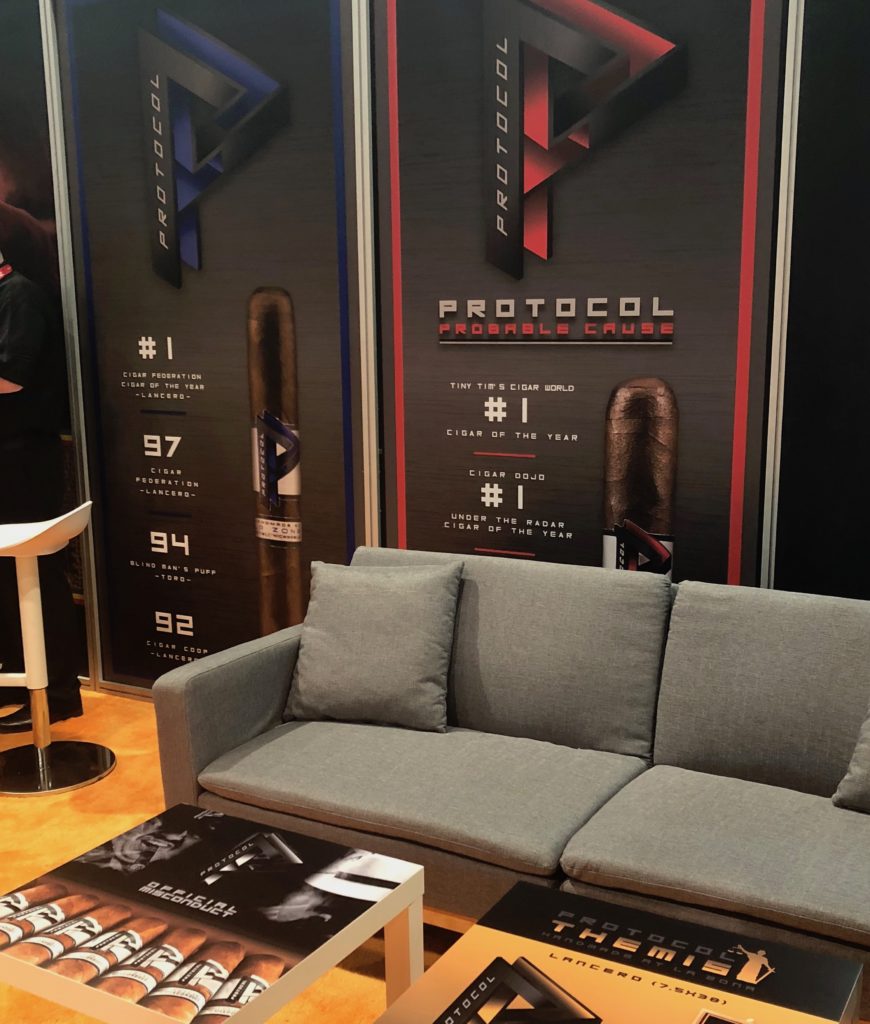 Five years ago, Cubariqueño Cigar Company went into the 2015 IPCPR Trade Show. At the time the company got a small space at the Espinosa Cigars booth. They came into the show not knowing what to expect with their first line, Protocol (Blue). Quietly, the company sold out its inventory. From there it was a trajectory of growth, expanding its portfolio. By the end of 2019, Cubariqueño had expanded to six regular production blends, and had a series of limited releases. It's hard to find a small company in the last five years which has built as solid a portfolio of regular production releases as Cubariqueño. At the same time, they have become the blueprint on how to quickly sell out of a limited edition release. Year five is often a critical juncture for many companies, and Cubariqueño reached that direction going into 2020. There would be a couple of big changes for Cubariqueño, but as we learned about the company's 2020 plans it's clear they are well prepared for what the future holds.
First up, Kevin Keithan, who had been previously serving as Cubariqueño's National Sales Manager became a managing partner of the company, as well as a face of the company with the popular Juan Cancel. Secondly, the company was now starting to call itself Protocol Cigars, named for the brand that has been the lion's share of its releases. The COVID-19 pandemic has caused challenges for many companies, and Protocol Cigars has been no exception. Product-wise, the first half of the year was quiet as Protocol focused on engaging with its consumer base through its popular virtual lounge. At the same time, the company has been quietly gearing up for a slew of second-half 2020 releases – which Cancel and Keithan unveiled on the Prime Time Virtual Trade Show. These releases for the most part continue the company's theme of law enforcement.
Protocol Cigars has also maintained its partnership with Erik Espinosa's La Zona factory, who handles the production and blending of its cigars. One can also argue Protocol Cigars is now La Zona's most successful contract brand that it produces – outside of the Espinosa Cigars brand.
Protocol Eliot Ness (Part of the Protocol Lawman Series)
In 2019, Protocol released the Protocol Sir Robert Peel Series, its most-premium release to date. Sir Robert Peel is considered to be the father of the modern-day police force. It was in 1829 when Peel established the London Metropolitan Police Force. Protocol released two blends, Sir Robert Peel Natural and Sir Robert Peel Maduro. These lines would have some of the most intricate packaging the company had released to date. With the success of Sir Robert Peel, the company decided to form a series known as the Protocol Lawman Series. Protocol Sir Robert Peel would become the first installment, and now the company has a second installment coming later this year known as Protocol Eliot Ness.
Eliot Ness was an American Prohibition agent, famous for his efforts to bring down Al Capone. This was popularized in the film The Untouchables. According to Protocol Cigars, there's been a trend in Hollywood to glorify criminals and Protocol wanted to put the spotlight on the law enforcement heroes, thus the Protocol Lawman Series was formed.
Like the Protocol Sir Robert Peel release, the Protocol Eliot Ness will be offered in two blends – Natural and Maduro. It will also be a 6 x 52 box-pressed vitola packaged in ten-count boxes. The boxes will feature a similar packaging style, but there will be more of an emphasis on the color blue with the Eliot Ness releases. Both the Eliot Ness Natural and Maduro cigars will be priced at $11.95.
The Protocol Eliot Ness Natural blend is a Nicaraguan puro highlighted by a Nicaraguan Habano wrapper, a Nicaraguan binder from Estelí, and all Nicaraguan fillers. Meanwhile, the Protocol Eliot Ness Maduro will feature a Nicaraguan Broadleaf wrapper over a Nicaraguan binder from Estelí and fillers from Nicaragua. The company also says these two blends do not include ligero – something that has been a signature for many of the other Protocol releases.
In addition, Protocol Eliot Ness will be a regular production offering.
Both cigars were expected to be showcased at the 2020 PCA Trade Show, but were delayed due the COVID-19 pandemic. Now they are slated for September/October release.
Protocol Cyber Crimes Unit
For the first time in two years, the main Protocol line is getting a new blend. This one is the Protocol Cyber Crimes Unit. While Cancel is known for his career in law enforcement, Kevin Keithan works in the Internet Security field, so the Protocol Cyber Crimes Unit pays homage to his career in this space.
Protocol Cyber Crimes Unit will feature a green-colored theme in the packaging and banding. The green keeps to a tradition of a different color of each of the main Protocol line releases: Protocol (Blue), Protocol Probable Cause (Red), Protocol Themis (Gold), and Protocol Official Misconduct (Silver).
The blend itself features a Habano Rosado wrapper over Nicaraguan binder and filler. The cigar will be released in one size – a Short Churchill.
In addition, Protocol Cyber Crimes Unit will be a regular production offering. It is slated for a Fall, 2020 release.
Protocol John Doe Series 2.0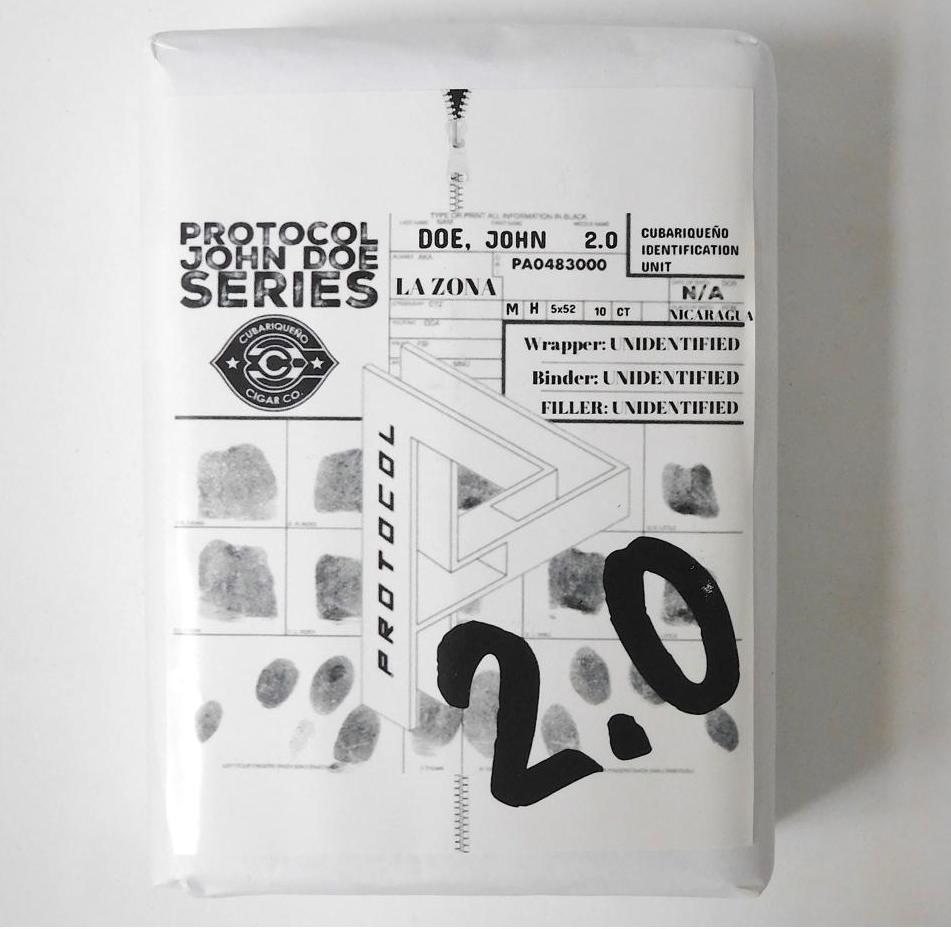 Back in July and just before our Virtual Trade Show, Protocol released the limited edition Protocol John Doe Series 2.0, the follow-up to the popular 2019 limited release, the Protocol John Doe Series.
John Doe is a name that fits in with Protocol's theme of law enforcement. It is the name given to an unidentified male body until identification can be made by next of kin. In a way, this was a fitting name because the story behind Protocol John Doe is that Protocol has said they came into these unidentified and unknown blends.
Protocol John Doe 2.0 was a unique in terms of Protocol's other limited edition cigars. This is because the focus on previous limited editions were released as shop exclusives to stores in New Jersey or Pennsylvania. This time the release went to Omerta Cigar Company, which is based in Oklahoma City. Protocol produced 225 10-count bundles and held a virtual event on July 11th in conjunction with Omerta. The company sold out most of its inventory at that event before completely selling shortly after.
Protocol Jane Doe Series 2.0
Consistent with what Protocol is doing with the John Doe Series, Protocol Cigars announced there will be a Protocol Jane Doe Series 2.0. This is the follow up to 2019's Protocol Jane Doe.
The name Jane Doe is given to an unidentified female body until identification can be made by next of kin. The Protocol Jane Doe 2.0 is a limited edition cigar that will also feature an undisclosed blend. Protocol Cigars says it is in the process of selecting a retail partner is still ongoing.
Protocol Pool Party Year 1
The Protocol Pool Party Year 1 is one of the few Protocol releases that doesn't incorporate a law enforcement theme, but is centered around the pool parties the company has become famous for.
The Protocol Pool Party is an event that was started at the home of Protocol Cigars co-owner Kevin Keithan. The event has steadily outgrown that location. This year the company moved the event to the Oak Tree Lodge, which was held on August 1st. The first 100 attendees to this event received a ten-pack of the Protocol Pool Party Year 1 cigar – a cigar Protocol has said would not be for sale and only available to attendees of the event.
As for the blend, the Protocol Pool Party Year 1 consists of a Mexican San Andres wrapper, Connecticut Shade binder, and Nicaraguan Corojo from Estelí and Condega for the fillers. The cigar was produced in one size – a 5 5/8 x 46 Corona Gorda.
Protocol Five Families
While not quite a law enforcement theme, Protocol Cigar has also announced another project with Famous Smoke Shop with a mafia theme, the Protocol Five Families.
This is a project Protocol is collaborating on with five cigar groups in support of Cigars for Warriors. The five cigar groups participating include Sheepdog Cigar Club, BOTL PA Chapter, Distinguished Ruffian, Fat Ash, and the Smokehouse Gorillas. The cigar will be Protocol's first 6 x 60 release. It will consist of an Ecuadorian Habano wrapper over Nicaraguan binder and filler. The cigars will be sold in bundles with a total of 100 bundles being made available.
Protocol Cigars says this is a release that is scheduled for the August/September 2020 timeframe.
Protocol Paddy Wagon
The Protocol Paddy Wagon will be an exclusive ongoing cigar release that is planned for Pennsylvania cigar retailer, Caravan Cigar Club. The name Paddy Wagon refers to a police van typically used to transport prisoners. It ties in with the theme of "Caravan."
Protocol says details of this release will be forthcoming in the future.
—-
Protocol Cigars co-owners Kevin Keithan and Juan Cancel appeared on Prime Time's Virtual Trade Show 2020 to discuss their company's 2020 releases.
Product Reports
Photo/Video Credits: Cigar Coop, except where noted
Notes:
8/17/20 – Updated Product Report links to include Protocol Eliot Ness