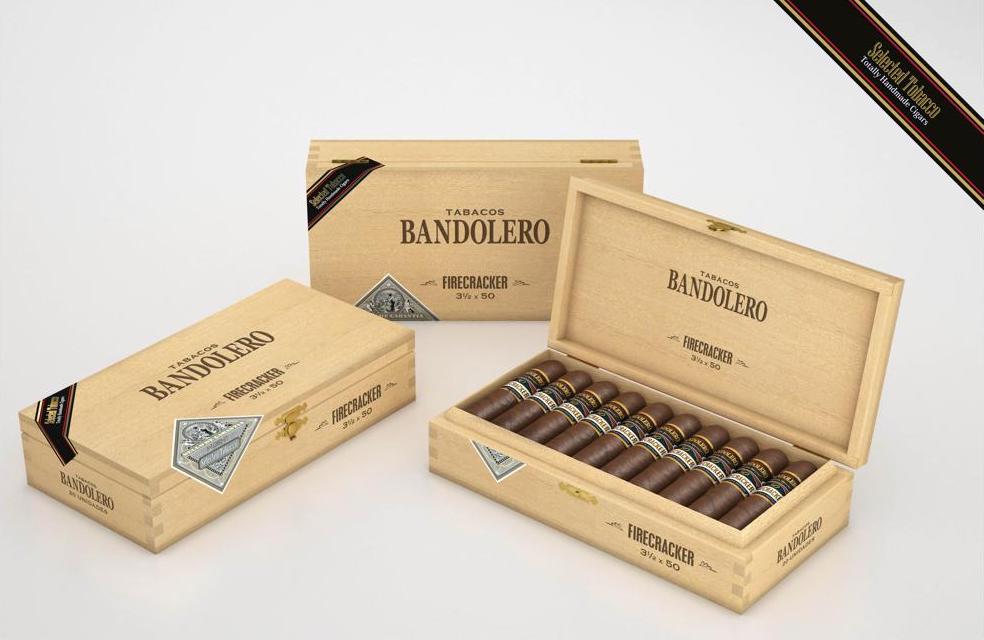 United Cigars has announced new releases in its Firecracker Series. The first will be the Bandolero Firecracker from Selected Tobacco, a band that is distributed by United Cigars. The second will be from El Artista under David Ortiz's Big Papi brand.
The Firecracker is a 3 1/2 x 50 that features a long fuse stemming from the cap. The series started as a concept created by David Garofalo as an exclusive to his Two Guys Smoke Shop stores. The first Firecracker was done by My Father Cigars based on the Don Pepin Original Label. The series morphed into different manufacturers producing Firecrackers. Eventually, the series moved into Garofalo's United Cigars distribution arm.
The blend for the Bandolero Firecracker is derived from the Clandestino line (Series C) that uses filler leaves from the Dominican Republic, Nicaragua, and undisclosed tobaccos. The Bandolero Firecracker features an Ecuadorian binder and a dark Ecuadorian wrapper that is typically used on the Aventureros line (Series A). The cigars will be presented in 20-count boxes. The cigars will feature bands created specifically for the Firecracker release. Pricing is set at $9.00 per cigar or $180.00 per box.
"My partnership with United Cigars has gone beyond the distribution of my cigars," said Nelson Alfonso of Selected Tobacco in a press release. "This is family and I wanted to share my Bandolero blend with this beautiful vitola."
"Every year I get more and more excited with our United collaborations. We work with another factory to deliver a unique experience, and this is what makes this industry united," said Oliver Nivaud, Director of Operations for United Cigars.
The Big Papi Firecracker will feature a San Andres wrapper, a Dominican Negrito binder, and Dominican Criollo 98, Nicaraguan Jalapa, and Pennsylvania Broadleaf.
Details of the Bandelero and Big Papi Firecrackers were announced on the January 15, 2022 edition of The Cigar Authority. The Big Papi Firecracker is slated for a Spring release, while the Bandolero Firecracker is slated for a June release and will be showcased at TPE 2022.
The following are the releases of the Firecracker Series:
The Firecracker (made by Jose Dominguez, regular production)
Big Papi Firecracker by El Artista
Bandolero Firecracker by Selected Tobacco
Photo Credit: United Cigars/Selected Tobacco