For the 11th year, the Cigar Coop brand will be providing coverage of the Premium Cigar Association (PCA) Trade Show and Convention. This is also the 11th consecutive trade show we are covering and are proud to be a part of a very small group of media to say that. Our four-part series for the 2021 PCA Trade Show has you covered whether you are going to the show or following from home.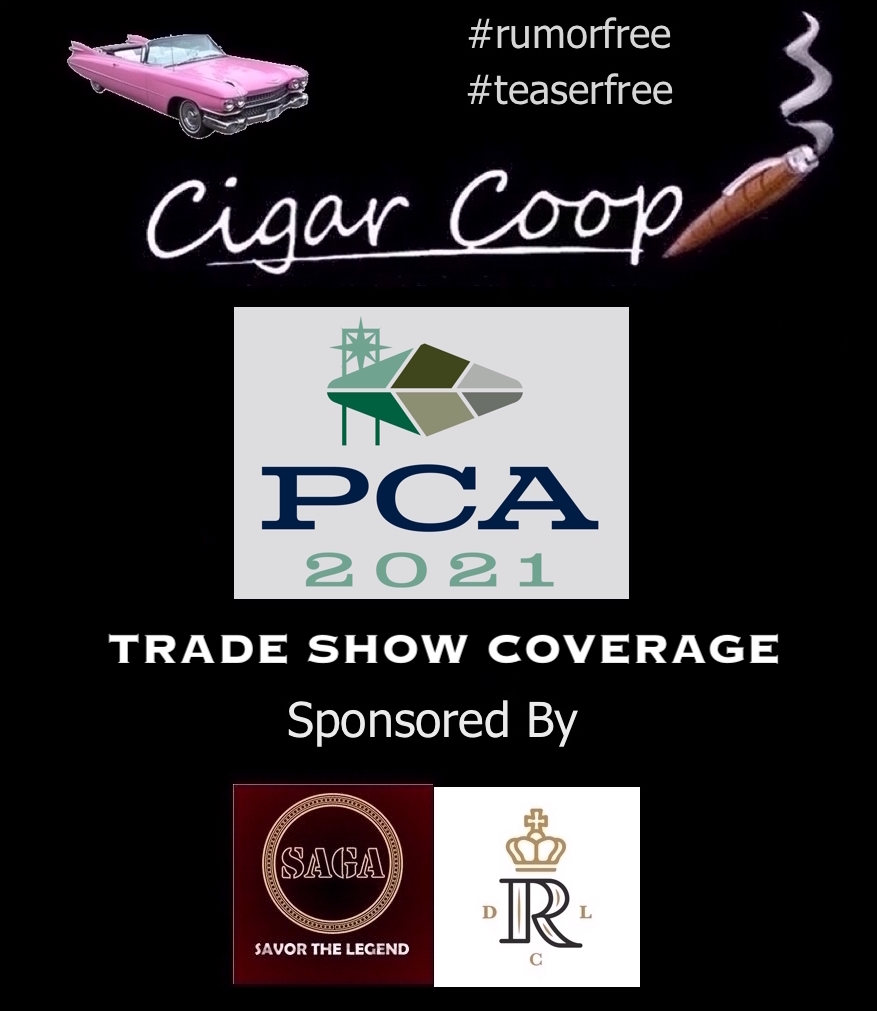 PCA 2021 Pre-Game – The Basics
In this installment, we review some of the basics about the show and hit some of the questions we've encountered in the past.
What is the PCA?
PCA stands for Premium Cigar Association. It was originally called the RTDA (Retail Tobacco Dealers of America). In 2017, it was renamed to IPCPR (International Premium Cigar and Pipe Retailers) and then renamed the Premium Cigar Association in 2019. The Premium Cigar Association defines themselves as:
Founded in 1933 as the Retail Tobacco Dealers of America, the Premium Cigar Association (PCA) is the oldest, largest and most active trade association representing and assisting retailers of premium tobacco products and their suppliers.

The PCA represents nearly 3,000 retail stores who employ 30,000+ retail workers. As the only full-service premium tobacco organization, we fight for our members against onerous, business-killing regulations and taxes, provide business-enhancing professional development, and help strengthen business relationships through our best-in-class trade show and other business-to-business offerings.

The PCA is the premium cigar and pipe industry's center of excellence.
What is the PCA Trade Show and Convention?
It is an annual gathering that provides an opportunity for the cigar industry to showcase and sell products to cigar retailers. Typically, cigar manufacturers will use this event to launch and showcase their latest products. Often "show deals" will be provided by manufacturers to offer incentives to buy product.
In addition, there are a series of educational seminars and social networking events. In recent years, the education piece has been more of a focus of the PCA. Much of the education has been set up with the retailer in mind.
The Trade Show and Convention is an event geared specifically for retailers, manufacturers, and service providers. All attendees, including members of the media, must be members of the PCA. The 2021 show is the 88th edition of this event.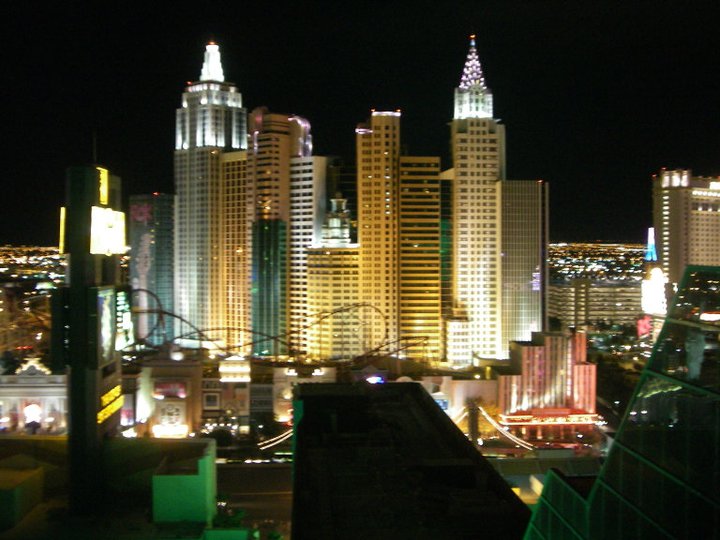 When and Where is This Year's Trade Show and Convention?
July 9th – July 13, 2021
Sands Expo Center
Las Vegas, Nevada
The Trade Show and Convention will be in Las Vegas for the fifth year in a row. This is the eighth time in eleven years it is being held in Vegas.
There was no Trade Show in 2020 due to the COVID-19 pandemic. This marked the first time in the 88 year history of PCA/IPCPR/RTDA that the annual Trade Show and Convention was cancelled. This is also the first year the trade show is being branded under the "PCA" name.
The Sands Expo Center is connected to the Venetian and Palazzo hotel properties.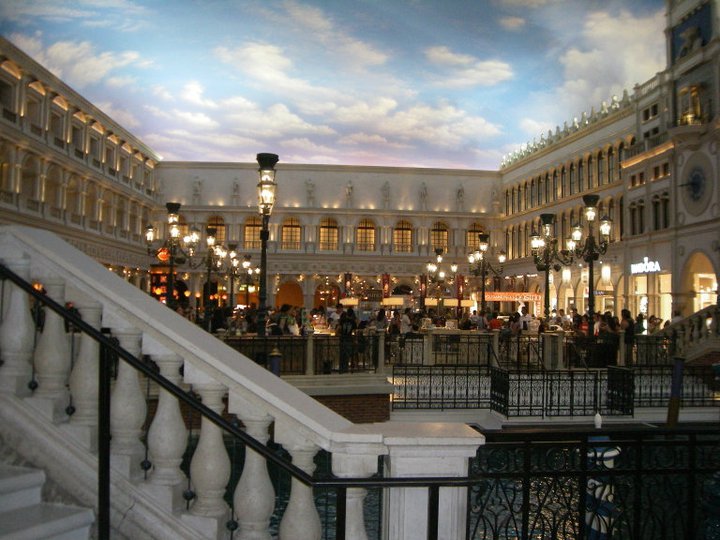 PCA Officers/Board of Directors
Every other year on an odd-numbered year, the PCA selects a new set of officers. This year it is expected that a new PCA President will be selected as well as new board members. Officers are selected for a two-year term. John Anderson is the current PCA President and his term comes to an end at the PCA Trade Show. It is anticipated that PCA Vice President Greg Zimmermann will succeed him, as typically the Vice President has succeeded an IPCPR President.
Smoking Policies
Smoking, in general, is getting more difficult in Las Vegas every year. Much of this is due to a combination of pressure from anti-smoking groups combined with opposition to the increased use of legalized marijuana in the state of Nevada. As a result, the Sands Expo Center has strictly limited smoking to designated smoking areas in the facility.
While smoking is allowed on the trade show floor during trade show hours, it is prohibited in common areas, hallways, registration areas, meeting rooms, ballrooms, guest rooms, and any other non-designated smoking areas in the Sands and adjacent Venetian and Palazzo hotels.
PCA has stated that the rules will be strictly enforced and that fines could be as much as $7,500, removal from the show, and potential banning from future shows.
2021 Agenda and Schedule
Note: This is the schedule as reported at press time.
July 9th
As in previous years, the first day of the PCA Convention focuses on educational seminars. For the most part, these are geared to the retail community and are a mix of retail best practices and legislation education. This year it seems more manufacturers have stepped up for the education role.
With General Cigar Company not attending the 2021 PCA Trade Show, its three-year run as sponsor of the opening night cocktail reception has come to an end. For 2021, three companies will be co-sponsoring the reception: ACE Prime, Crowned Heads, and Espinosa Cigars.
10am — 6pm: Check-In Open

1pm — 2:30pm: The State of Retail – Operating in a Post-COVID World w/ Michael Herklots, Scott Regina, Steve Castro, and Craig Cass

3:30pm — 4:30pm: Government Affairs Update: Achieving Regulatory Relief & Defining Premium Cigars w/ Joshua Harbursky and Glynn Loope

3:30pm — 4:30pm: Achieving Regulatory Relief and Defining Premium Cigars w/ John Anderson, Greg Zimmerman, Rocky Patel, and Jorge Padrón

4:45pm — 5:30pm: Manufacturer's Panel w/ Tom Lazuka, Pete Johnson, and Terence Reilly

5:30pm — 7:30pm: Welcome Reception hosted by Ace Prime, Crowned Heads, and Espinosa Cigars
July 10th
At the IPCPR Annual Meeting and Breakfast, the new Board of Directors will be announced.
In the past, the Annual Breakfast has featured a Keynote Speaker, but there are no plans for a Keynote Speaker in 2021. Following the breakfast, the doors to the Trade Show open.
New features include an After Hours Cigar Bar and Early Trade Show for Venetian/Palazzo Guests as well as early access for the media
8am — 9:30am: Annual Meeting & Light Breakfast

9:30am — 10:30am: Early Entry for Venetian/Palazzo guests & Media

10:30am — 5pm: Trade Show Open

12:30pm — 1:30pm: PCA Executive Committee Q&A

8pm — 12am: After Hours Cigar Bar
July 11th
9am — 10am: Early Entry for Venetian/Palazzo guests & Media

10am — 5pm: Trade Show Open

11am — 12pm: Advocacy and Grassroots Panel

12pm — 1pm: International Policy

1pm — 2pm: Tech Talks: for Retail w/ Terry Gallagher

8pm — 12am: After Hours Cigar Bar
July 12th
For the second show in a row, a press conference is being hosted for the media.  This year the press conference is being held on Day Three.
9am — 10am: Media Press Conference

9am — 10am: Early Entry for Venetian/Palazzo guests

10am — 5pm: Trade Show Open

12:30pm — 1:30pm: Next Gen. of Leaders in Premium Cigars w/ Lisette Perez-Carrillo, Alec Rubin, Bradley Rubin, Nicholas Perdomo III, and Liana Fuente

8pm—12am: After Hours Cigar Bar
July 13th
9:00 AM – 1:00 PM Trade Show Open
PCA 2021 Pre-Game – Additional Thoughts and FAQs
The following is an editorial piece. Except where noted, it represents the thoughts of this author and this author alone. These are listed in no particular order.
1. What COVID-19 Restrictions will be in Place at PCA 2021?
The PCA submitted its "Large Gathering Venue COVID‐19 Preparedness and Safety Plan" to the Department of Business and Industry's Division of Industrial Relations for the State of Nevada which was approved on April 6. According to the PCA, the approval of the plan will allow smoking throughout the show floor and the opportunity to sample products, handle accessories, and conduct business. Essentially this means the trade show will not be hamstrung by COVID-19 safety protocols.
The PCA, along with the Sands Convention Center, has still put some extra safety protocols in place that are documented on the organization's website. These extra precautions should not impact the ability to conduct business during the trade show.
2. How easy is it to smoke in Las Vegas?
There are smoking restrictions on the Sands/Venetian/Palazzo properties and as a result, one cannot simply walk around smoking. In fact for some time now, attendees have not been allowed to walk out of the convention area with a cigar. But as I've mentioned before, it's been getting increasingly more difficult to smoke in Las Vegas in recent years. In 2017, this became very noticeable in this author's eyes. At that time I documented my observations:
While Las Vegas offers more in the way of areas to smoke than New Orleans, it is getting increasingly more difficult to find a place to enjoy a cigar. This is not your father's Las Vegas.
For starters, getting a smoking room in a hotel is more difficult. In fact a little over a year ago, MGM Resorts revamped all of their properties to have smoke-free hotel rooms. While you can still obtain a smoking room at certain hotels, it's becoming more and more difficult. In fact, I've also found that some of the travel websites are not correct on whether a hotel has smoking rooms available or not. My advice, call the hotel directly to check the availability of smoking rooms and make sure you have one reserved.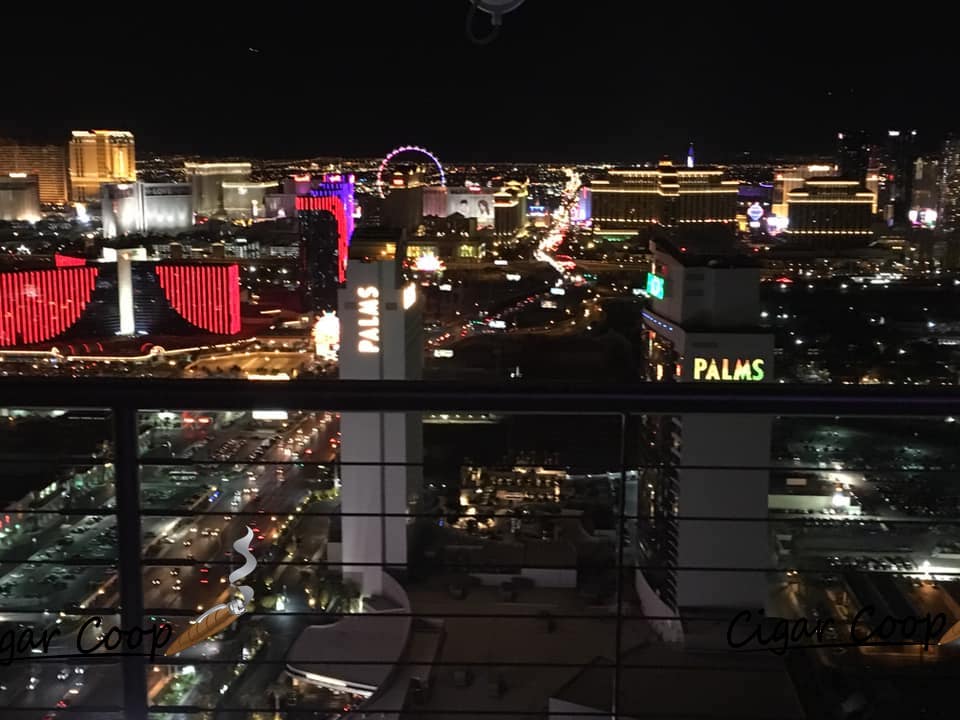 I believe there are two factors driving hotel rooms to become smoke-free. First, I believe the anti-tobacco movement is at play here. Second, I think the hotels prefer to have people smoking on the casino floor rather than being tucked away in a hotel room away from the temptation to spend money. The reduction in smoking rooms has impacted the availability of hospitality suites during the trade show. There is probably more demand for hospitality suites that allow smoking since it is banned almost everywhere, but there are fewer suites which allow smoking.
I am also noticing that the casinos, lounges, and restaurants are reducing the space where you can smoke. It seems like each year, there are more "smoke-free" areas popping up in the casinos and lounges. In fact, over the past three years, I've seen a great reduction in smoking areas. The majority of the sports book areas are now smoke-free. As for a restaurant – good luck finding one where you can smoke. And it's not just the indoor areas, I've seen several areas that had restrictions in some of the outdoor areas as well.
I'd also like to note that casinos consider the smoking areas to be one size fits all. Cigar and pipe smokers will be mixed in with cigarette smokers. Not an ideal arrangement for many cigar enthusiasts.
If all seems like it is bad news, the good news is there are some premium cigar lounges where you can enjoy a cigar. The strip is now home to cigar bars such as Casa Fuente, Davidoff, and Montecristo. While you will pay Las Vegas prices for your cigar, the good news is you will be in a cigar-friendly environment where you can also enjoy a fine spirit.
The trend above has continued since then. The Park MGM, Vdara, Signature at MGM Grand, and Delano Hotel (all not in near proximity of the Trade Show) are two major properties that have become non-smoking properties. During a public comment period around re-opening Las Vegas Casinos for business, there was an orchestrated group of anti-smoking coalitions that attempted to tie smoking in with COVID-19 virus transmission. While it didn't result in any major changes, it showed there still is a threat by anti-smoking coalitions.
The Venetian/Palazzo/Sands has strict rules on where you can or can't smoke on the property. Violators could be subject to fines up to $15,000.00 and banned from the show.
The net result – while it doesn't provide an ideal situation, Las Vegas still provides plenty of smoking options.
3. Where will the After-Hours Social Hub be?
In previous years, since the Sands Expo Center was adjacent to the Venetian and Palazzo Hotels, those hotels served as hubs for after-hours activities and networking. In particular, the Bellini Bar (aka "Circle Bar") at the Venetian and Laguna Champagne Bar at the Palazzo were popular because both allowed smoking. 2018 saw the closing of the popular Laguna Champagne Bar. It was replaced by a new area called Bar Luca.
While most people still preferred the setup of the Laguna Champagne Bar, that didn't stop attendees from pouring into Bar Luca in 2019 – after all, we all know the members of the cigar industry love their after-hours bars.
This year will see a change as Days 1 to 3 will have an after-hours bar from 8pm to midnight located adjacent to the Trade Show floor. It's being touted as the "most smoker-friendly spot" on the strip. Combine that with food and drink incentives provided to attendees staying on the property at Venetian and Palazzo and my guess is this will put quite a dent in Bar Luca from 8pm to midnight. Many in the cigar industry like a bar after midnight, so I would expect the action to return to Bar Luca after-hours. And Bar Luca will most likely be the destination spot for the days leading up to the Trade Show.
4. What is the Outlook for Attendance and Foot Traffic?
This is always a tricky question. There are several ways to slice this – number of retail establishments attending, number of retail personnel attending, and the actual foot traffic on the show floor. On Prime Time Episode 191, Executive Director Scott Pearce reported that the number of retail establishments and retailer personnel signed up were up from the same point in 2019. The PCA Trade Show is touting itself as a "family reunion" and that's not a bad thing. Many are anxious to get out from COVID-19 lockdowns and happy to have the opportunity the Trade Show provides to get together again.
How this translates to foot traffic on the show floor is going to be the $20,000 question. The 2019 Trade Show saw a drop in foot traffic the last two days of the show. Some retailers told me they simply cannot afford four days at the Trade Show as they have limited buying funds – and worry about being away from their establishments too long.
This isn't necessarily a new problem. The idea that some retailers cannot afford to be at the Trade Show for four days is one this author has heard for many years. In addition in 2019, many retailers felt a need to get home as the show was up against the July 4th holiday in the U.S. So, while I expect a drop off in foot traffic for Days 3 and 4, it might not be as bad as 2019.
The smaller footprint of the Trade Show may also help with the perception that the Trade Show is lower on attendance.
5. Are early show specials hurting PCA attendance?
Same story as last year (but IPCPR has been modified to PCA):
With PCA being a trade show, many manufacturers offer "show specials" to retailers who buy at the show. In recent years, it has become more common for these specials to be honored pre or post PCA – regardless of whether the retailer attends the show or not.
Yes, it's a problem, and unfortunately, it is not going to ever go away. The month before the show, it is challenging for many sales teams in the cigar industry to make numbers, as PCA is often looming with big specials. Many retailers choose to wait as there is usually more incentive to do so. Good or bad, the early show specials have been a way to counter this problem.
Sometimes companies offer exclusive limited product to those who attend the show. In the end, I don't think this has an impact and hasn't really created enough buzz on attendance at the show.
6. Will the Recent TPE Show Hurt This Year's PCA Trade Show?
When Tobacco Media Group (TMG) made the decision to push its Tobacco Plus Expo (TPE) 2021 Show to May, many of us were wondering if it would set up a battle of two competing trade shows eight weeks apart. It turned out this was a battle that didn't really happen.
As far as retailers go, there is a good number going to PCA that went to TPE. As for the ones who went to one or the other, I think many already had their mind made up. While TPE was the first trade show in any industry since Las Vegas re-opened from the COVID-19 shutdowns, some potential attendees were still not vaccinated. As a result, it is not wrong to say that some who were planning on doing one show selected PCA because of the timing.
In the end, my guess is TPE didn't put much (if any) dent on who might be going to PCA.
7. Where are all of the 2021 Product Announcements?
In previous years, I have always said that a lack of product announcements was fake news. This year, there is actually a significant drop in new products from previous years.
Much of the issues can be blamed on COVID-19, which has slowed down factory production, particularly in the Dominican Republic and Honduras. At the same time, there have been ripple effects across the supply chain resulting in box and band delays, thus delaying product completion.
For several, large print media has been securing exclusive product announcements with many manufacturers at the expense of the collective cigar media. I've been told by some manufacturers that this has delayed product announcements in the past. While there is no doubt this is still the case, the supply-chain problems are a much more prominent reason for the delay in product announcements.
8. Will the PCA Exclusive Product Series be a Gamechanger?
Much like the Tobacconists Association of America (TAA) has an exclusive set of cigars to its members provided by manufacturers, the PCA has been promoting a similar concept for those attending the trade show.
First up, even though there is still work to be done, the PCA as an organization should get high marks here. They have done an excellent job in promoting these releases. There is even a showcase area on the Trade Show floor for these products. On the other hand, the TAA as an organiation has done a weak job at promoting their exclusive products and perhaps they should take a cue from the PCA on this.
However, there is still work to be done – and I put a lot of this on the manufacturers. Historically, the manufacturers have also done a weak job as a whole in promoting TAA releases, and they seem just as bad with promoting the PCA releases.
For starters, of the 17 PCA Exclusive releases we reported on at this time (less than two weeks before the show) – only five sent press releases to the general media. Several of the other releases were given print exclusives.
| | | | |
| --- | --- | --- | --- |
| Company | Cigar | Type | Media |
| 7-20-4 Cigars | Hustler Fancy Boy | Line Extension | No Press Release |
| Ace Prime | The Sergeant | New Line | Press Release |
| Aganorsa Leaf | Aniversario Toro | Annual Release/ Line Extension | Press Release |
| Alec Bradley | Magic Toast Box Pressed Gran Toro | Line Extension | Print Media Exclusive, then Press Release |
| Asylum Cigars | Asylum PCA Exclusive | New Line | No Press Release |
| Casdagli Cigars | Villa Casdagli | New Line | No Press Release |
| CLE Cigar Company | Eiroa PCA Exclusive | New Line | No Press Release |
| Crowned Heads | Le Pâtissier | New Line | Press Release |
| Crux Cigars | Limitada – The Show | Annual Release/ Line Extension | No Press Release |
| Espinosa Cigars | 601 Black | Annual | Print Media Exclusive, then Press Release |
| Illusione ~cg:4~ | ~cg:4~ Candela | Line Extension | No Press Release |
| La Palina | Goldie Prominente | Annual Release/ Line Extension | Print Media Exclusive |
| My Father | TBD | TBD | No Press Release |
| Padrón | TBD | TBD | No Press Release |
| Platinum Nova | Leo 11 | New Line | No Press Release |
| Rocky Patel ALR | ALR Second Edition | Existing Line | No Press Release |
| Tatuaje | TBD | TBD | No Press Release |
Tatuaje, My Father Cigars, and Padrón Cigars are expected to unveil their PCA Trade Show Exclusives at the show or just before. Arturo Fuente and J.C. Newman Cigar Company were reported by the PCA to be delivering Trade Show Exclusives, but neither the PCA nor these companies have announced these releases
Given there is a showcase area for these products, it's surprising that more pre-show promotion hasn't gone into these products. On top of that, many have only announced these products in June. In reality, these announcements should have come in the spring if Trade Show Exclusive Cigars are truly to be used as a value add to come to the Trade Show. On the flip side, product releases have been delayed by supply chain issues (see #7 above) and this may be the reason many of these announcements could not be made sooner.
Bottom line, despite PCA's best efforts, the manufacturers still have a long way to go to make this series a game-changer.
9. Isn't cigar media at PCA just for free samples?
Ongoing Fake News: It's obligatory I post this every year (with the exception that IPCPR has been renamed to PCA)

Many retailers and even some manufacturers still believe media attend the show for the free samples. As we discussed in 2015, Cigar Coop incurs a considerable cost to cover the PCA Trade Show. Many online media outlets also invest quite a bit of time and money to come to PCA and while free samples help offset some operating costs, it is not a driving factor for any of these outlets being there. I have pretty much given up arguing with the retail community. By now I had hoped that the quality coverage that Cigar Coop and many media outlets do would have proved my point.
These days, it seems PCA gets blamed for everything that goes wrong, and this is unfair. However, if there is one area where I will level criticism, it is the PCA's ban on media asking for free samples. This is a policy that I have stated is outdated and not in line with other industry trade organizations where online media is present. I believe that if free samples are ultimately allowed at the trade show under the new FDA regulations, PCA needs to do away with media restriction of asking for samples for future trade shows. While Cigar Coop disagrees with the policy, we have also complied with it.
Some can argue that established media should have no problem getting samples. Again, I point to other industry trade shows and I would challenge one to find me another industry trade show where requesting samples (regulations permitting) is not allowed for the media. There is no reason why the cigar industry cannot be in line with other industries.
One side note. Unlike some media outlets, Cigar Coop will rarely use the PCA samples for cigar reviews. We will smoke IPCPR samples to get a feel for the smoking experience. We feel the conditions many of these samples are subject to are not ideal for our comprehensive review format. We disclose this policy when we are offered samples.
Under the B to B rules specified by the U.S. Food and Drug Administration (FDA), it has been clarified that media can receive samples.
10. Are there fewer exhibitors at the PCA Trade Show in 2021?
Yes. In the past, one could expect the lion's share of the industry to always be at PCA – and if a company skipped the Trade Show it was times of trouble. This is no longer the case.
There are three reasons why there are fewer exhibitors. Some such as the Big Four (Altadis USA, Davidoff, Drew Estate, and Scandinavian Tobacco Group) have pulled out over differences in the direction of both the PCA organization and PCA Trade Show. Others have pulled out due to supply chain issues (such as La Flor Dominicana), and others for safety reasons (such as Southern Draw). Some smaller companies have found better value attending the smaller-scale TPE show.
For some companies attending, they have opted to go with smaller booth sizes, and/or operate with less staff.
Fewer companies has created smaller footprint at the Trade Show, but even if there weren't supply chain issues or safety concerns, the loss of the Big Four certainly was going to create more open floor space.
Our 2021 PCA Big Board has a full list of who is in, who is not going, and those companies that may still be on the fence.
11. When Will the Big Four Return to the Trade Show?
Not any time soon. Certainly not for 2021, and as of now, there are no signs of a return for any of them for 2022.
12. Can anyone go to the PCA Convention and Trade Show?
No, it is not open to the public. This is strictly enforced by the PCA. In the past, the messaging has been as strong as "consumers are not welcome." There is a reason for this – and it goes back to the fact that while on the surface it might seem like an Expo, it still very much is a retail buying show.
13. What Happened to CigarCon?
Coming out of the 2019 Trade Show, it appeared the next PCA Trade Show would have a component known as CigarCon – a consumer event tied to the Trade Show.  Less than two months later, plans for a CigarCon were cancelled.
At the 2019 IPCPR Trade Show, the IPCPR announced it was rebranding and refocusing the mission of its organization — taking on a new name, Premium Cigar Association (PCA). The organization would take on an expanded mission beyond the retailer community it has served for 87 years, and for the first time would include some consumer focus. The change in focus was decided upon because the PCA believes there is strength in numbers and adding consumers to the mix builds the numbers. PCA believes larger numbers will help the organization take a more proactive role in the fight against the U.S. Food and Drug Administration (FDA). At the same time, the CigarCon consumer event was meant to provide a signature event for all members of the PCA (Manufacturer, Retailer, or Consumer) while helping fund legislative efforts.
The concept of a consumer event tied to the annual trade show has been perhaps the most controversial topic that I've seen in the ten years I have been covering the Trade Show. While PCA is not proposing consumers be allowed in the trade show, they were planning on piggybacking a consumer event up against the trade show for 2020. This plan has been equally controversial.
Plans for CigarCon came off the tracks very quickly. For starters, news of the CigarCon leaked out a little over a week before the 2019 Trade Show where the announcement was scheduled to be made, creating a firestorm among many in the cigar industry. Once it was announced, the controversy did not die down and ultimately this led to the cancellation.
Some committees were put in place by PCA to examine many of the issues and challenges the organization faced – including a potential consumer day. However, 2020 saw the COVID-19 pandemic strike. The pandemic ultimately led to a staff furlough and the cancellation of the 2020 PCA Trade Show. Since then the PCA has focused on its 2021 Trade Show, supporting retailers throughout and its post-pandemic, and Federal and State legislative efforts.
14. What Will Cigar Coop's PCA Media Coverage Look Like in 2021?
Cigar Coop is making big changes to its 2021 Coverage Model. We published the information on this a few weeks ago:
15. Will Prime Time be doing any broadcasts from the Trade Show?
While we won't be doing a live broadcast from the Trade Show floor, we have some other things planned for 2021.
Logistically it is challenging to do a live show during the trade show business hours as many companies are more focused on sales and marketing. Plus, we find bringing the guests into a more relaxed atmosphere such as Prime Time or Special Edition makes for a better broadcast.
in the past, we considered an option to secure floor space to set up a potential area to do a podcast. We ultimately ruled against it as the costs did not justify the ROI. There are costs for the floor space as well as costs for internet and electricity. Even if IPCPR covered some of these costs for media, there are other logistical problems.
While we aren't doing a live broadcast, we have two other things planned. First, as a part of our changes to our media coverage, we will be increasing our video coverage. These won't be live broadcasts, but ones available on demand and integrated into our booth reports.
Tentatively, we are planning daily recap shows. These will not be done from the Trade Show floor, but from an external location. Most likely they will be live. This is still subject to change.
16. Is this the Final Trade Show?
On his appearance on the Prime Time Show earlier this month, Executive Director Scott Pearce emphatically said "no!" and this author would concur with this.
The past two years have been challenging for PCA. There were the problems of the 2019 Trade Show followed by the Big Four pulling out of the Trade Show. This was then followed by the COVID-19 pandemic which essentially furloughed a good part of the PCA staff for several months. While it's easy to kick the PCA with a message of doom and gloom, this is not the case. The bottom line is the PCA survived a very difficult two years and while it's a smaller footprint, they still are putting on a trade show.
Even with the Big Four out, many companies such as Tatuaje Cigars, Espinosa Cigars, Crowned Heads, Ace Prime, Alec Bradley, and Tarazona Cigars have stepped up their level of support. Many retailers are also still attending and are ready to buy.
The PCA has its challenge – and trade shows as a whole have the challenges. In the end, while there is still work to do, this author believes reports of the PCA Trade Show demise are exaggerated.
Other Installments of the PCA 2021 Pre-Game Series
Podcasts
Feature Stories
Tuesday 6/8/21: The Big Board (ongoing)
Sunday 6/27/21: PCA Pre-Game Series Part 1: A Look at the 2021 PCA Trade Show
Sunday 7/4/21: PCA Pre-Game Series Part 2: The Things to Watch at the 2021 PCA Trade Show
Thursday 7/8/21: PCA Pre-Game Series Part 3: Predictions for the 5 Hottest Cigars at the Trade Show
Friday 7/9/21: PCA Pre-Game Series Part 4: Selection for "The Company" of the 2021 PCA Trade Show
Photo Credits: Cigar Coop, except where noted
Update 6/28/21: Aganorsa Leaf added to list of PCA Exclusives