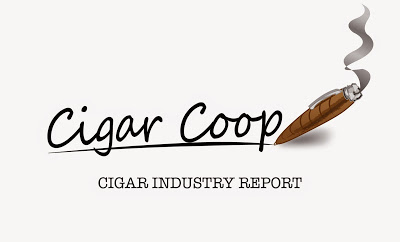 The Cigar Industry Report is a one stop place to catch up on the activity here at Cigar Coop and Stogie Geeks. It is a combination of our news reports, cigar reviews, and assessment updates we do throughout the week. We will also recap what happened on our Stogie Geeks show. Finally, each week we will look back at Cigar Coop history. Look for this report every Saturday morning at 8am Eastern time.

Cigar Industry Report: Volume 4, Number 25 (Edition 122 5/16/15)
Note From the Editor: We Have a Logo!
We finally have a Cigar Coop logo. It's been a long delay in getting this. Part of the reason for this delay was because we were deciding how we wanted to brand things. We talked about taking on the Stogie Geeks name and we talked about possibly a whole new brand. While initially I personally was leaning toward not the Cigar Coop name, ultimately the feedback from many is that the brands should stay.
We wanted a logo that showcased the brand mission – cigar journalism and we wanted it to complement our multimedia brand of Stogie Geeks. The logo will make its debut on the website in the next few weeks, and we will have more to say about that soon.
Feature of the Week: La Aurora Cien Anos Preferidos Heading to Havana Cigar Club in R.I.
Our sponsor the Havana Cigar Club in Warwick, RI is receiving a special cigar. A limited production of the La Auroa Cien Anos Preferidos has arrived at the Havana Cigar Club. The cigar will make its official debut at a May 12th launch event held at the Club. This past week, we recorded a special "Stogie Geeks Short" where we talk about this iconic blend in an iconic size.





Southern Cigar Festival
Cigar Coop and Stogie Geeks are proud to partner with the Southern Cigar Festival. The event is being held on June 6 at the Verizon Wireless Amphitheatre at Encore Park in Alpharetta, Georgia. This past week, we took a look at some of the manufacturers making up this great event.
Tickets are available through Ticketmaster via the event website, Cutters Cigar Emporium, and the Amphitheatre box office. Those purchasing tickets in person at Cutters Cigars will get a free cigar with their ticket purchase.


News and Previews
Legislative News
Federal: No new sponsors were added to Senate Bill (S. 441) – the total sponsor count remains at 16. Four new sponsors were added to House Bill (HR 662) – Rep. John Mica (R-FL); Rep. Bob Gibbs (R-OH); Rep. John Moolenaar (R-MI); and Rep. Greg Walden (R-OR) bringing the total sponsor count remains to 105. Meanwhile H.R. 2058 was filed to change the effective date for cigars subject to FDA regulation from 2007 to 21 months following any proposed regulations are put into effect. Nine co-sponsors have signed on to this bill including: Rep. Tom Cole (R-OK); Rep. David Rouzer (R-NC); Rep. Brett Guthrie (R-KY); Rep. Thomas Rooney (R-FL); Rep. Duncan Hunter (R-CA); Rep. Mark Amodei (R-NV); Rep. Andy Harris (R-MD); Rep. Walter B. Jones (R-NC); and Renee Ellmers (R-NC).
Indiana: Gov. Mike Pence signed Senate Bill 463 that ammends the Indiana State Clean Air Act that will allow for the establishment of new cigar bars.
Assessments