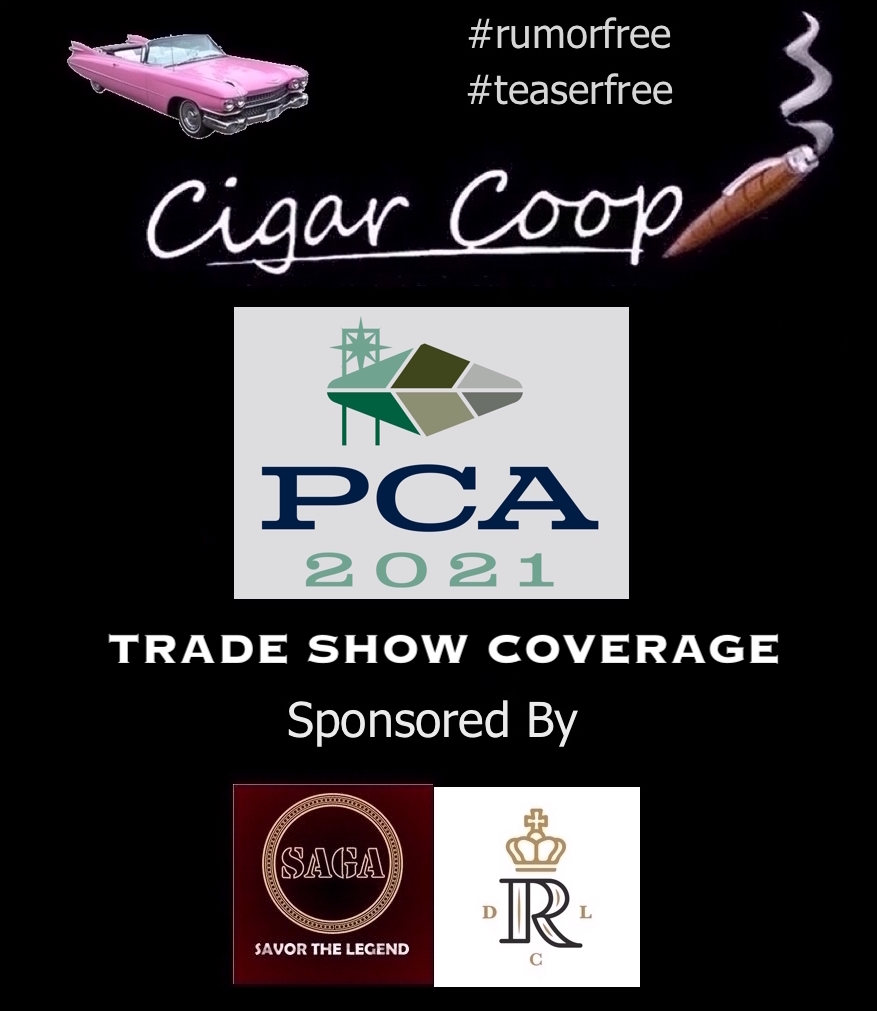 For the sixth consecutive time, Cigar Coop presents a full "Post-Game Report" assessing the Premium Cigar Association (IPCPR) Convention and Trade Show. In this report, I talk more about the show itself and give my thoughts on the impacts on the cigar industry.
This year I once again published four daily "post-game" recaps during the Trade Show. These were intended to be short daily recaps of the Trade Show. Today I present a more detailed "post-game analysis" of the show.
This won't put a close to the Cigar Coop 2021 PCA coverage. We still have more of our product-centric coverage and interviews coming out over the next few weeks.
The Vibe
The Positive Start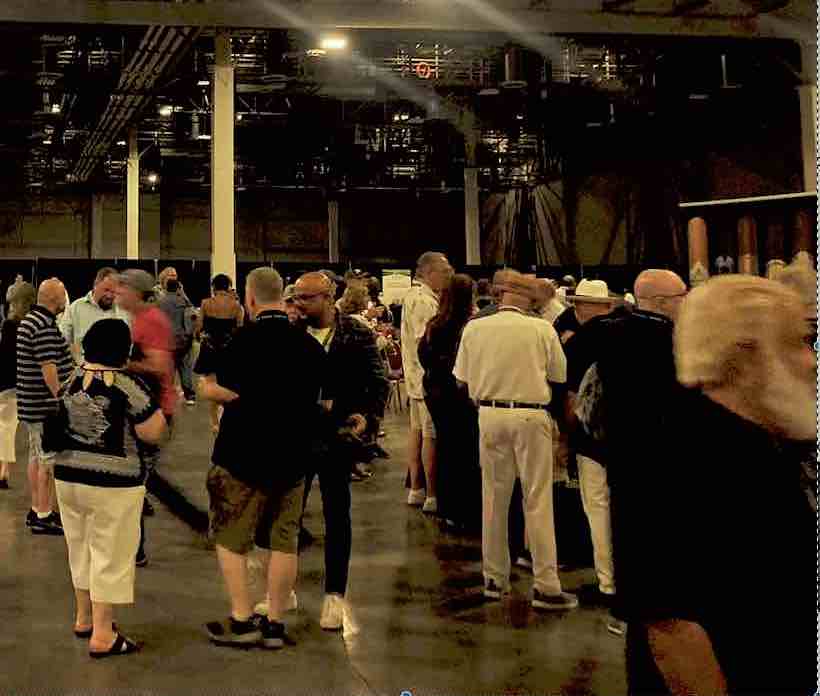 As horrible as COVID-19 has been to everyone, it has had a bit of a silver lining in the cigar industry. There was an increased demand for many products. But most people have been missing the in-person social interaction. The PCA promoted the 2021 Trade Show and Convention as a "Family Reunion" and provided the opportunity for the industry to get back together on a grand scale. I believe this year's Trade Show lived up to that expectation.
The last few years I have talked about "the vibe" going into the Trade Show as being key to how the Trade Show will be viewed. Two years ago, the controversy of CigarCon did not create a positive vibe, and that spilled over into the Trade Show as it fed into an aura of negativity. On the other hand, three years ago, attendees got to see an outstanding pre-release of the Hand–Rolled: A Film About Cigars documentary, and despite a fire/flood when the show opened, that showing created a very positive trade show.
This year the family reunion created a decidedly positive vibe. At this year's opening reception, you can see how happy people were to see each other. I experienced this personally myself. This continued the next day into the opening breakfast and onto the Trade Show floor. Even when there was a reduction of foot traffic on Days Three and Four, there was still a lot of residual positive energy from being back together in person.
The Negative Finish
Unfortunately, there were some negatives the last two days. As I mentioned when it came to foot traffic, I was very concerned there would be a drop-off on Day Three and a further drop-off on Day Four – and that's exactly what happened. However, this got overshadowed by a couple of controversies that emerged on Day Four. These controversies didn't come from the PCA, but rather the manufacturers themselves.
As the PCA Trade Show was coming to a close, a large group of manufacturers posed for a picture. The picture appeared to be a sign of unity among the manufacturers, but it was the messaging behind the picture that created the problem. The caption read "One family together- If you're a manufacturer and you're not here, you're not relevant." Not only did this send flames at those manufacturers who were not there, but it also struck many nerves with retailers. Essentially this attempt at unity resulted in more division in the manufacturer community.
A firestorm soon ensued that led to many childish social-media flame wares within the manufacturing community. Despite many of the photos being taken down quickly, the damage was done. It called to mind Charlie Minato of Halfwheel stating in his Ten Questions for 2020 article that "we need adults in the room". While his statement wasn't in regard to social media, he is 100% right and the social media flame wars among manufacturers we saw at the end of the trade show proves it.
About 48 hours later, Pete Johnson of Tatuaje made a statement that seemed to end the firestorm:
The older I get I realize I should never jump into anything without proper planning. I don't regret being part of the picture with all those great manufacturers and brand owners. Unfortunately we were missing a lot of great people that were in the room and a lot that weren't even attending. The picture shows togetherness and unity and the more people the better.
What I do regret posting is the caption we all decided to use. I heard it, didn't like it but still posted it after I saw it being done. Poor choice of one word and it should have been better thought out by the group. The post in my mind was always directed at a certain group. No small manufacturer, brand owner, importer, broker, retailer and especially not any consumers were in that line of fire and I apologize if you thought it was directed at you.
The truth is, I didn't miss the big four companies on the floor this year but the industry needs them back on the floor. The bigger and stronger we are together, the more we can achieve as a premium cigar industry. Romeo, Cohiba, Acid and Davidoff are pretty damn relevant names in our industry. Do I smoke them no but they are relevant.
The wolves at the door are going to keep knocking and we need to be more together to fight stronger.
Lastly, at 50 years old I don't have time for Facebook turf wars. This is not what I want to be remembered for and that is why I trashed the previous posts that included negative comments.
I'm going to leave this post up but if I do see any negative comments that include any other brand owners I will delete them. We are not in high school anymore and Facebook turf wars are not what we should be focusing our attention on.
The other issue was several companies packing up early, and some even going home. Two companies, in particular, were Warped Cigars and Caldwell Cigar Company. The drama was amplified when Caldwell Cigar Company put up a social media post saying they were going home for burritos. The Caldwell booth was already controversial in that there was nothing to the booth but folding chairs on a carpeted area. Not only did they go home, but a mess was left behind in their booth. Sources close to the situation told Cigar Coop the PCA is extremely unhappy with this situation.
The Caldwell situation called some attention to the length of the show. For several years, I've heard retailers say they simply cannot afford three and a half days of buying. We've now seen drop-offs in foot traffic, and now we are seeing manufacturers respond to the drop-off by packing up early on Day Four – or simply doing what Warped and Caldwell did and leave. The PCA needs to address this and address it before going into the 2022 Trade Show.
More About the Photo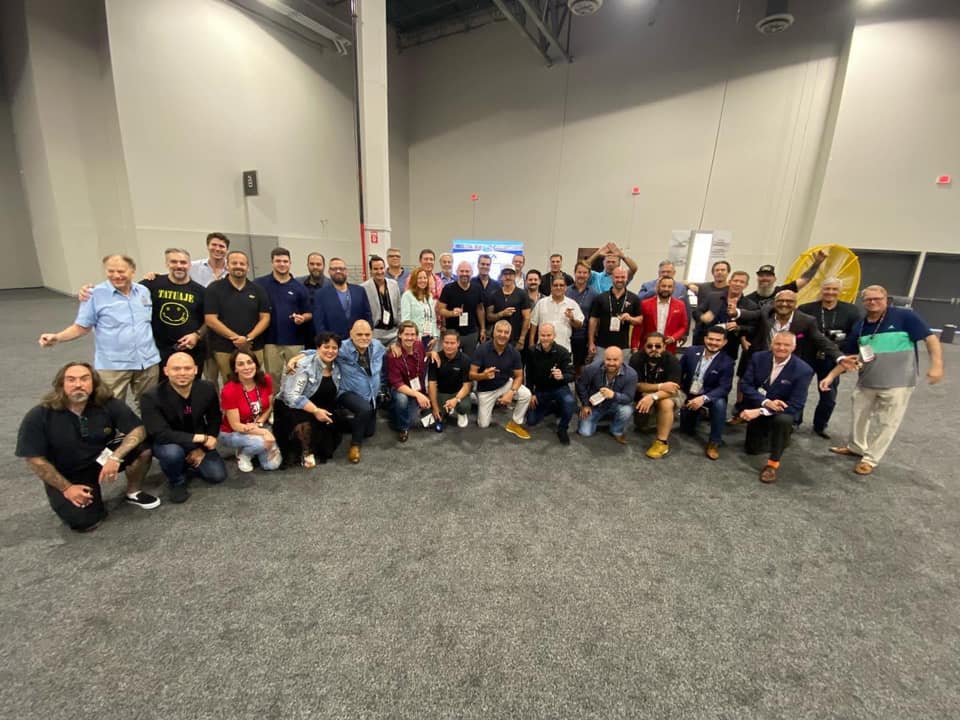 There are two additional points I want to hit on with the photo. First, if this doesn't continue to emphasize that this industry as a whole needs public relations help, I don't know what does. I'm surprised so few within the industry have seen the need for this. This investment would pay dividends down the road.
Second, where was the cigar media's invite to this photo op? I'm sure most people probably wouldn't have wanted the media there; however, if this had been done right, it could have been free publicity for the cigar industry.
One thing I will say. The cigar industry tends to have short memories, and those within and outside the industry tend to be quite forgiving. It's my hope that this will be the case.
The Show Footprint
"Economy of Scale" and the "Minimalist Show"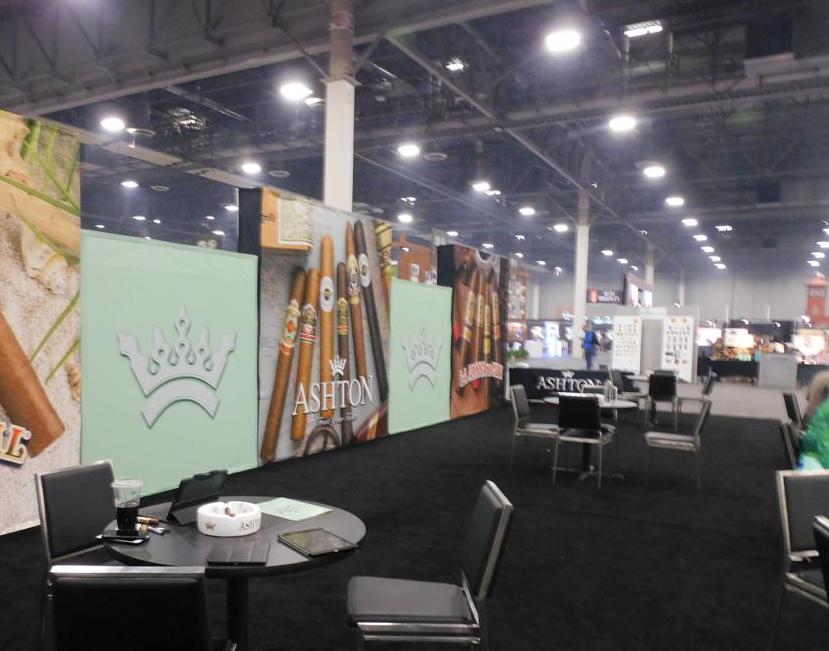 Much was made about the smaller footprint going into the 2021 Trade Show floor. This was due to several companies not attending the 2021 Trade Show. It was also due to the fact that many companies downsized their booths. Some opted for open space seating areas with some glass cabinets to display product. Some went for the open space and did not display product. I called this "economy of scale."
I've heard all of the positive spins. "This is more cost-effective", "This reminds me of the old RTDA Days", "It's easier to get around the Trade Show floor." While I understand the circumstances of this Trade Show were special as we are coming out of the COVID pandemic, I'm not not going to sugarcoat this – I didn't like it. I can certainly agree that in the past some booths got way too big and way too elaborate for this size industry, but there has to be a happy medium. This is our industry trade show. Premium cigars are a luxury product, thus it needs to look more professional.
A good example of a happy medium is the Dunbarton Tobacco & Trust booth. If you ask Steve Saka, this is not a costly booth, yet I found it to be an attractive one.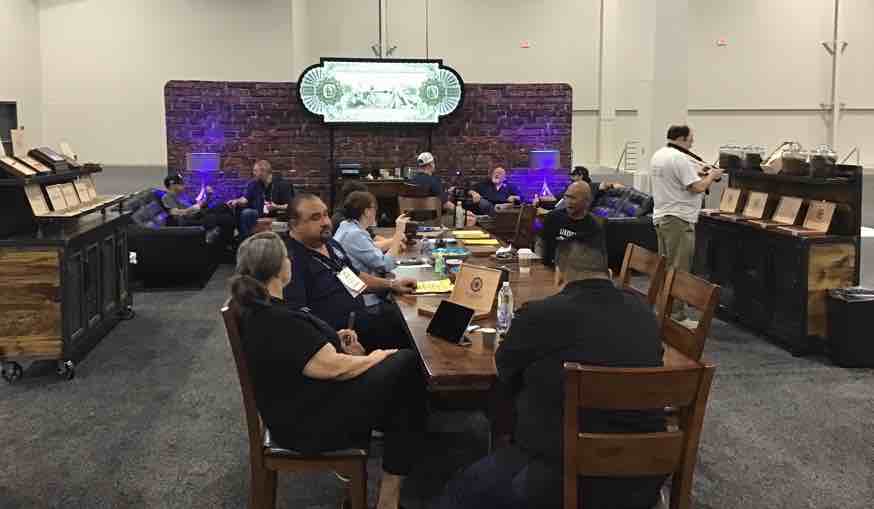 Smaller booths and too much open space are not good for the Trade Show. A smaller booth size means less revenue for the PCA. I also feel the open booths that don't display products are not aesthetically pleasing and certainly not going to excite people to come back to future shows.
COVID-19, Attendance and Foot Traffic
The following were the preliminary numbers reported by the Premium Cigar Association. These numbers show a clear decline in attendance.
| | | |
| --- | --- | --- |
| | 2021 | 2019 |
| Retailer Attendees | 1622 | 2085 |
| Retail Accounts | 547 | 771 |
| Retail Stores  | 1452 | 2017 |
At press time final numbers have not been disclosed, but all indications are there was a major drop-off in attendance for 2021.
Earlier, I mentioned the word "foot traffic" – a word I use to assess how many people are on the Trade Show floor at a given time. Foot traffic is an unscientific measurement, but can be assessed by looking at how many people are on the floor. I also mentioned concerns of a decline on Day Three and continuing into Day Four. This happened in previous years and happened again this year. As I mentioned above, the decrease in retail traffic, is now having a ripple effect on the manufacturers. In recent years I've seen more people working for the manufacturers leave early. This goes from employees of the manufacturers to the senior leadership and stakeholders. As I also mentioned, the manufacturers are packing up their booths earlier and earlier on Day Four.
The bottom line is if you want people to stay at a Trade Show for four days, the exhibitors need to be there for four days – otherwise, they need to look at shortening the show.
I'm not convinced the COVID-19 pandemic is completely to blame for PCA's Trade Show attendance and foot traffic problems. The city of Las Vegas was as busy as I ever saw it this weekend. There was a UFC fight along with a Bruno Mars concert – so lots of people were in town. There was an adjoining convention next to the PCA that had a very long line to get into.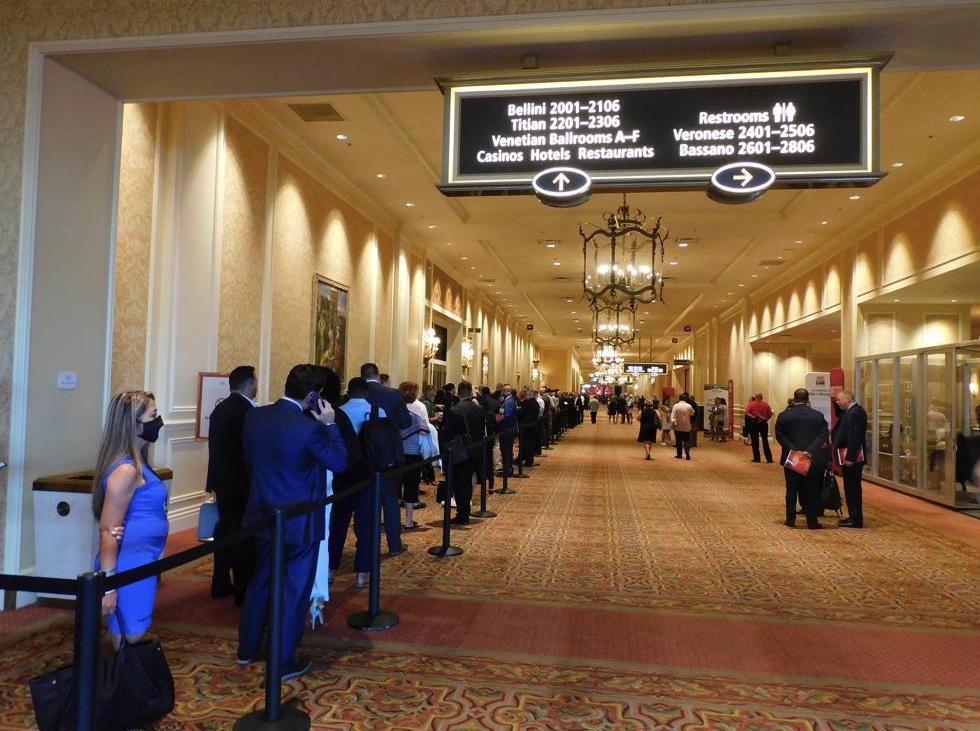 People are going to Las Vegas, so I'm not convinced Vegas is the problem. I'm also not convinced the dates are the problem. The good news is I believe PCA's transparency with the attendance numbers is a step in the right direction. Now it's a matter of pivoting and redefining this Trade Show that will be the key to solving this problem.
The Absence of the Big Four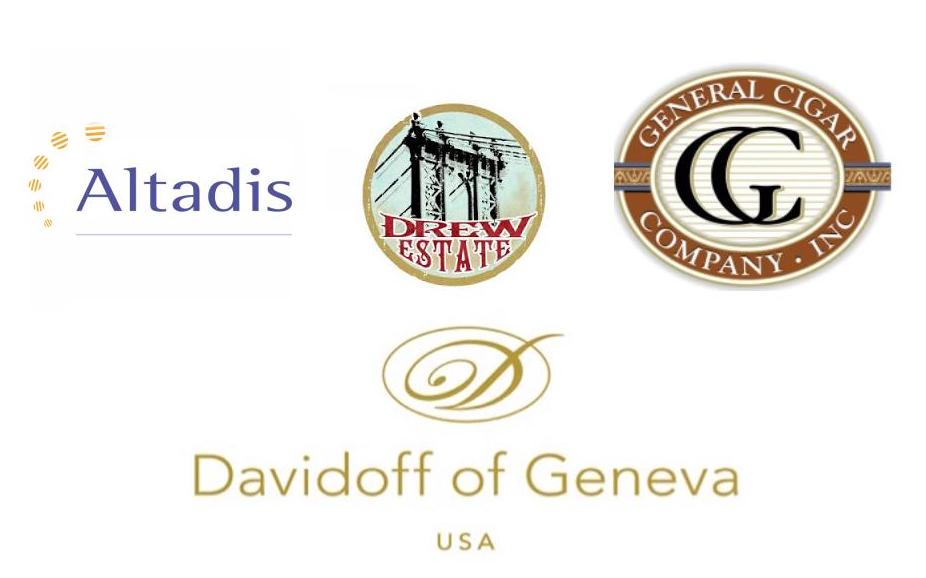 We all know Altadis, Davidoff, Drew Estate, and General/Forged were not at the Trade Show. It resulted in a smaller footprint. I can certainly understand the spin put on things with the absence of the Big Four, but the bottom line is in this author's eyes is they were missed. In the past, all four had great booths and great products.
The following are a list of SOME of the brands that were not exhibited at the Trade Show:
ACID (Drew Estate)
AVO (Davidoff)
Camacho (Davidoff)
CAO (General/Forged)
Cohiba (General/Forged)
Davidoff (Davidoff)
Davidoff Winston Churchill (Davidoff)
Deadwood Tobacco (Drew Estate)
Diesel (General/Forged)
Florida Sun Grown (Drew Estate)
H. Upmann (Altadis U.S.A.)
Henry Clay (Altadis U.S.A.)
Herrera Esteli (Drew Estate)
Hoyo de Monterrey (General/Forged)
Kentucky Fire Cured (Drew Estate)
La Gloria Cubana (General/Forged)
Laratan (Drew Estate)
Liga Privada (Drew Estate)
Macanudo (General/Forged)
Montecristo (Altadis U.S.A.)
Partagas (General/Forged)
Punch (General/Forged)
Romeo y Julieta (Altadis U.S.A.)
Saint Luis Rey (Altadis U.S.A.)
Tabak Especial (Drew Estate)
Undercrown (Drew Estate)
Trinidad (Altadis U.S.A.)
VegaFina (Altadis U.S.A.)
Zino (Davidoff)
I've heard many say the Trade Show was better without them, but when you get off the world of social media and look at what cigars are truly ones that sell, these represent quite a few of those. The bottom line is these iconic brands missing from the Trade Show is not a good thing. The industry trade show would be a much better place with these brands being showcased.
The "Sales" Numbers
At the 2021 Trade Show, it seemed like everybody was reporting big sales numbers. Some were reporting record numbers. This is nothing new as this seems to be the story each and every year.
As I walked the show and then talked to manufacturers after the show, they were all reporting great numbers. For the most part, I hear this story each and every year. At the same time, every year I hear how the show is losing its importance, and many are questioning the future of the show. This year, I started to ask the question, if everyone is doing so well – why is this show in trouble?
Cigar companies are never going to disclose their sales numbers, or even discuss a year-to-year comparison.
While I don't doubt some companies did well at the 2021 Trade Show, I believe many companies did not. In the end, I'm skeptical despite the positive reports.
On the Floor
The PCA Exclusives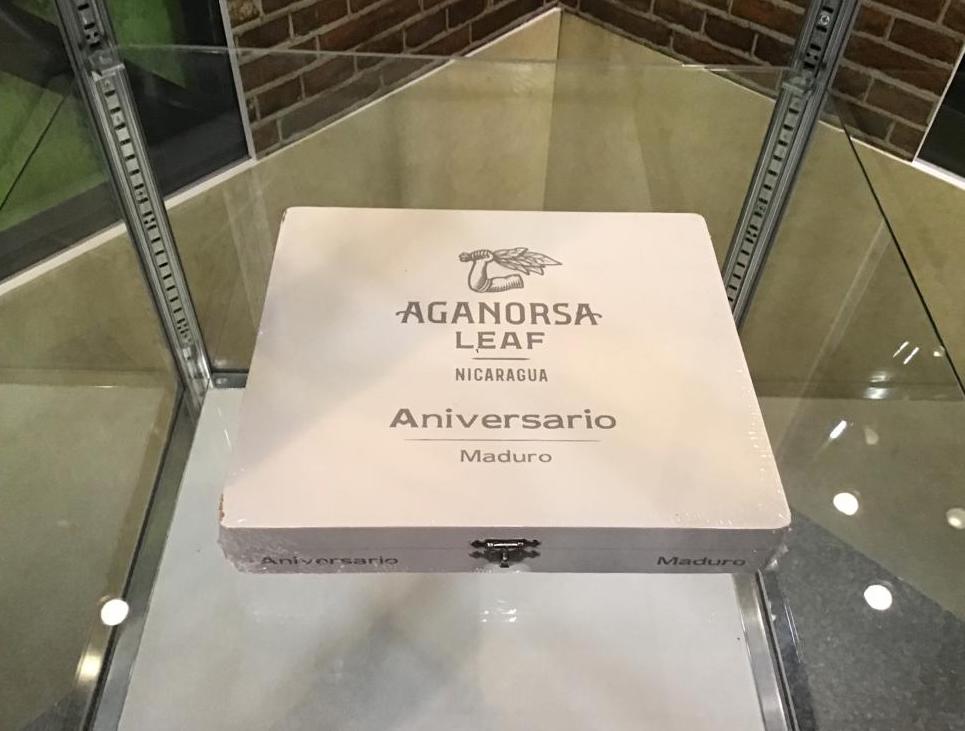 This is the area I've been most critical of for 2021. Over the years I've seen how the Tobacconist Association of America (TAA) Exclusive Series has misfired time and time again. While PCA did some good things in setting up a framework for the first year of this program, there were issues in the execution. In particular, I saw three problems:
Most of the PCA Exclusive releases were not announced in ample time in order to attract people to the show
Most of the releases were simply not very compelling
Several manufacturers that promised PCA Show Exclusive releases did not deliver
I think the way to address most of these items is to hold manufacturers to a timetable and establish guidelines on what should constitute a PCA Exclusive. The PCA wouldn't need to officially penalize a manufacturer who doesn't deliver on a PCA Exclusive, but if the timetable and guidelines are not met, then the cigars won't be promoted as an official part of the PCA program.
There was supposed to be a showcase area for all of the PCA Exclusive products, but this did not come together. As a result, the area was practically empty. Most of this was due to the availability of product. I believe a better process was needed.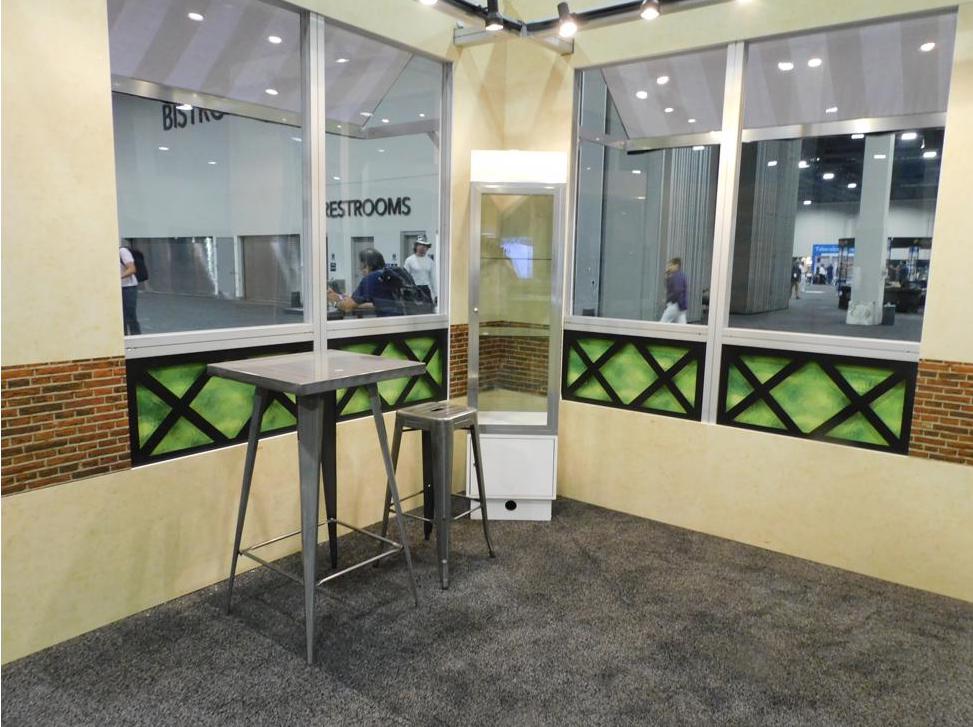 Another disappointment was that those who stayed at the Venetian received VIP packages, including PCA Exclusives, but only two cigars were delivered (Crowned Heads Le Pâtissier, and ACE Prime The Sergeant). Because these cigars were pretty much available to all attendees by these companies, this took away from the "specialness" of the VIP packs. This is a case of oversold and underdelivered.
I also think all companies should be required to exhibit their PCA Exclusive in their booth – or at the PCA Exclusives Pavilion (which never was set up for 2021)
The way the PCA Exclusive announcements were handled was as bad as we have seen the TAA Exclusive announcements handled. The information slowly trickled out by the manufacturers. I believe the better way to handle this is to let the PCA handle the announcement of the Exclusive Series at a single time. The announcement of the series as a whole will have a greater impact on using this series to attract people to the Trade Show.
Year of the Line Extension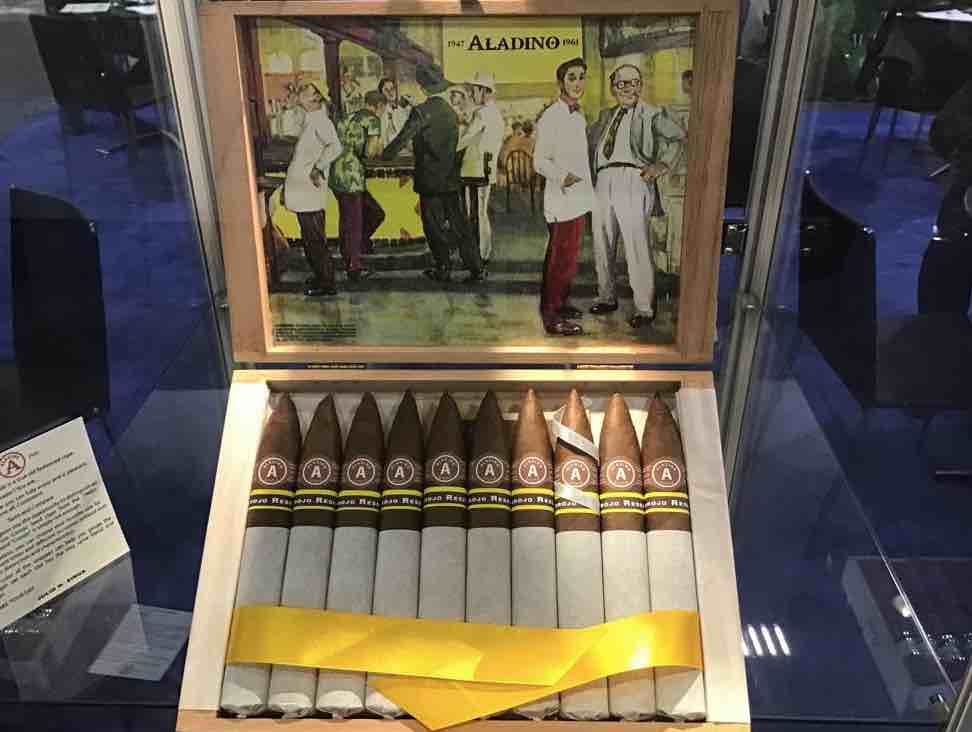 This was discussed in the Pre Game Series:
In a recent private group chat of industry and media personnel, the subject came up of themes of the Trade Show. When I mentioned Sumatra, another theme was presented to me – that this is the year of the line extension.
A line extension is a new offering under an existing line. A line extension is typically a new vitola offering or a new front mark. Some will also consider a companion blend to an existing blend as a line extension (such as a Maduro offering to an existing Natural brand). If you look at the Big Board, it lists both types as line extensions, but from the list, you will see the majority of line extensions are size offerings. Also, many of the PCA Show Exclusives are categorized as line extensions.
The reason for this is that earlier in the year there was uncertainty by many that there would be a PCA Trade Show. The supply chain problems around getting bands and boxes compounded things. The bottom line is this made it much more difficult to invest in full-blown launches of brands.
On Cigar Coop, we treat all line extensions as new cigars. This differs from many who do not consider a new size to be a new release. As a result, adding a size to an existing line doesn't have the same level of excitement for many people.
Overall I don't think there is much disputing this for what we and others have reported and seen at the Trade Show. There were definitely more line extensions than in recent years.
2021 Formal Launches for 2020 Products
Despite the cancellation of the 2020 PCA Trade Show due to the COVID-19 pandemic, there still were plenty of significant high-profile releases made in 2020. Some of these releases include:
In each of these cases, it seemed the company used this year's trade show to showcase these products for the first time. It was almost as if these products were debuting for the first time. This actually was a positive in my book as it allowed several products to still have a moment in the spotlight.
Product Launches Not Done for the Year
The past few years have seen the PCA/IPCPR Trade Show as a platform to announce cigar releases for the remainder of the calendar year. These products are shipping at various times from the end of the Trade Show as far out as December (and in some cases the following calendar year).
This year several companies threw (for lack of a better term) "teasers" at me. These companies all told me that they planned on other product announcements beyond the PCA Trade Show. They said the reason they didn't want to disclose more information was that the supply-chain issues were making it hard to pin down a timetable.
Other Observations
The Factory Shuffle
I first mentioned this topic on Prime Time Episode 195, and it recently came up again on How Bout That Cigar Episode 119.
This isn't a direct correlation from the Trade Show, but it should be noted. Factory changes are nothing new, but this year, there were several strange scenarios I saw.
Don Lino Dominican: Miami Cigar & Company mentions Tabacalera El Artista will be handling production. For as long as I covered Miami Cigar & Company, all of their Dominican production has come from La Aurora.
7-20-4: Kurt Kendall moves production of the core 7-20-4 from the Plasencia family in Honduras to J. Fuego in Nicaragua. The reason is because of the availability of the Mata Fina wrapper. This is arguably the most successful line for Kendall.
Alec and Bradley Gatekeeper: After getting numerous accolades and praise for an out-of-the-box project with Ernesto Perez-Carrillo Jr, the production of the Gatekeeper moves to the Plasencia family in Honduras.
Gurkha/Sindicato: Gurkha has been working with several factories over the years, yet this year the Gurkha Revenant and Sindicato Artista are coming out of El Artista in the Dominican Republic.
For the most part, this is a factor of the supply-chain issues the cigar industry is facing. In these cases one can argue that the factories making these products were putting more emphasis on putting their own brands out, thus leaving out some of the contract brands.
The Las Vegas Heat Wave of 2021
The PCA Trade Show took place during one of the worst heatwaves in modern history to hit the city of Las Vegas. While temperatures above 105 in Vegas are not uncommon, the thermometer surpassed 115 degrees five of the six days (I'm including the setup day, and the opening day events as part of the trade show). The average high temperature was 114.83 degrees!! There is no such thing as a dry heat when it comes to temperatures like this.
This heatwave has once again raised the debate on whether July is the right month for the Trade Show. This author has personally advocated to keep the Trade Show in July. The Tobacco Plus Expo (TPE) normally holds its show in January, but due to COVID-19, it made a temporary move to May. With TPE now going back to January, it had me wondering if PCA should pursue a move to May.
Many have advocated for PCA to take place at the beginning of the year. For the record, I think a move to winter is suicide because it would only take one winter storm to wreak havoc on people getting to the Trade Show. In addition, I think moving to late summer is a bad move because of Hurricane Season. Hurricanes can affect a lot in Florida, so it's a risk.
Personally, I favor a Trade Show in late July (which is when it used to be), but I'm told it's not possible to do that in Las Vegas due to scheduling at the convention centers.
As for this year, attendees got to bask in some of the hottest temperatures they will experience in their lives.
After Hours
A few years ago, many wondered if Bar Luca would ever take the place of the Champagne Bar at the Palazzo.  Well, there is no doubt it has.  For many in the cigar industry, this place is a magnet and it was packed like the old Champagne Bar days.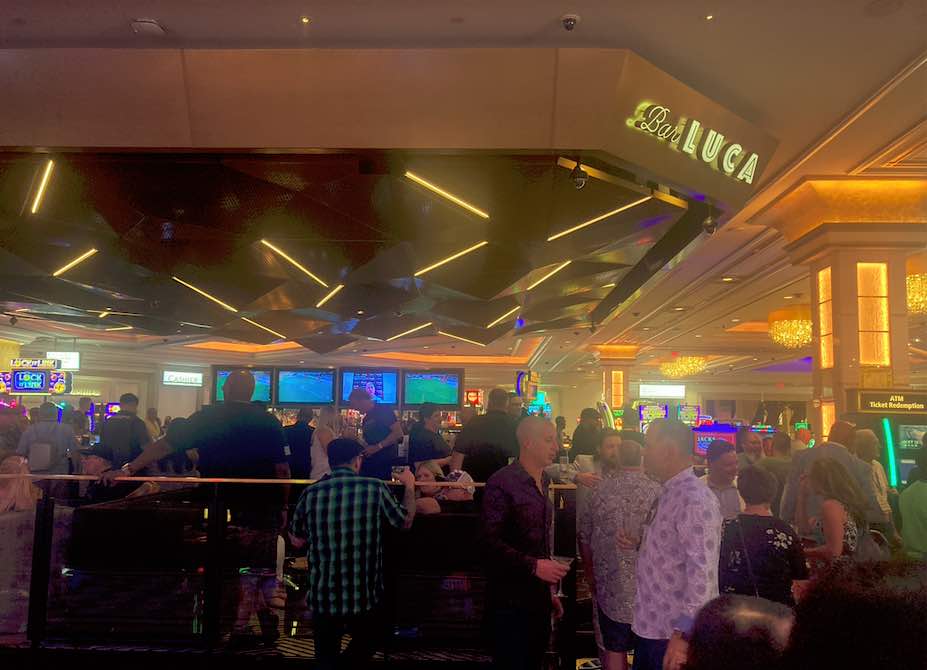 The planned After Hours Lounge turned out to be a bust for the PCA. It was originally set up to provide a place to smoke in case there were smoking restrictions at the Vegas lounges. While some gave it a chance, it had a very industrial feel to it. In the end, Vegas has an allure to people. They simply wanted to be at Bar Luca, Casa Fuente, etc. where you can people watch – not a cavernous empty convention hall area.
After a low turnout on Day One, PCA pivoted and cancelled the After Hours Lounge and established a Happy Hour on the Trade Show floor for the afternoon.  While the After Hours Lounge was a bust, PCA does not get a failing grade here. The intent was good, and when it didn't work out they quickly changed things up.
Cigar Media
There are always some objections to a media review section in my reports. I'll say it once, I'll say it again – media is my business, so this will be something I analyze.
The PCA reported 80 media badges issued for the Trade Show in 2021. I don't have a count of media outlets from previous years, but it seemed like there were fewer media outlets than in the past. Four mainstay media outlets of the Trade Show coverage over the last decade were not in attendance: Cigar Aficionado, Cigar Dave, Cigar Federation, and Stogie Review.
At the same time, there were some newer media outlets in attendance – Light Em Up Lounge, How Bout That Cigar, and Smokin Tabacco. The coverage model has seemed to go more toward video in 2021. Outside of Cigar Coop, Halfwheel, and Cigar Dojo, there was almost no written coverage. I'm quite concerned that there is too much emphasis put on video coverage. This year we went big with video, but not at the expense of our written coverage. If anything, we were able to expand our written coverage.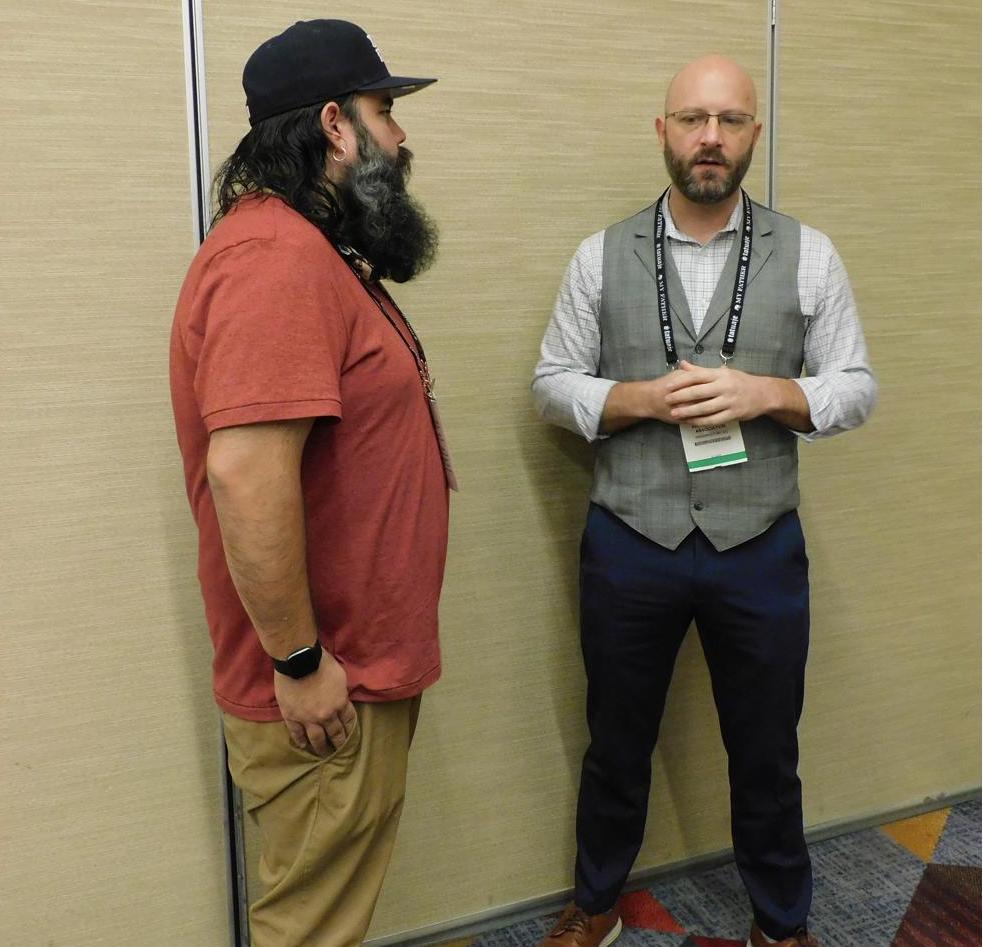 One thing that was a positive addition was that a press conference was held for media on the morning of Day Three. The media press conference was hosted by PCA Executive Director Scott Pearce, outgoing PCA President John Anderson, and incoming PCA President Greg Zimmermann. What was disappointing is it seemed like only about 25% (my rough estimate) attended this press conference. Cigar media needs to do better here and prioritize this press conference in terms of attending it. The press conference is something many media people have asked for, and it did give media access to the senior leadership at the Trade Show.
Finally, I'm glad to say the word "blogger" is officially obsolete for cigar industry coverage. I did not hear the word brought up once – not even "Those damn bloggers!" This is a welcome thing to me, though I realize it's probably because there is very little written word occurring anymore.
…and The "Influencers"
This year, there were reports of social media influencers allegedly interrupting business. I'll also say, I believe this issue was blown entirely out of proportion. I say allegedly because many reported it, but I did not see it occur firsthand. There are also reports the influencers got in with manufacturer badges. I do believe influencers have a role at the PCA Trade Show, but PCA must figure out what that role is, and there must be a set of guidelines for conduct that are agreed to.  As for getting in with manufacturer badges, this is a huge problem beyond influencers that has occurred for years. It has led to consumers getting into the show. Much like online media was blamed for many of the things wrong with the Trade Show, we should not blame the influencers for everything.
Whether it's media or influencers, it should be about promoting the industry and not self-promoting. The PCA Trade Show is a great opportunity to talk to the people of the industry and showcase the products. It should not be the place for self-promoting the media brand.
Assessing Cigar Coop's Coverage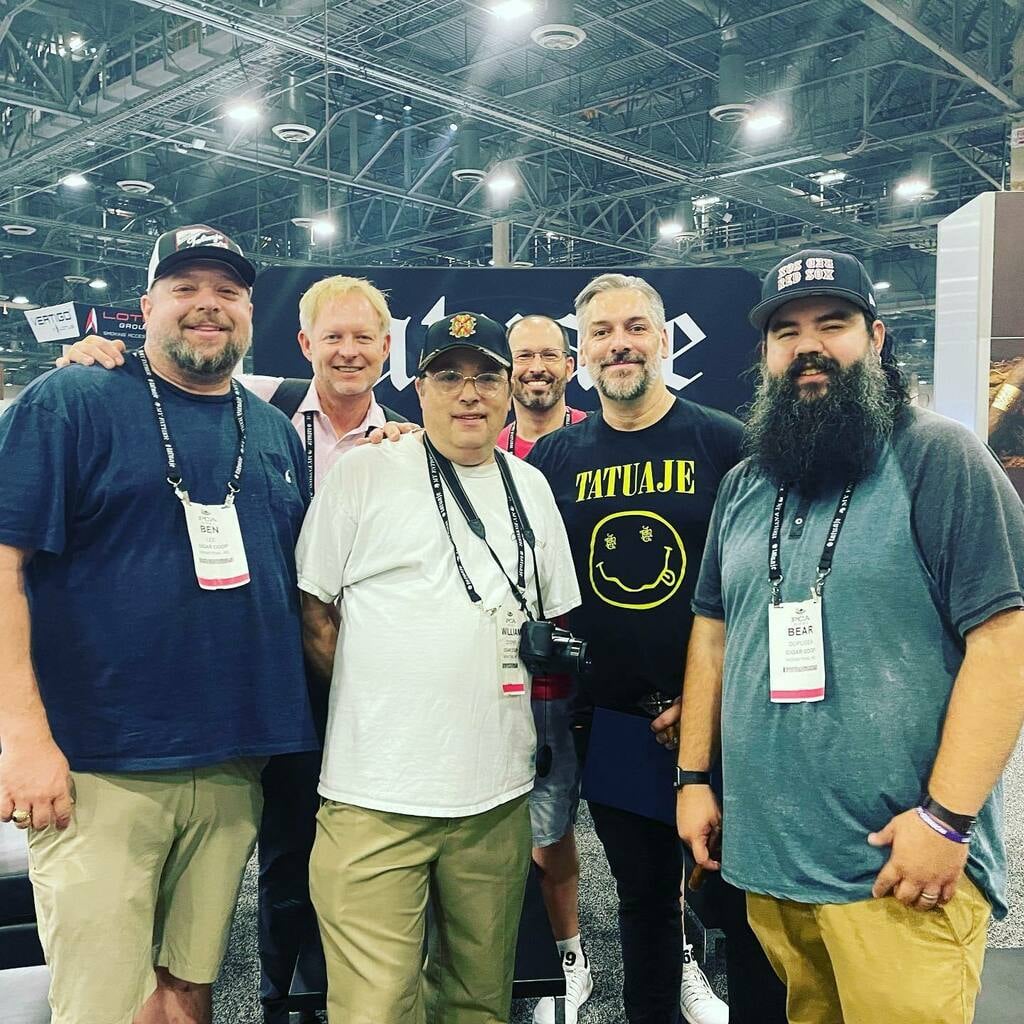 For many years, I have been hesitant about going forward with video coverage on Cigar Coop. This was mainly because I was a one-man show covering the IPCPR Trade Show. After Bear Duplisea joined the team in 2018, that changed, and following the 2019 coverage, I realized there was a great opportunity to leverage Bear's on-camera talents to our advantage. I went to Bear with the idea of doing this and he was excited and on board to do this.
In order to make this happen, we needed to add a third resource. That's when I approached Erron Nielsen about joining the team and the show. Originally I saw Erron's role as helping me with the written information gathering piece and Bear on the video piece.
Once we got confirmed that the 2021 Trade Show was going to take place, we planned on going in with a three-man team. About a month before the Trade Show, Ben Lee became available and we were able to bring him into the Cigar Coop team. Ben pioneered video coverage at the IPCPR Trade Show while at Stogie Review and we were now bringing in someone who had some major credentials.
So we went into the show with a four-man team. Erron and I were focused on information gathering and photography. Bear and Ben would focus on the video piece. In my head, I set a goal of covering 52 booths. I knew this would be down from the 79 booths Bear and I covered in 2019. I knew we would have to adjust to working as a four-man team and bringing video would increase our time at many booths. The great news is the team gelled and we hit 58 booths. This sets a great foundation for the road ahead.
I personally cannot thank Bear Duplisea, Ben Lee, and Erron Nielsen enough for their contributions. Each of these guys worked tirelessly before, during, and after the show. Special thanks to Aaron Loomis as well. While he covered things for Developing Palates in Vegas, I constantly benefit from his experience in cigar media and he was always there to lend an ear when I needed it.
Yes, there are some things we will tweak for 2022, but I'm thrilled with what we accomplished at the 2021 Trade Show. I cannot wait to get back together with our team again and show the industry what we can do!
Erron Nielsen contributed photography to this report.