Room 101 Cigars has become the latest company to team up with the Cigar Dojo to produce an exclusive cigar. Today both parties announced the Room 101 [untitled], a cigar that will be sold exclusively through JR Cigar beginning September 21, 2018.
Room 101 [untitled] features a Mexican San Andrés wrapper that has a lighter-than-average Colorado Rosado shade. The blend also features a Sumatra binder and 100% Cuba-seed fillers including Criollo '98, Corojo '99, and HVA leaves. Production is handled out of Tabacalera William Ventura in the Dominican Republic, Room 101's manufacturing partner since owner Matt Booth split his brand from Davidoff.
The Room 101 [untitled]  is in one size – a 5 1/2 x 52 belicoso format that has been aging six months since being rolled. The cigar is sold in ten-count bundles with a total of 500 bundles sold. Pricing is set at $99.99 per bundle.

In a press release announcing the project, Eric Guttormson, owner of Cigar Dojo, commented, "Everyone knows that Matt Booth marches to the beat of his own drummer, but we're also aware that Matt knows how to put together an amazing cigar, which has been proven many times over. The "limp noodle" will most certainly remind you of some of the best Room 101 blends from the past, with its dark and juicy flavor profile."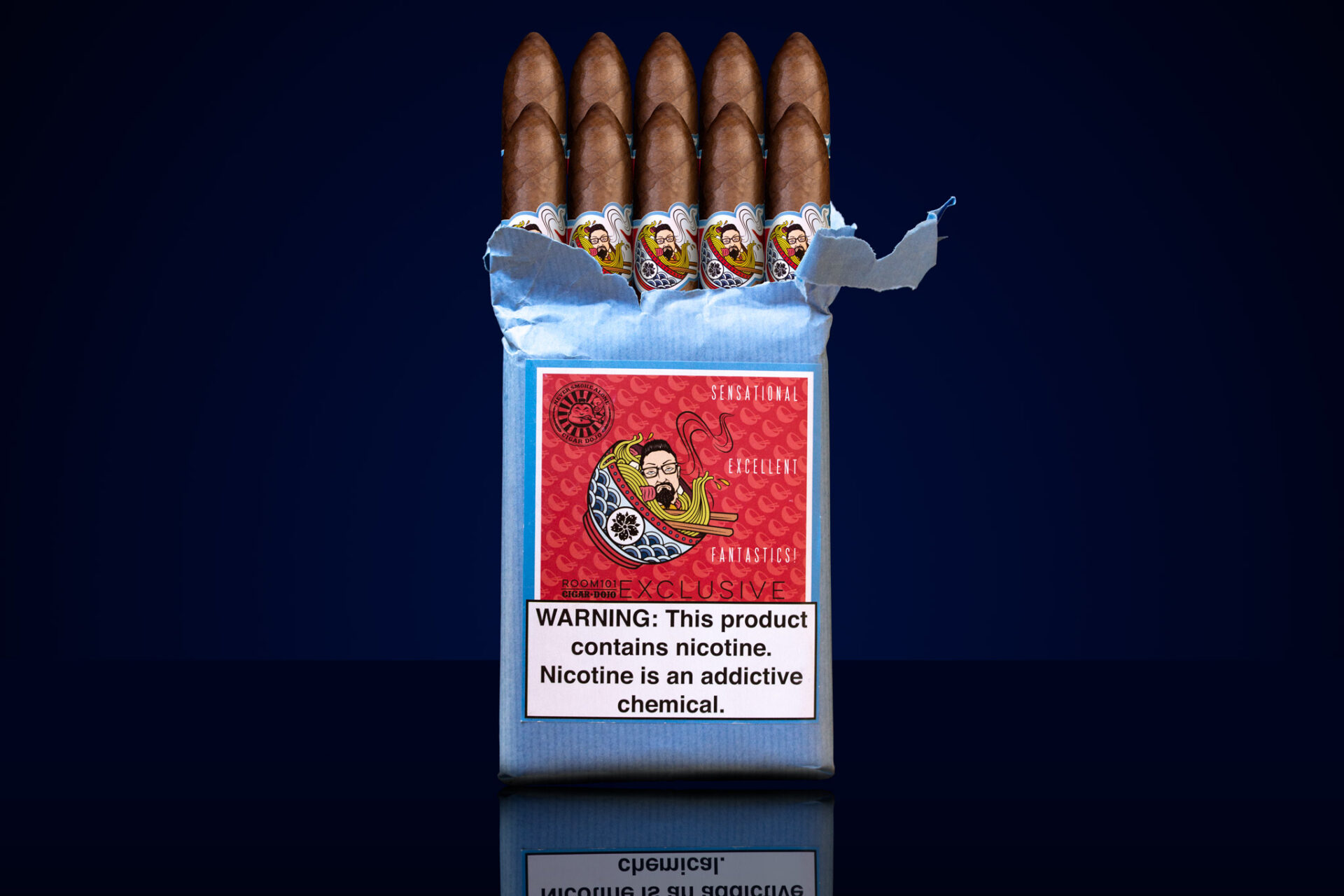 Meanwhile, Room 101's Matt Booth added, "I am overwhelmed with delight to finally participate in a collaborative effort with the 'Cigar Dojonites'. This is a phenomenal cigar to smoke while Jay Walking or waiting on your car during an oil change or any other minor procedure. I am eager to have this product pollinate the Dojo community and to see people enjoying something that was such a pleasure to make."
The following is a list of the Cigar Dojo collaborations done by cigar manufacturers and brands:
There have also been three releases by MoyaRuiz Cigars done in tribute to the Cigar Dojo community ( La Jugada Nunchuck, The Chinese Finger Trap, and Dim Mak)
At a glance, here is a look at the Room 101 [untitled]
Blend and Origin
Wrapper: Mexican San Andrés
Binder: Sumatra
Filler: Criollo '98, Corojo '99, HVA
Country of Origin: Dominican Republic
Factory: Tabacalera William Ventura
Vitolas Offered
Belicoso: 5 1/2 x 52
Photo Credits: Cigar Dojo