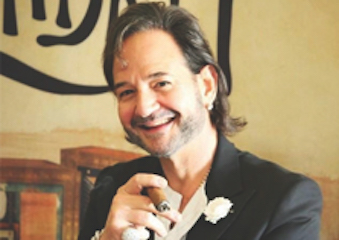 On September 22, 2016, it was confirmed that Michael Giannini, Creative Director and Director of Innovation had departed General Cigar Company. Over the past decade, Giannini one can make the argument that Giannini became the face of General Cigar. Giannini brought a dynamic, flamboyant, and unconventional approach to the cigar business. Whether you agreed or disagreed with his style and approach to the business, one thing is clear – Giannini made an impact. He had risen to become one of the bigger celebrities within the cigar industry. His contributions will be remembered in the history of the modern cigar industry. Today, we recap the Michael Giannini era at General Cigar.
Early Days at General
In 1999, Michael Giannini was named the National Sales Manager for Ernesto Perez-Carrillo's El Credito cigar company, the makers of the La Gloria Cubana brand. It wasn't long after that a chain of events happened. Perez-Carrillo sold El Credito to Swedish Match and then Swedish Match merged with General Cigar. Both Perez-Carrillo and Giannini came on board with General. Perez-Carrillo would be the face of the La Gloria Cubana brand. Giannini would continue in his role as a Sales Manager and also had creative input into the brand.
Going back to the El Credito days, La Gloria Cubana was very much the poster-child for a boutique cigar company. This was a cigar brand that had its roots in at the rolling tables in Little Havana, Miami. Even after the assimilation into General, Perez-Carrillo worked to keep La Gloria Cubana a boutique brand within the General Cigar portfolio.
Team La Gloria Cubana is Born
Things would change in 2009 when Perez-Carrillo departed General Cigar to form a new company with his family, E.P. Carrillo. This left a void with the brand as this was Perez-Carrillo's brand from the very beginning (after all he is the "Godfather of Boutique Cigars"). Giannini had now been with the brand for ten years and he would be the one to step up – forming what became known as Team La Gloria Cubana.
There were three individuals that made up this team with Giannini. The first was Rick Rodriguez, a man who was in a unique eapprenticeship program to become a Master Blender. As many know Rodriguez would move on to CAO as its Master Blender after it was assimilated into General in 2011. The second was Yuri Guillen, a production manager and blender out of the General Cigar Dominicana factory in the Dominican Republic. Keeping La Gloria Cubana's roots in Little Havana in having an artesian roller, master cigar maker Leo Pareza became the third member of Giannini's team. Pares had came over to General from El Credito. With Giannini as the "team leader" bringing sales, marketing and creativity to the table, Team La Gloria Cubana was put into place.
It was an important step in the transition of La Gloria Cubana from the Ernesto Perez-Carrillo era. The team brought a unique set of skills to the table, and by becoming a visible faces for the brand, it provided a conduit to maintain a the personal connection Perez-Carrillo had with the brand – something essential for a boutique brand.
The 2010 Releases
The 2010 IPCPR Trade Show was where Team La Gloria Cubana would make a huge impact with three high profile releases. The releases were intended to showcase not only the boutique roots of the brand, but the innovative concepts. La Gloria Cubana had already garnered a reputation for this promoting the big ring gauge Serie R line for many years. While it wasn't the first to do big ring gauges, it certainly was one of the first to make it focal point of the brand.
The three projects did not replicate what La Gloria Cubana did in the past, but used the brand's reputation for bridging the classic world with the modern world. The result was three unorthodox releases for General Cigar. These releases included Artesanos de Tabaquero featuring two wrapper segments of Connecticut Shade and Sumatra. In addition, the La Gloria Serie N made its debut and featured a unique octagon-shaped box and a letter "N" made of tobacco placed on the wrapper. Finally, Artesansos de Obelisco, a unique cigar modeled more after the shape of the "Heroes of the Restoration" monument located in the city of Santiago (Dominican Republic). For all practical purposes, these three cigars started the Giannini era at La Gloria Cubana off with a bang.
Building on the Innovation Theme
Giannini and Team La Gloria Cubana did not rest on their laurels. In 2011, La Gloria Cubana Artsenos Retro Especiale made its debut. This was a blend where Giannini and his team worked on a blend that would de-emphasize the importance of the wrapper, and place more importance on the binder in filler components.
Still not done, in 2012 Giannini introduced an annual limited edition release called La Gloria Cubana Trunk Show. Trunk Show was actually a concept done while Perez-Carrillo was working with Giannini. It was a concept that involved working with rare and limited tobaccos.  This time, Giannini would team up with Guillen and Jhonys Diaz to each develop a unique blend with limited tobacco. But there was a catch, the bands that were placed on these cigars were smokeable. This was done a couple of ways – by either using a die-cut tobacco leaf (in the shape of the La Gloria Cubana logo) or a homogenized tobacco leaf imprinted with non-toxic vegetable die.
Back to Serie R
2013 saw Giannini and the team develop a couple of new blends around the long-standing Serie R line, the La Gloria Cubana Serie R Esteli and the La Gloria Cubana Serie R Black. While La Gloria Cubana had Miami roots and was made in the Dominican Republic, these cigars were different in that not only were they Nicaraguan puros, but they were the first La Gloria Cubanas made in Nicaragua. With so much focus during this period on Nicaragua, it made sense that La Gloria Cubana would tap into this territory.
The move hit pay dirt for Giannini and the team. Not only were the cigars an enormous hit, but the Serie R Esteli scored Team La Gloria's first Cigar Aficionado Top 25 placement in 2014.
Larger Role and Launch of Foundry
Early in 2012, Giannini's role at General Cigar would expand. He would move into the role of Creative Director across all of General Cigar. While he still remained an integral part of Team La Gloria, he now had broader responsibilities. One them would be the launch of a whole new brand called Foundry Tobacco Company.
Foundry just wouldn't become a brand, but it would become a subsidiary within the General Cigar portfolio. It was intended to be a boutique cigar arm of General. It also would become a creative sandbox for Giannini where he could start with an all new brand, build it from the ground up, and continue with the theme of innovation and creativity.
Foundry's inaugural launch would be the self-titled release called Foundry. The cigar incorporated a theme from the Steampunk movement. An elaborate Steampunk theme was unveiled at the 2012 IPCPR Trade Show. Foundry's cigar would feature a metal gear reminiscent of the machinery used in the Steampunk movement.
The War of Currents, the Periodic Table, and Time Travel
The launch of the first Foundry cigar was just the cusp of the creative ideas Giannini had. In 2013, Foundry released two new lines – War of Currents and Compounds, Elements and Musings. The focus on much of these releases was small batch, limited editions and between the two brands, 20 new blends were introduced. War of Currents went back into history and told the story of the intellectual rivalry between Thomas Edison and Nikola Tesla. Meanwhile Compounds, Elements and Musings paid homage to the Periodic Table of Elements. These themes were incorporated into the packaging and banding of these lines.
Not to be outdone, Giannini unveiled 16 more facings at the 2014 IPCPR Trade Show. The highlight was the "Worm Hole" project which dealt with such themes as time travel of going back to the past of the 1964 World's Fair and into the future of what it would be like to grow cigars on Mars.
At that same show a value-priced regular production line called Chillin' Moose was released and became a surprise hit for the brand. It was at the 2014 Trade Show when Giannini hinted a a change of direction for Foundry and that 2015 would bring something very different.
Work on Bolivar and Ramon Allones
2015 saw Foundry take a change in direction. Instead of introducing a new line under the brand, This year two brands that had been somewhat dormant in the General portfolio were brought back with a whole new look. These brands are- Bolivar and Ramon Allones. Both of these brands both have Cuban roots to it.
Part of what Giannini did was reimage the packaging. This involved going through the archives of the packaging for these brands in order to come up with the new packaging. Two new blends were also created replacing the older ones. Both lines became regular production offerings replacing the old marcas.
Time Flies
2016 would be Giannini's finale at General Cigar and Foundry. He introduced a project called "Time Flies" which was done in collaboration with A.J. Fernandez. "Time Flies' featured both core and regular releases around the theme "There are so many beats in your chest and only so many words in your head".   It was this theme that led him and Foundry into pursuing a collaboration with Fernandez.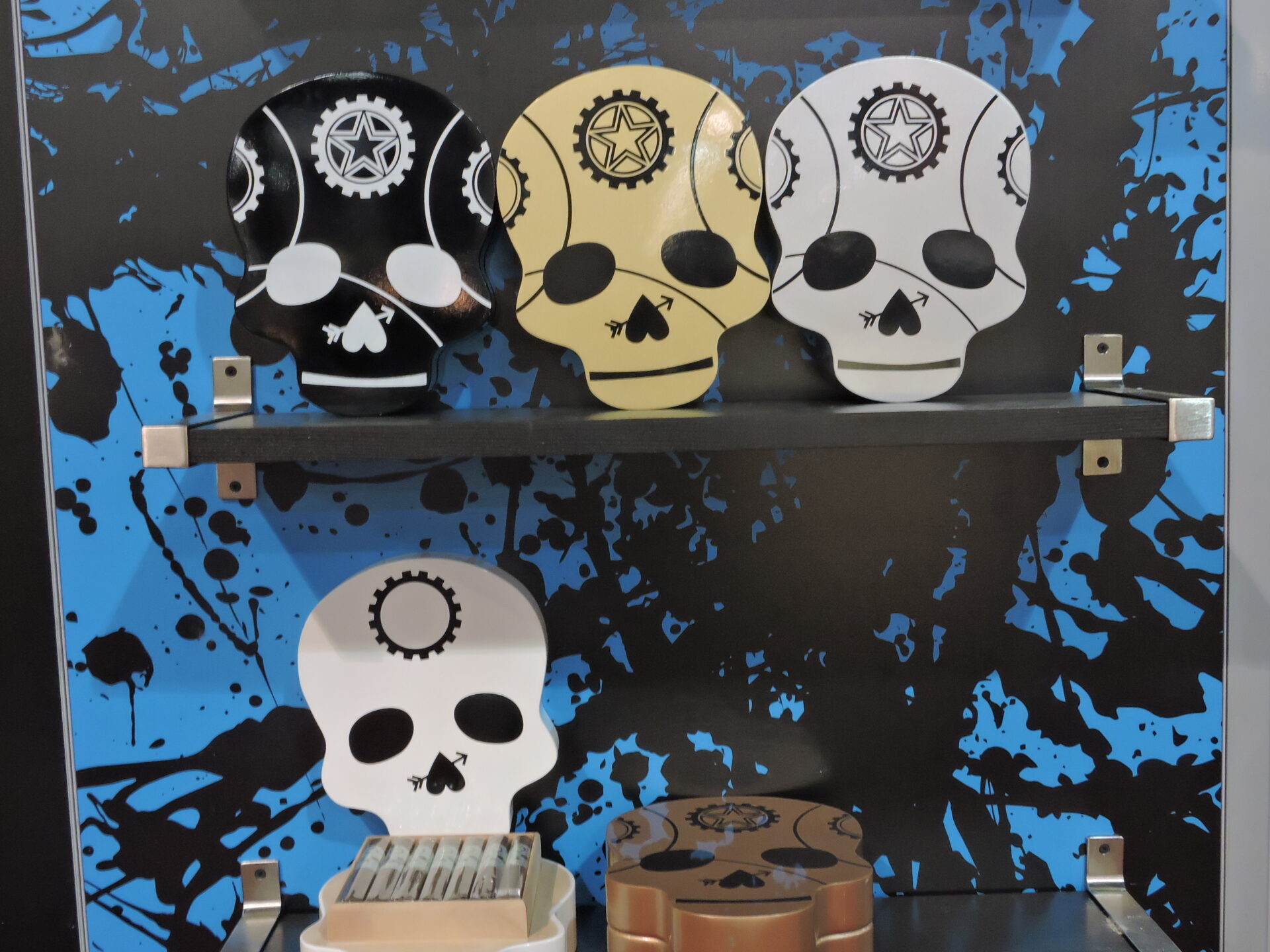 The cigars featured a Skull theme and a one of a kind humidor was done that was priced at $35,000.00.  To build this humidor, Giannini collaborated with both a master cabinet and a master jeweler. Giannini commissioned the master cabinet maker to design 80 pound asymmetrical humidor using rare woods.  At the top of the humidor is a 30 pound Sterling Silver hand-casted skull featuring diamonds and rubys.
Challenges at Foundry
While many of Giannini's creative efforts at Foundry were both praised, it also did garner some criticism.
First up, the gear bands around the original Foundry proved to be problemsome to many retailers and consumers. The combination of the gear with a very delicate wrapper resulted in reports of many damaged products.
The small batch releases, while they sold well did confuse a lot of retailers as many argued with was too much product to absorb from one brand. The 2014 theme around Worm Hole was considered a little too over the top by many.
While the blend were praised by many, the reimaging of Bolivar and Ramon Allones did have its critics as well who did not embrace the new style.
Departure from General and What's Next
As we mentioned September 22, 2016 was the date that Giannini's departure from General Cigar was announced. The departure was described as amicable in a story by Cigar Aficionado. According to the report, Giannini was departing to explore other opportunities given he would be limited by the recent FDA regulations involved with new product development.
In terms of the future, at press time there were no plans announced, although Giannini did hint he had plans to remain in the industry.
Final Thoughts
When the history of the modern cigar era is documented, Michael Giannini will no doubt be a part of it. We documented his creative and innovative achievements, but perhaps one thing we overlooked was his ability to make a connection to consumers. While Giannini was a fixture at many General Cigar events, one thing he doesn't get credit for was taking advantage of the age of online media. Whether it was hosting virtual cigar events (like Serie N Day Series back in 2011) to his "Light and Learn" educational seminars, Giannini was able to maintain the connections with consumers.
While some of his projects had its critics, that comes with the territory with any creative effort. In the end, if I am going to assess the Giannini era at General, the pluses are far going to outweigh the minuses.
On a personal basis, I never did get a chance to do a sit-down interview with Giannini for Stogie Geeks while at General, but Giannini has the type of person who was always accessible. During the first days of Cigar Coop at the 2010 IPCPR, Giannini still took the time to explain the vision behind what he was doing at La Gloria Cubana. At each IPCPR that followed, Giannini gave me time at each subsequent IPCPR. While he won't be at the General booth next year, I sincerely hope next year I will see him at IPCPR or on the road at an event.