For the 11th year, the Cigar Coop brand will be providing coverage of the Premium Cigar Association (PCA) Trade Show and Convention. This is also the 11th consecutive trade show we are covering and are proud to be a part of a very small group of media to say that. Our four-part series for the 2021 PCA Trade Show has you covered whether you are going to the show or following from home.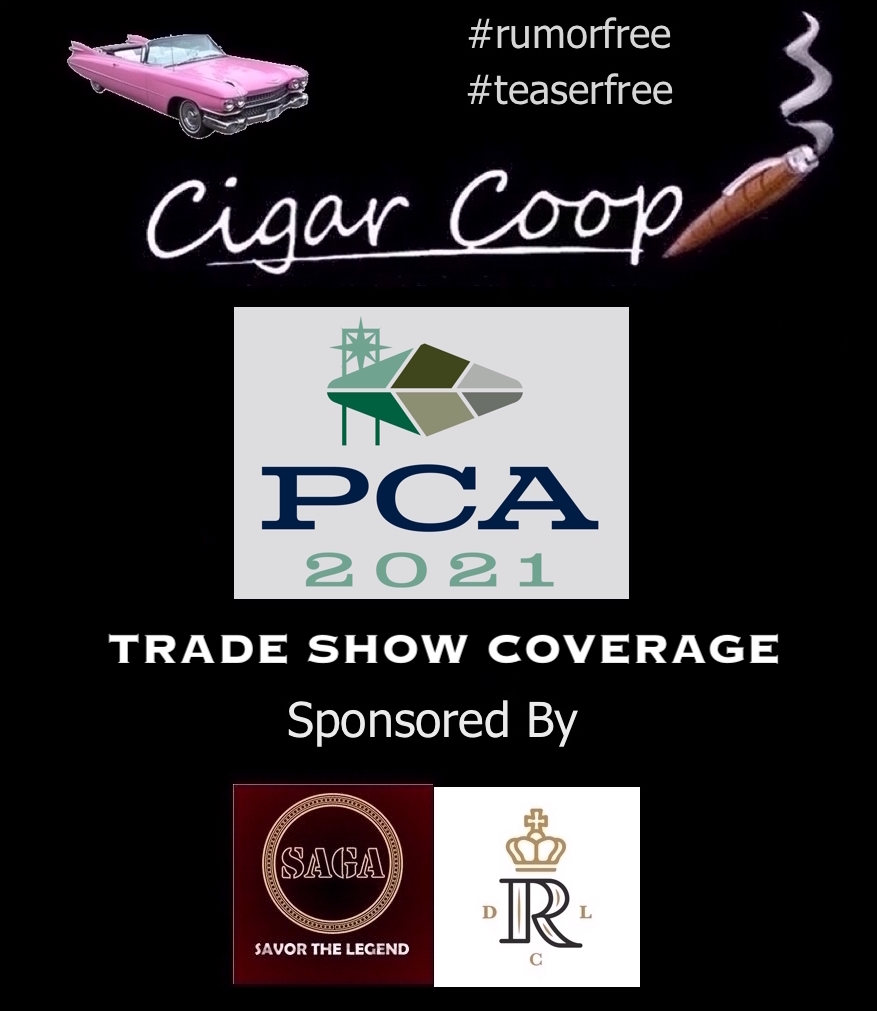 Predictions for the Five Hottest Cigars
This article is usually in the running for the most controversial article of the year on Cigar Coop. For the eighth time, I make my predictions of what the five hottest cigars will be at the 2021 Premium Cigar Association (PCA) Trade Show.
One important point is that this list does not reflect the five cigars I want to smoke most at the show. This list does not reflect what I think the five best cigars will be. It is a set of predictions about which cigars I think will generate a high level of interest among retailers – and could even be ones that sell out quickly based on available supply. This is strictly looked upon from a business point of view. It's easily the list that is the most controversial, not so much because of what makes the list as what is left off the list.
While the predictions have had mixed results long-term over the previous seven times, it has still been an interesting exercise. Some cigars have done well as predicted and some have not.  Some have had sustainability in the market and some have not.
In the last installment, I criticized what I think has been a poor job by cigar manufacturers when it comes to embracing and leveraging the PCA Show Exclusive Series. Ironically two PCA Exclusives actually made this list this year- one by a company that has done one of the best jobs at leveraging it, and one by a company that has not done a lot of new releases over the years.
Finally, my track record hasn't been the best here. While I've gotten many correct, I can also tell you of several discontinued cigars and busts that have made this list. In the end, time will tell.
Criteria
The cigar must be announced before 6am Pacific time on 7/8/21.
A formal press release is not required, but the company must acknowledge the product on its own channels (website, social media) or through a publication.
The cigar must not have been released. (Stealth Cigars do not count as a release). Cigars must be essentially making a public debut at PCA 2021. Cigars that have been soft-launched prior to PCA 2021 are ineligible.
Some level of the physical packaging for the cigar must have been showcased prior to this article– whether a box or band.
This is not blend-based, if there are multiple blends then the brand encompassing the blends is used, except if the specific blend was designated as a Show Exclusive.
Line extensions are eligible. This is consistent with the Cigar Coop philosophy every vitola is a separate release.
Re-releases are not eligible.
If the cigar was previously a shop exclusive, regional, event, international, or lounge cigar; it is not eligible.
Orders for the cigar must be taken at the Trade Show.
Only one cigar per company will be included on this year's list
5. Rocky Patel Sixty
Actually, this list might have had three PCA Trade Show exclusives because the Rocky Patel Sixty was originally announced as a PCA Exclusive. However, the strategy was changed and this is now going to be a generally available cigar.
Rocky Patel Premium Cigars has had an outstanding past 18 months and the company certainly loves celebrating milestones – whether it's the anniversary of the company or company owner Rocky Patel's birthday. Historically these releases have done very well for retailers. This one celebrates Rocky's sixtieth birthday. Combine these facts with a great presentation and you have all of the makings of a winner.
One other interesting thing is that so far this is the only new release announced by Rocky Patel Premium Cigars. Gone are the days where the company would release a half a dozen new releases. It's possible that all of the attention may be on this cigar. While this factor did not affect the selection on this list, it certainly is going to help solidify its spot on the list.
4. Crowned Heads Crowned Heads Le Pâtissier
The Crowned Heads/ACE Prime strategic alliance in 2021 is going to get a chance to be together at their first trade show. The two companies have done as good a job as any at marketing their releases, and the combination has blown away the competition when it comes to promoting their PCA Trade Show Exclusives. This year it's going to be Crowned Heads' entry, Le Pâtissier that gets the nod – a cigar made for Crowned Heads at ACE Prime's factory.
Crowned Heads' other new release the CHC Serie E pays homage to the legendary Eddie Van Halen guitar solo Eruption and I expect that cigar to do very well. But for Le Pâtissier the retailers will want to take advantage of the window to get this cigar – which is the crux of what the PCA Show Exclusives are about. Even the fact its Broadleaf (a wrapper Crowned Heads has done very well with), I can't see a lot of accounts who are putting in a Crowned Heads order passing up on this one.
3. La Aroma de Cuba Pasíon
The last time Ashton Cigars launched a new line at the PCA/IPCPR Trade Show was San Cristobal Quintessence and the last time there was a new La Aroma de Cuba was 2014 with the La Aroma de Cuba Noblesse in 2014. This year, Ashton is introducing the La Aroma de Cuba Pasión.
Along with San Cristobal, La Aroma de Cuba is produced by the Garcia family for Ashton Cigars, and the La Aroma de Cuba Pasión is no exception. This one is special because it is not only La Aroma de Cuba's first all-Nicaraguan cigar, but the tobaccos all come from the Garcia family farms, and it's got a stunning presentation that should be very attractive to retailers.
Given La Aroma de Cuba is a brand that is in many humidors, this "what's new" should satisfy many retailers ordering new product.
2. Padrón Family Reserve No. 95 (Vitola Specific)
In the last installment of the Pre-Game Series, I talked about how this was dubbed the "Year of the Line Extension". Perhaps no company creates more buzz when it comes to a line extension than Padrón Cigars. Padrón has not launched any new product at a Trade Show since 2016 (and that was a line extension with the Padrón 1926 Serie No. 90). This year Padrón's prestigious Family Reserve gets a new cigar with the Padrón Family Reserve No. 95, which happens to be the first new Family Reserve in seven years!  In addition the No. 95 will be a PCA Exclusive.
The No. 95 is a 4 3/4 x 60 rounded vitola. It's the first rounded vitola introduced into the Family Reserve as well as the largest ring gauge of the line. It's not the first rounded or first 60 ring gauge Padrón has done, but certainly the 4 3/4 x 60 parejo is something unique. In this case, the size isn't playing much into this selection. The fact that it's a Padrón and it's a Family Reserve is enough reason why retailers will flock to this cigar. If this was another size besides the 4 3/4 x 60, I could still easily see Padrón landing at #2.
Much like Le Pâtissier, this is case of retailers taking advantage of the fact that the Padrón Family Reserve No. 95 is only available at the show. Given Family Reserve is offered in natural and maduro, I expect most retailers to take both.
1. Dunbarton Tobacco & Trust StillWell Star
Even before Dunbarton Tobacco & Trust founder Steve Saka let the cat out of the bag about StillWell Star having pipe tobacco in the blend, Saka created enough mystery and intrigue to lead retailers to seek out StillWell Star as a cigar they need to bring in. StillWell Star was the leader in the clubhouse before the details were unveiled. Now that its been announced that StillWell Star will incorporate pipe tobaccos, this cigar remains the easy choice for what will be the hottest cigar at the Trade Show.
Saka's isn't the biggest company, nor does he have a full-scale marketing department, but when Saka talks people listen. I've always contended that teasers never work, but Saka might be the case that has proven me wrong.
As said earlier, 2021 has proven to be the Year of the Line Extension. In this case not only do we have a new brand, but we got some major innovation to boot. I'm not sure which of Stilwell's four blends will sell the best, but they will still prove to be a monster hit for Saka.
A Note on Ferio Tego
This is something I've never done before – namely explain why a particular cigar line did not make the list. In the case of Ferio Tego, this is an anticipated release and probably the most glaring omission for a company this year.
Ferio Tego is the company started by former Nat Sherman employees Michael Herklots and Brendon Scott. As a part of the company's launch, there are plans to relaunch former Nat Sherman brands under the Ferio Tego umbrella; but before the relaunch of these brands, the company has an eponymous line called Ferio Tego coming out. This has been a cigar anticipated by many.
However, the Ferio Tego line did not meet the criteria of the cigar being sold (i.e orders taken) at the Trade Show. It was also on the border as far as what the packaging would look like, however, I can't make a prediction on what the hottest cigar will be at the Trade Show if the cigar is not being sold.
There is no doubt this cigar is going to garner a lot of attention and buzz in the second half of the year, but the bottom line is the spirit of this list has been the same since 2013, to allow an exception to the rule would destroy the integrity of the list. There are no honorable mentions or participation trophies here.
Podcasts
Feature Stories