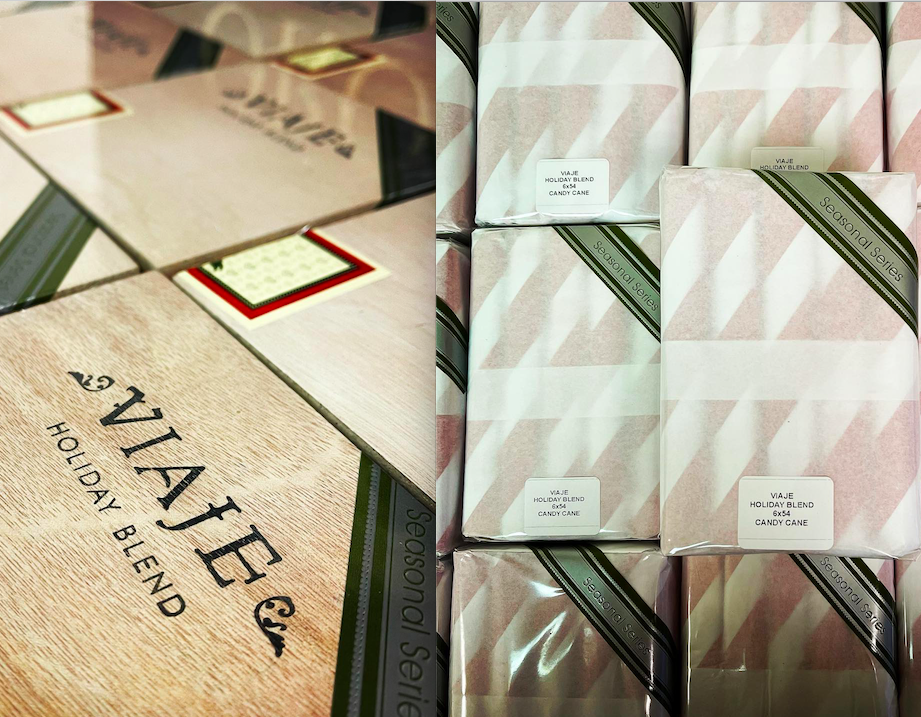 Viaje recently shipped two of its popular releases for the Christmas Season. The Viaje Holiday Blend and the Viaje Holiday Blend Candy Cane.
The Viaje Holiday Blend was first introduced in 2009, and has been a near-annual release since then. Over the years, the Holiday Blend has been released in several sizes. The Viaje Holiday Blend 2020 Edition is a 5 x 54 box-pressed Robusto – marking the first time since 2015, it is being released in a box-pressed format.
The Viaje Holiday Blend Candy Cane was first introduced in 2012. Since 2012, it has been released in 2014, 2015, 2016, and 2018. The cigar itself features a 2 wrapper barber-pole and is available in one format, a 6 x 54 box-pressed Toro. The 6 x 54 sizes has been consistent over the years, but has varied in parejo and box-pressed formats.
Blend and production details of this year's Holiday Blend  and were not disclosed. The size will be a 5 x 54 Robusto – which was the size of the original 2009 Viaje Holiday Blend. The 2020 Holiday Blend is packaged in 30-count boxes while the 2020 Candy Cane is packaged in 20-count bundles.
There has also been a Short Torpedo release called the Viaje Holiday Blend Christmas Tree that was released in 2013 and 2017.
For those interested, here is the complete list of Viaje Holiday Blend offerings since 2009.
Photo Credit: Viaje Cigar Company