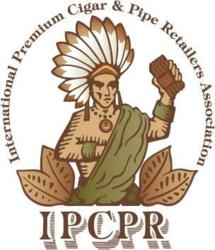 Welcome to our 2013 IPCPR Trade Show Preview. We are providing a preview into the cigar industry's biggest event – the 2013 IPCPR Trade Show that begins on July 14th. Over the next few weeks, we'll have a weekly preview from an industry standpoint. In between, expect lots of announcements and previews from the manufacturers. Today we continue our 2013 series by spotlighting what we call five entities at the trade show that each bring a different story

In Part 1 of our IPCPR Trade Show Preview, we did a segment in what has become evolving into an annual series called "The Five Boutiques to Watch". While we can debate what the definition of a boutique is, one thing that was a common pattern with the companies we looked at in that article was that these were all emerging companies. This year we decided to an additional segment. In this segment we take a different spin and spotlight five "entities". An "entity" can mean different things here. In some cases it will be a brand. In other cases it will be a full subsidiary, a full company, or even a conglomeration of different companies. These can be either new, emerging, or establised entities. The common thread is that each has an interesting story and this should be reflected at the booth.
Boutique Blends (Oliveros Cigars)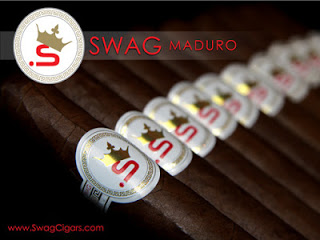 The new Swag S Maduro is a part of what will
be a real exciting IPCPR in 2013 for Boutique Blends
Rafael Nodal's Oliveros Cigars have been making some very good products over some time. However it has really been over the past two years where Nodal's products have really gone to the next level. A couple of lines really stimulated this – Swag Cigars (launched in 2010) and Aging Room Cigars (launched in 2011). These cigars achieved some high rankings from Cigar Aficionado, which really helped to showcase the already fine work being done by the company.
In 2012, Nodal made a bold move. He took the Swag and Aging Room lines and formed a subsidiary of Oliveros called Boutique Blends. In launching this subsidiary, Nodal in the press release stated: "With the introduction of Boutique Blends Cigars, we will exclusively focus on the creation of more exciting and complex blends. We are not producing cigars for everyone, we are introducing new blends for educated consumers that are looking for cigars with complexity and character. If you are looking for the same boring, flat and one dimensional cigar, I am sorry to say, Boutique Blends are not for you"
Nodal has a dynamite team to support him, including co-owner Hank Bischoff and Vice President Fabian Barrantes. They've built a strong partnership with Jochy Blanco who is providing tobacco and involved in the blending process. This team is combining many old school traditions with contemporary concepts and really helping to build something special.
So far we know that the new Swag S Maduro, Aging Room Small Batch M21, Aging Room Mini, and Aging Room Maduro will be launched at the 2013 IPCPR. The company has also announced a concept called the Aging Room WildPack that will allow consumers to vote for the next Aging Room Cigars blend. Finally, to go along with all of the new products is a new booth which the company is planning on showcasing this year. No doubt there will be excitement and energy at their booth this year.
Camacho Cigars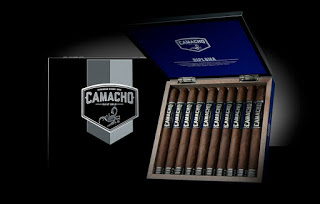 Last week we covered an in-depth story on the re-launch of the Camacho brand. This is known as the "Bold Standard" campaign. The brand describes this as "the most brazen move in their nearly 50 year history". The rebranding effort not only involves a new logo and new packaging to their cigars, but it will consolidate some of their existing lines as well as upgrade four of their existing blends."
The story goes back to 2009 when Davidoff acquired Christian Eiroa's Camacho Cigars' company. This included the acquisition of such Camacho lines such as Room 101 Cigars, Baccarat, and Fontana. With the exception of the development of the Room 101 line, things have been relatively quiet over the past few years with Camacho. In fact, if you visited the Camacho section of the Davidoff booth at the 2012 IPCPR, it was relatively small in terms of presence. With the re-launch of Camacho in 2013, no doubt things will greatly change in 2013.
There are the re-blends of four Camacho lines along with the new packaging that will be exciting. There is now also the addition of the ("Da Coach") Mike Ditka line from Camacho – which has introduced four blends over the past year. There is of course Matt Booth and Room 101 – which continues to grow as they launch the Room 101 Honduras and the Master Collection. Finally, screenwriter Rob Weiss has been working events at Camacho. While we don't know if Weiss will be at IPCPR or what the plans are for him, no doubt he is helping in the shaping of Camacho 2.0.
This year will be no doubt different for Camacho at IPCPR than 2012. Their presence in the Davidoff booth will definitely be felt. The energy with launching the Bold Standard campaign prior to the trade show will no doubt spill over into the trade show itself.
Fabricas Unidas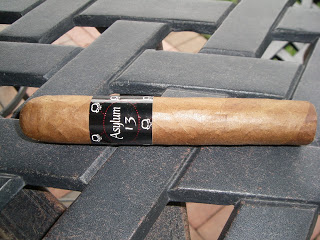 We actually covered the start of this story at the end of 2012 when we looked at our Top 12 Stories in the Cigar Industry for that year – namely the return of Christian Eiroa. Eiroa didn't just return to the cigar industry with a new company, but he's built an infrastructure that is really a next generation model in the cigar industry. This is known as the umbrella entity of "Fabricas Unidas"
Eiroa started out by launching his own line of cigars – CLE (Eiroa's initials Christian Luis Eiroa). A lot of the line features Corojo tobacco – something Eiroa and his family are well known for. At the same time Eiroa had much bigger plans for his venture. On the December 1st, 2012 Kiss My Ash Radio show, Eiroa mentioned he had formed a "business incubator" to provide other people with good ideas with the infrastructure to produce cigars. This has spawned into three lines that together with CLE form the Fabrica Unidas umbrella: Asylum Cigars (value-priced, high quality cigars) , Wynwood Cigars (big emphasis on their new "factory fresh" cigars), and Edgar Hoill Cigars (Artesian Cigars). Eiroa has also opened a factory in Honduras (Aladino) and Miami (Wynwood).
Eiroa has done a masterful job at bringing these companies together and each have a unique story to tell at the 2013 IPCPR. For the CLE, it continues to grow with the launch of the CLE Plus and Eiroa lines. Asylum continues to connect with consumers with their value-priced high quality offerings – and because of the strides they've made with big ring gauges. I expect a lot of the spotlight to be around the new Straight Jacket and Asylum 13 Corojo lines. For Wynwood, they continue to grow their "Factory Fresh" concept. Finally, the unique artesian vitolas are expected to continue with Edgar Hoill and he re-launches the OSOK line with the new OSOK Nicaragua.
House of Emilio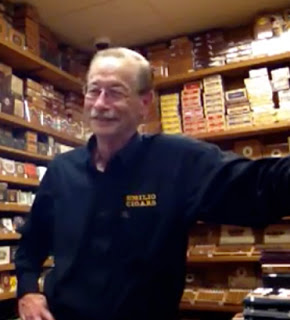 Gary Griffith – the man behind House of Emilio
This is another story in which we actually started to cover at the end of 2012 when we looked at our Top 12 Stories in the Cigar Industry for the year. We called this theme "The Emilio Empire". It has now been dubbed the House of Emilio.
Emilio Cigars was launched a couple of years ago by well known Delaware retailer Gary Griffith. He built a solid line of cigars that garnered many high ratings. In 2012, Griffith began another transformation of the company – becoming a distributor for other boutique companies. In a course of a little over six months, Emilio would become a distributor for seven additional companies.
Rodrigo Cigars
Herederos de Robaina
Guayacan
Global Premium Cigars (1502 Cigars)
Ezra Zion Cigar Company
Epicurean Cigars
Nomad Cigar Company
For Emilio Cigars, while we did identify them as one our "Five Boutiques to Watch" in 2012, this is actually their first IPCPR Trade Show as they did not end up having a booth. But perhaps the most interesting dynamic is the entire House of Emilio team will be in a booth together. Over the past year, Emilio has really tried to build a sense of "family" with these brands – a very key element to a successful distribution agreement.
And there will be plenty of activity at the booth. Emilio is releasing the new Draig Cayuquero and Mia Dora. Rodrigo and 1502 Cigars are planning line extensions. Nomad Cigar Company has their new LE Esteli 1386 cigar made in Nicaragua that will be showcased. Guayacan has a maduro on the horizon that could show up there. As for Ezra Zion, we identified them as a one of our 2013 "Five Boutiques to Watch". They will be showcasing several new cigars (including the recently released Ezra Zion Tantrum) as well as line extensions to the Jamais Vu and Reagan lines.
Kristoff Cigars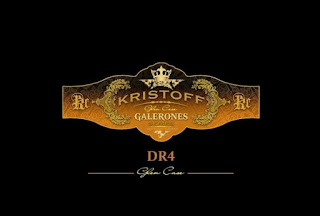 Last year was a quieter IPCPR Trade Show for Glen Case and Kristoff Cigars as he chose to focus on his existing lines. 2013 is proving to be a different story. Case is planning some major new lines and this without a doubt is creating renewed excitement and energy with the Kristoff Cigars brand.
Case launched Kristoff Cigars in 2004, and one can make the case that this year will mark some of the biggest changes in the company's history. This changes comes in the form of four new blends that are a part of the Kristoff Galerones line. While launching new cigar lines is nothing new to Kristoff, this line will feature tobaccos that Kristoff has not worked with before. These cigars are being made in a new factory (the PDR Cigars as opposed to the Charles Fairmorn factory), and finally the packaging is greatly changing (the rustic look is becoming more sleek and elegant). While Galerones is bringing a fresh approach to Kristoff, there will be no changes to the existing Kristoff lines.
Meanwhile, Kristoff is also launching the limited edition cigar called the 685 Woodlawn, which will still be made at Charles Fairmorn. The cigar will be offered first to members of the TAA and then the remainder will be offered to non-TAA shops. Case told us he expects the 685 Woodlawn to be sold out before the trade show.
The launch of the Galarones is going to set in motion a lot of excitement not just at the trade show, but for many months to come. No doubt the Kristoff booth will be a destination where many of the retailers will be visiting.
Our 2013 IPCPR Trade Show Preview will continue next Sunday June 30th, 2013 with Part 4.

Other Parts to this series

Part 1: The Five Boutiques to Watch
Part 2: Five General Things to Look For
Part 4: Around the Show Floor (1st Installment)
Part 5: Around the Show Floor (2nd Installment)
Part 6: Predictions for the Five Hottest Cigars
Part 7: Around the Show Floor (3rd Installment)