---

At the 2017 IPCPR Trade Show, Davidoff of Geneva USA's theme continued to be innovation and this would be a very different show for Davidoff in a number of ways.
Business-wise, CEO Hans-Kristian Hoejsgaard was absent – and the thought did cross my mind this could be a sign of change to come (last week it was announced Hoejsgaard was out as CEO). The Davidoff Golden Band Awards moved from a gala dinner to more of a media event at the Davidoff booth. Meanwhile, the Avo Cigars area of the booth definitely had a different vibe as it would be the first trade show since the passing of the legendary Avo Uvezian.
It would also be the first time since 2011 (when Camacho Cigars was fully integrated) that Room 101 Cigars was not present at the Davidoff booth. Earlier this year, Room 101 brand owner Matt Booth announced he was ending his relationship with Davidoff.
The Brands
There was plenty in the way of innovation across the various brands. The big focus was Davidoff, Avo, and Camacho. Davidoff of Geneva North America President Jim Young reported a good year of grwth. Avo led the way with 19% growth. The core Davidoff brand grew 14% and Camacho grew 1%.  Young said the lower growth in Camacho was due to the enormous growth Camacho had in 2015 and it was hard to replicate that. This year, Young reported it was growing 5% as a company and 7% for the core brands.
There was a big push with S.T. Dupont, for whom Davidoff is distributing their line of accessories (we will be covering that separately). Camacho also was busy (we have a separate spotlight piece on that). Even Zino had a new release for the first time in three years. Cusano, which received a push last year, was noticeably lower key this year. The Griffin's didn't have a push (although that brand typically is pushed more in Europe).
Davidoff
With the Davidoff brand, this year the focus seemed to move away from the Discovery (Black Label) series (although some limited edition line extensions were unveiled earlier this year.  This year, the showcase release was Davidoff Winston Churchill – The Late Hour. Since the rebranding of Winston Churchill and its incorporation into the Davidoff brand, it has become one of Davidoff's top performers. The name was inspired by the fact that Sir Winston Churchill, the namesake of the Winston Churchill brand, often found inspiration and creativity during the late evening hours.
The Davidoff Winston Churchill Late Hour features tobacco from Condega aged in single malt Scotch Whisky barrels. It's a concept first used by Camacho for the American Barrel Aged. The Condega tobacco is then incorporated into the filler of the blend, which also includes Dominican and Nicaraguan fillers. The blend is finished with a San Andres Negro binder and Ecuadorian Habano wrapper.  Packaged in 20-count boxes, the Late Hour is available in three sizes: Robusto (5 x 52); Toro (6 x 54), and Churchill (7 x 48).
A series Davidoff Winston Churchill Accessories has been launched including a porcelain ashtray, whisky glasses, and humidors.
The other major release was the Davidoff Master Selection Series. It's a series of six personal blends created by Davidoff Master Blender Eladio Diaz that each celebrates one of his birthdays. These blends include:
Davidoff Master Selection Series 2007 (For Appointed Merchants)
Davidoff Master Selection Series 2008 (For Flagship Stores)
Davidoff Master Selection Series 2010 (For Appointed Merchants)
Davidoff Master Selection Series 2011 (For Flagship Stores)
Davidoff Master Selection Series 2013 (For Appointed Merchants)
Davidoff Master Selection Series 2016 (For Flagship Stores)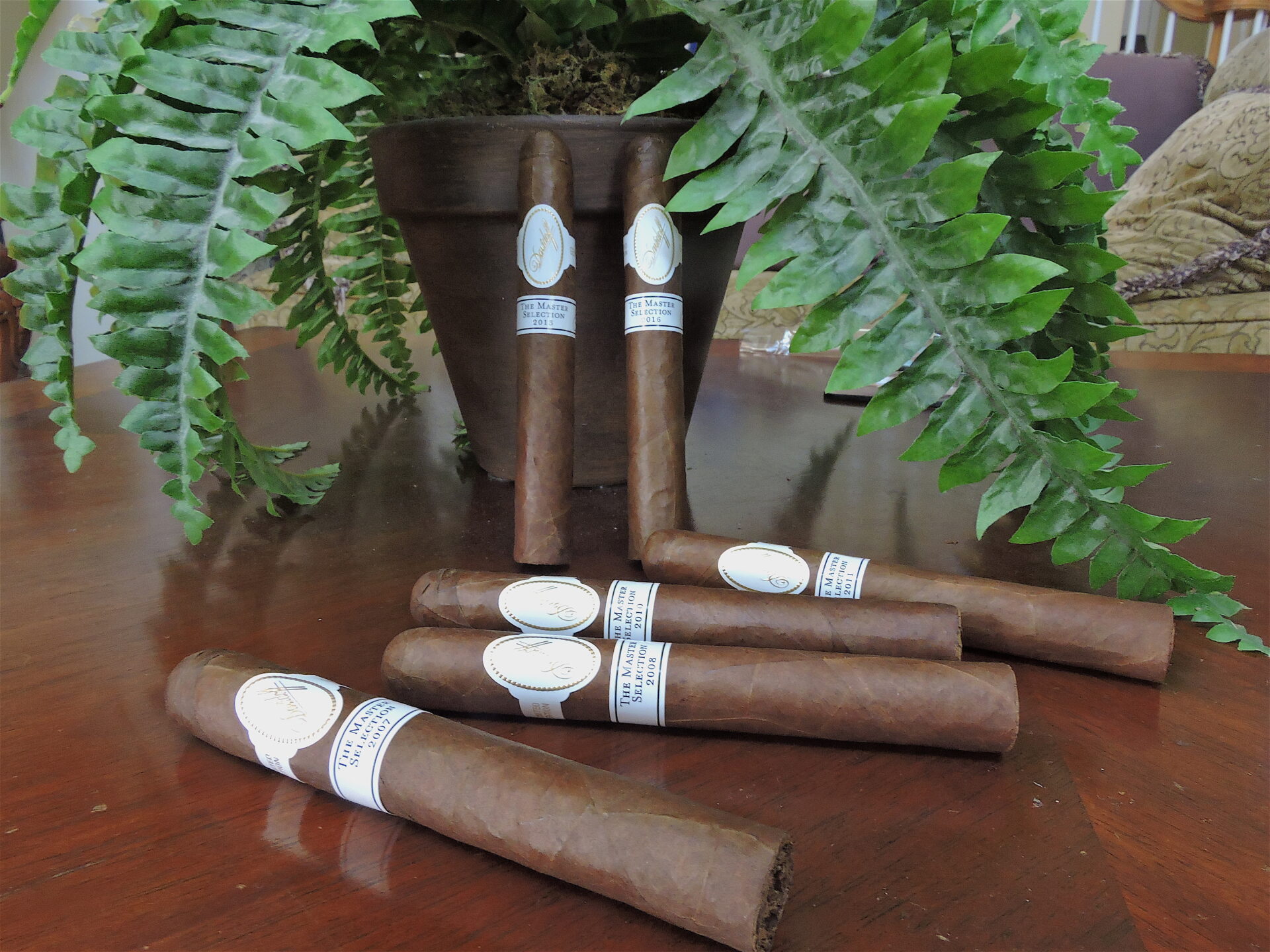 While it wasn't on display, Davidoff is planning a Davidoff Chefs Edition 2018. This was a series first introduced in 2016 and that blend made a return in 2017. The 2018 edition is going to feature an all-new Chefs collaboration – and an all-new blend.
We also caught up with Davidoff Senior Vice President and Chief Marketing Officer Charles Awad, who walked us through where the innovation strategy with the Davidoff brand lies.
Avo Cigars
The Avo Syncro South America Ritmo is the third release under Avo's Syncro line. This was the first release since the passing of Uvezian.  Syncro can be thought of as the innovative branch of Avo Cigars. With the Avo Syncro South America Ritmo, it brings together tobaccos from seven countries. The blend features an Ecuadorian wrapper, Mexican binder and a filler consisting of tobaccos from Nicaragua, Peru, Brazil, Honduras, and the Dominican Republic.
The Ritmo is also the Avo line's second box-pressed regular production offering. It's available in four sizes: Robusto (5 x 50), Toro (6 x 54), Gordo (6 x 60), and Torpedo Largo (7 x 54). Each is packaged in 20-count boxes.
Camacho Cigars
Camacho's focus has been around the Camacho Nicaraguan Barrel-Aged and Camacho BXP line. We covered this in detail in a separate Spotlight piece.
Zino
This year, Zino launched the limited edition Zino Platinum Z-Crown Series. It's the brand's most premium release to date.
The Zino Platinum Z-Crown Series consists of two blends, each available in a single, unique vitola. Both blends incorporate eight-year-old aged fillers. Once rolled, the cigars were rested another four years.  The Zino-Platinum Z-Crown Chubby is a 4 15/16 x 54 perfecto consisting of a Dominican Semilla 253 wrapper, Ecuadorian Connecticut binder, and filler from the Dominican Republic. Meanwhile, the Zino Platinum Z-Crown Stout is a 7 x 52 torpedo consisting of a Semilla 702 wrapper, Ecuadorian Sumatra binder, and a combination of fillers from Nicaragua and the Dominican Republic.
Each cigar is packaged in an individual coffin. Pricing for the Chubby is $75.00 per cigar while the Stout is $100.00 per cigar.
Cusano
After the brand was revamped last year, this year was a quiet year for Cusano with no new releases unveiled at the Trade Show.
The Griffin's
There were no new releases this year unveiled at the Trade Show.
Photo Credits: Cigar Coop, except where noted.