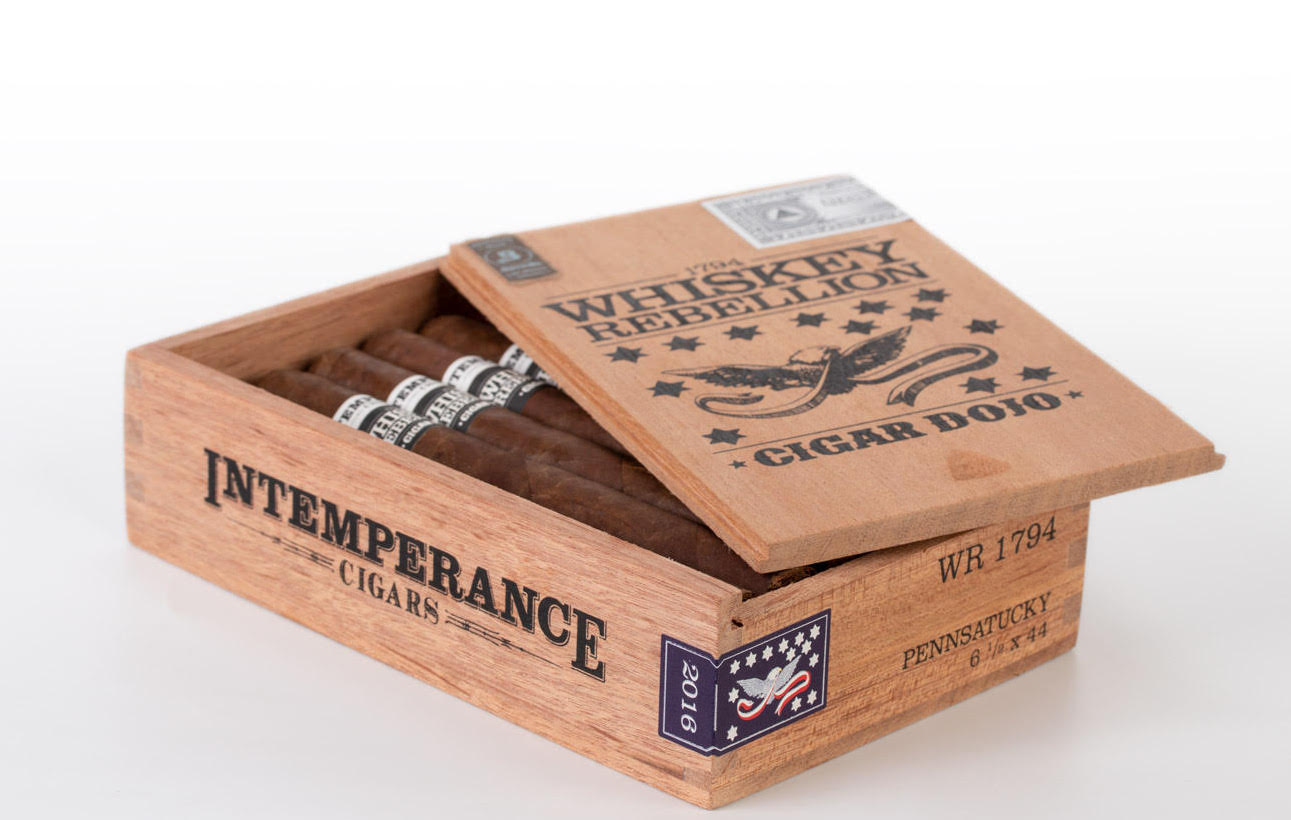 RoMa Craft Tobac is once again teaming up with Cigar Dojo for an exclusive release. This past Friday, the two principals officially announced the Intemperance Whiskey Rebellion 1794 Pennsatucky, a Lonsdale offering of the Intemperance Whiskey Rebellion 1794 blend.
Three years ago, RoMa Craft Tobac and Cigar Dojo teamed up for Intemperance Whiskey Rebellion 1794. Sold through Famous Smoke Shop, this would be a Robusto sized offering that was the first Intemperance Whiskey Rebellion 1794 released. Shortly afterwards, RoMa Craft announced that a five cigar line of the Intemperance Whiskey Rebellion 1794 line would be an exclusive offering to Famous. Earlier in 2019, RoMa Craft Tobac Taking Intemperance Whiskey Rebellion 1794 announced the line would be offered nationally.  The Pennsatucky is the first line extension since the line was taken nationally.
The name Pennsatucky is a take on the name Pennsyltucky. Pennsyltucky is a region between Western Pennsylvania and Kentucky. Following the Whiskey Rebellion in 1794, Western Pennsylvanians are said to have migrated to Kentucky, inspiring the region name. Pennsatucky is actually a character from the show "Orange is the New Black".
Like the rest of the Intemperance Whiskey Rebellion 1794 Pennsatucky the blend features a high-priming Ecuadorian Habano Ligero wrapper, an Indonesian Besuki binder, and fillers from Nicaragua and the Dominican Republic. The lonsdale size measures 6 1/2 x 44. The cigars are packaged in 12-count boxes with production limited to 500 boxes. Once again, sales will be handled through Famous Smoke Shop.

"From the time we started talking about this brand with Dojo on the balcony overlooking Bourbon Street in New Orleans, I've wanted to express the blend in this size," commented Skip Martin, co-proprietor of RoMa Craft Tobac in a press release. "While it isn't a popular vitola, the lonsdale is the perfect format for balancing the strong Nicaraguan fillers against a bold wrapper. It's been great to be working with Eric and Jordan of Cigar Dojo, as well as Jim and the team at Famous on a new project as we take WR 1794 national, and I couldn't be more pleased with how the Pennsatucky has developed. In my opinion, it's right up there among the best of the Cigar Dojo releases, and we are proud to have our name appear on the band right next to the Dojo logo. I don't imagine they will take long to sell through."
Eric Guttormson, owner of Cigar Dojo, added, "The blend on the Whiskey Rebellion has always been one of my favorites. But when you put it in a lonsdale you take it to a whole new level! Skip, Michael, and the RoMa Craft team knocked this out of the ballpark—I absolutely can't wait for Dojonation to get their hands on this cigar."
The Intemperance Whiskey Rebellion 1794 Pennsatucky is scheduled to be released on July 12th – coinciding with the Whiskey Rebellion Festival in Western Pennsylvania.
Pennsatucky also joins a long list of collaborations that Cigar Dojo has done with various manufacturers. The following is a list of the Cigar Dojo collaborations done by cigar manufacturers and brands:
RoMa Craft Tobac Intemperance Whiskey Rebellion 1794 Pennsatucky
At a glance, here is a look at the Intemperance Whiskey Rebellion 1794:
Blend and Origin
Wrapper: Ecuadorian Habano Ligero
Binder: Indonesian Besuki
Filler: Nicaragua, Dominican Republic
Country of Origin: Nicaragua
Factory: Fabrica de Tabacos Nica Sueño S.A.
Vitolas Offered
Lonsdale: 6 1/2 x 44