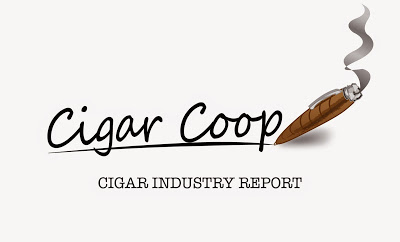 The Cigar Industry Report is a one stop place to catch up on the activity here at Cigar Coop and Stogie Geeks. It is a combination of our news reports, cigar reviews, and assessment updates we do throughout the week. We will also recap what happened on our Stogie Geeks show. Finally, each week we will look back at Cigar Coop history. Look for this report every Saturday morning at 8am Eastern time.

Cigar Industry Report: Volume 4, Number 52 (Edition 149 11/14/15)
This will be the final Cigar Industry Report for what we consider the 2015 Cigar Year on Cigar Coop. Thanksgiving marks the official close of the Cigar Year for us. Next week, we will have our first Cigar Industry Report for the 2016 Cigar Year – and we will start prepping for our annual Cigar of the Year Countdown commencing on December 1st.
Feature of the Week: Big Changes at General Cigar
Dan Carr is out as President of General Cigar Company.  Regis Broersma who ran parent company STG's division in Germany will assume the title as President.  In a related move, Cigar International President Craig Reynolds will now become the Executive Vice President for STG's Global Handmade Business. Broersma will now report to Reynolds in the new corporate structure at STG.
News and Previews 
Senate Bill S. 441: S. 441 is the Senate Bill to gain an exemption from the FDA on premium cigars.  This past week no new co-sponsors were added. The total sponsor count remains at 19.
House Bill HR 662: H.R. 662 is House Bill to gain an exemption from the FDA on premium cigars.  This week, there were two new co-sponsors – Michael Simpson [R-Idaho] and Daniel Donovan Jr. [R-NY]. The total number of sponsors is now 150.
House Bill 2058:  H.R. 2058 is the House Bill to change the effective date for cigars subject to FDA regulation from 2007 to 21 months following any proposed regulations are put into effect. This week, one new co-sponsor has signed on – Marsha Blackburn [R-Tennessee].  The total number of sponsors is now 31.
California: San Francisco Supervisor Scott Weiner is introducing to raise the tobacco purchase age to 21.
Kansas City Missouri and Kansas: Lawmakers in both cities have voted to raise the legal smoking and tobacco purchase age to 21.
Massachusetts: Boston Mayor Marty Walsh is calling to raise the smoking age to 21.
Feature Story
This week we have a Stogie Geeks Shorts Cigar Conversation where we talk to Nate McIntyre about his new brand, Percy Ray Cigars.
Assessments
Agile Cigar Reviews
Stogie Geeks
For Episode 165 (full video publishing by next week), we welcomed Fred Rewey from Nomad Cigar Company as our special guest. Our Debonaire Ideal was on Cigars at a Wedding.  Plus our Stogies of the Week included:
Flores y Rodriguez 10th Anniversary Reserva Limitada Robusto by PDR Cigars
Indian Motorcycle Maduro Toro
Partagas 1845 Extra Fuerte Double Corona
Davidoff Year of the Monkey Limited Edition 2016
Drew Estate Undercrown Shade Toro
We published content from Episode 164.  This featured Jorge Armenteros of Tobacconist University and had our Debonaire Ideal focusing on New Cigar Enthusiasts and Stogies of the Week segment.  Video will be published next week.
We wrapped up the publishing content of our Four Year Anniversary Show:
Four Year Anniversary Podcast – The Intro
Dave Burck, Cigar Jukebox
Glynn Loope, Executive Director, Cigar Rights of America
Jonathan Carney of La Flor Dominicana Cigars
Victor Vitale, Legacy Brands
Phil Zanghi, Debonaire Cigars and Jean-Michel Louis, Saga Cigars
Todd LaSocla, Havana Cigar Club
Hector Alfonso, Espinosa Cigars
Dave Garofalo, The Cigar Authority / Two Guys Smoke Shop
Rafael Nodal, Boutique Blends Cigars
Paul Joyal, Ocean State Cigars
Wrap-Up
On this date November 21st…
Sponsor Events
Aging Room Cigars, AJ Fernandez Cigars, PDR Cigars, and General Cigars will be at the Cigars and Cars event in Orlando, Florida