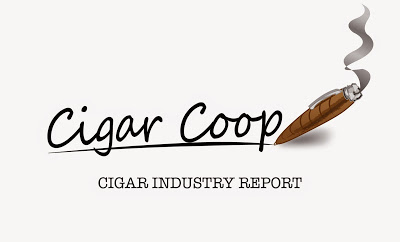 The Cigar Industry Report is a one-stop place to catch up on the activity here at Cigar Coop. It is a combination of the news reports, cigar reviews, and assessment updates we do throughout the week. In addition, each week we will look back at Cigar Coop history. Look for this report every Saturday morning at 8am Eastern Time.
WELCOME CURRENT SPONSOR ALPHA CIGAR COMPANY AS OUR NEW SPONSOR FOR THE CIGAR INDUSTRY REPORT!
Cigar Industry Report: Volume 6, Number 27 (Edition 228 5/27/17)
Feature of the Week: De Los Reyes Cigars to Sponsor Cigar Coop IPCPR 2017 Coverage
De Los Reyes Cigars, makers of the Saga and Don Julio brands of Cigars and the factory that produces lines such as Debonaire, Indian Motorcycle, Cattle Baron, and Patoro will be the official sponsor of Cigar Coop's 2017 IPCPR Coverage.
The folks at De Los Reyes have been long-time sponsors of Cigar Coop, and we are really proud to have them as our sponsor. Not only do they make great cigars, but they are great people
We expect our IPCPR Pre Game coverage to kick off in June and we look forward to bringing you the most comprehensive coverage adhering to our #rumorfree #teaserfree philosophy!
Feature of the Week: Davidoff Officially Announces Opening of Honduran Factory
Two years ago, Davidoff announced it was investing in its Central American operations on both the agricultural and production front. This included the construction of a new factory to replace the Camacho factory. This week, the company officially announced the new factory is in operation and gave some details of the new facility.
News Recap
House of Representatives: H.R. 564 is a proposed piece of legislation that calls for an exemption from FDA Regulation for premium handmade cigars. This week four new co-sponsors were added including Jack Bergman [R-Michigan], Brett Guthrie [R-Kentucky], Charles Dent [R-Pennsylvania], and Chuck Fleischmann [R-Tennessee]. The total number of sponsors is now 110.
U.S. Senate: S.294 is the Senate companion bill to H.R. 564. This week no new co-sponsors signed on. The total number of sponsors remains at 15.
House Bill 1136: H.R. 1136 is the legislation to change the Grandfather Date for Deeming Tobacco products subject to FDA Regulation from February 15, 2017 to 21 days after enactment of the regulations. This week one new co-sponsors was added – Bob Goodlatte [R-Virginia]. The total sponsor count is now 63.
---
Assessments
Agile Cigar Reviews
---
Feature Story
This week we published a feature story called "A Visit to the JRE Tobacco Company Operations: Part 2-The Agriculture and Curing Operations"
---
Prime Time Show
For Episode 7, Enrique Sanchez, Founder and CEO of 1502 Cigars was our special guest. In our Debonaire Ideal segment we talked Boxing, and in our Deliberation Segment we looked back one year since the FDA Regulations were announced.
Our show is available on YouTube, Podbean, iTunes, Tune In Radio, and Google Play.
Upcoming Schedule (Subject to Change)
Episode 8 (6/1/17): James Brown, Black Label Trading Co / Black Works Studio
Episode 9 (6/8/17): Riste Riatevski, JSK Cigars, Tom Person (Special Co-Host)
Episode 10 (6/15/17): Bryan Mussard, Cattle Baron Cigars
Episode 11 (6/22/17): Claudio Sgroi, Mombacho Cigars
Episode 12 (6/29/17): Juan Cancel and Bill Ives, Cubariqueño Cigar Company