---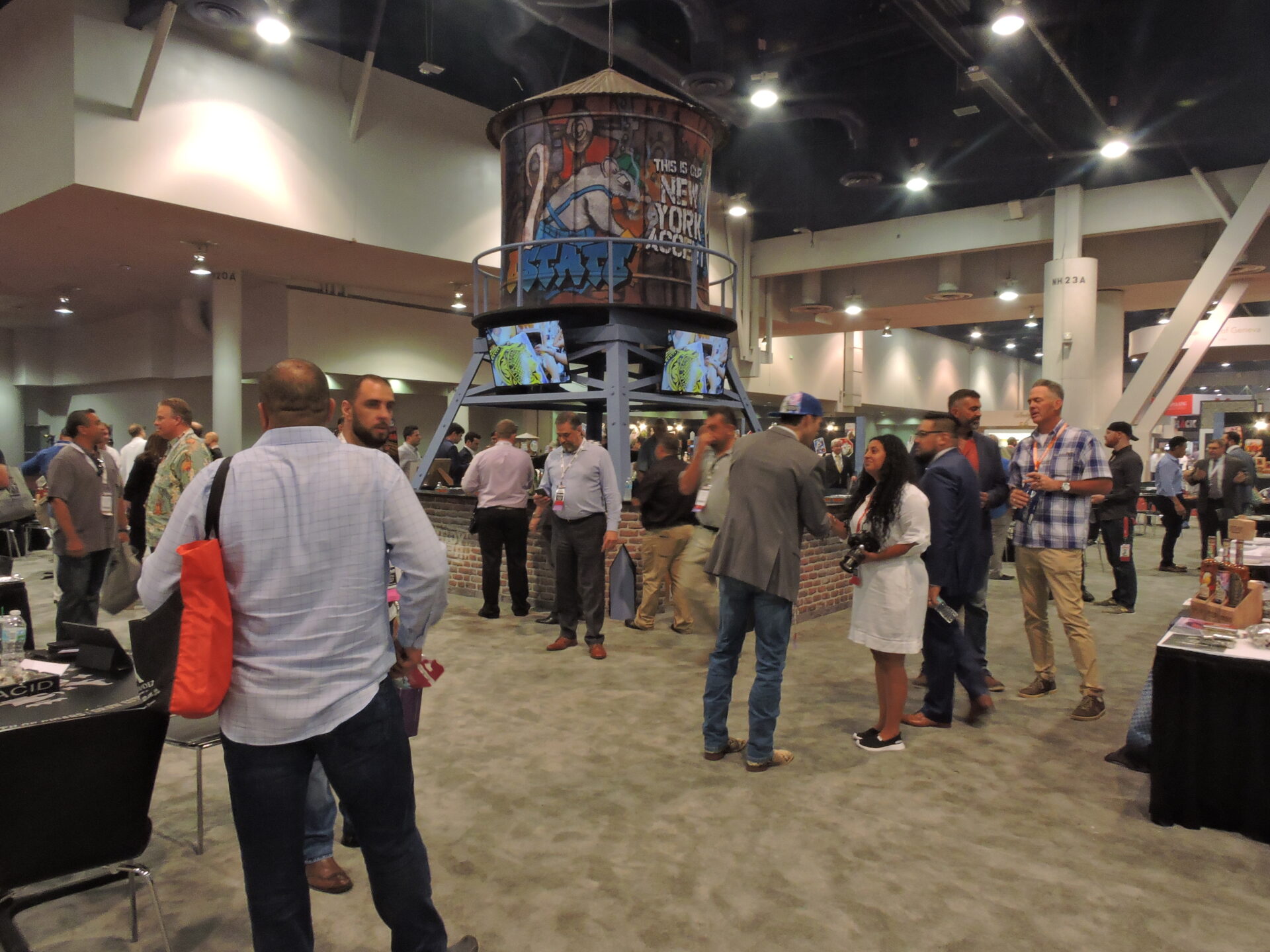 It was a big year for Drew Estate at IPCPR. It was as big a year as I've seen a company have – and Drew Estate has had a lot of big IPCPR Trade Shows.
Most of Drew Estate's announcements were made prior to the opening of the trade show through a series of daily press releases. Each day brought news of something exciting to see at the trade show, and each day seemed to top the previous day. As a result, going into IPCPR I felt the bar was already high for Drew Estate. It was a combination of strong innovation, excellent brand development, and commemorating two big anniversaries (Liga Privada's 10-year milestone and Joya de Nicaragua's 50-year milestone) that raised expectations. In the end, Drew Estate delivered and exceeded those high expectations earning the Cigar Coop honors for best performance by a large company at IPCPR.
We broke down the details why we felt Drew Estate would have a big IPCPR prior to the trade show.
Let's look at what Drew Estate delivered this year:
Liga Privada
Given it was Liga Privada's tenth anniversary, this was the featured brand by Drew Estate – and there was plenty of activity to support that. There are two new Liga Privada blends that were introduced. These were the Cigar Coop Predictions for #1 and #2 hottest cigars at the 2018 IPCPR. They also showcase the company as being an innovation leader as each of these new offerings showcase a unique wrapper.
The Liga Privada – 10 Year Aniversario was the Cigar Coop pick for the hottest cigar. It's highlighted by a. Connecticut-grown Criollo wrapper – a tobacco that region is not known for. The remainder of the blend consists of a San Andres Otapan Negro Último Corte binder, and a core blend of well-aged Nicaraguan and Honduran tobaccos.
The cigar will initially be released in one size 6 x 52 Toro – featuring a unique Cola de Pescado head and a Pies Tapado foot. The Liga Privada – 10 Year Aniversario will be presented in ten-count boxes. The production has been limited to 1,000 boxes (10,000 cigars).
Meanwhile, our selection for the second hottest cigar at IPCPR was the Liga Privada H99 Connecticut Corojo. As the name indicates, it's a cigar that features a Connecticut grown Corojo wrapper – another tobacco Connecticut is not known for. The remainder of the blend features an Andres Otapan Negro Último Corte binder over the brand's core Nicaraguan and Honduran tobacco. It also is being offered in one size – a 6 x 52 Toro with other sizes planned.
The H99 is expected to be more limited than the Liga Privada 10 Year Aniversario and word is retailers will be selected via lottery on who will receive the initial allocation.
Meanwhile, the existing Liga Privada No. 9 and Liga Privada T52 lines received three new sizes. The new line extensions include a Petite Corona (4 1/4 x 46), Short Panatela (4 1/2 x 40), and Corona Viva (6 x 46). The Corona Viva size was one that was originally introduced to the Undercrown line back in 2012.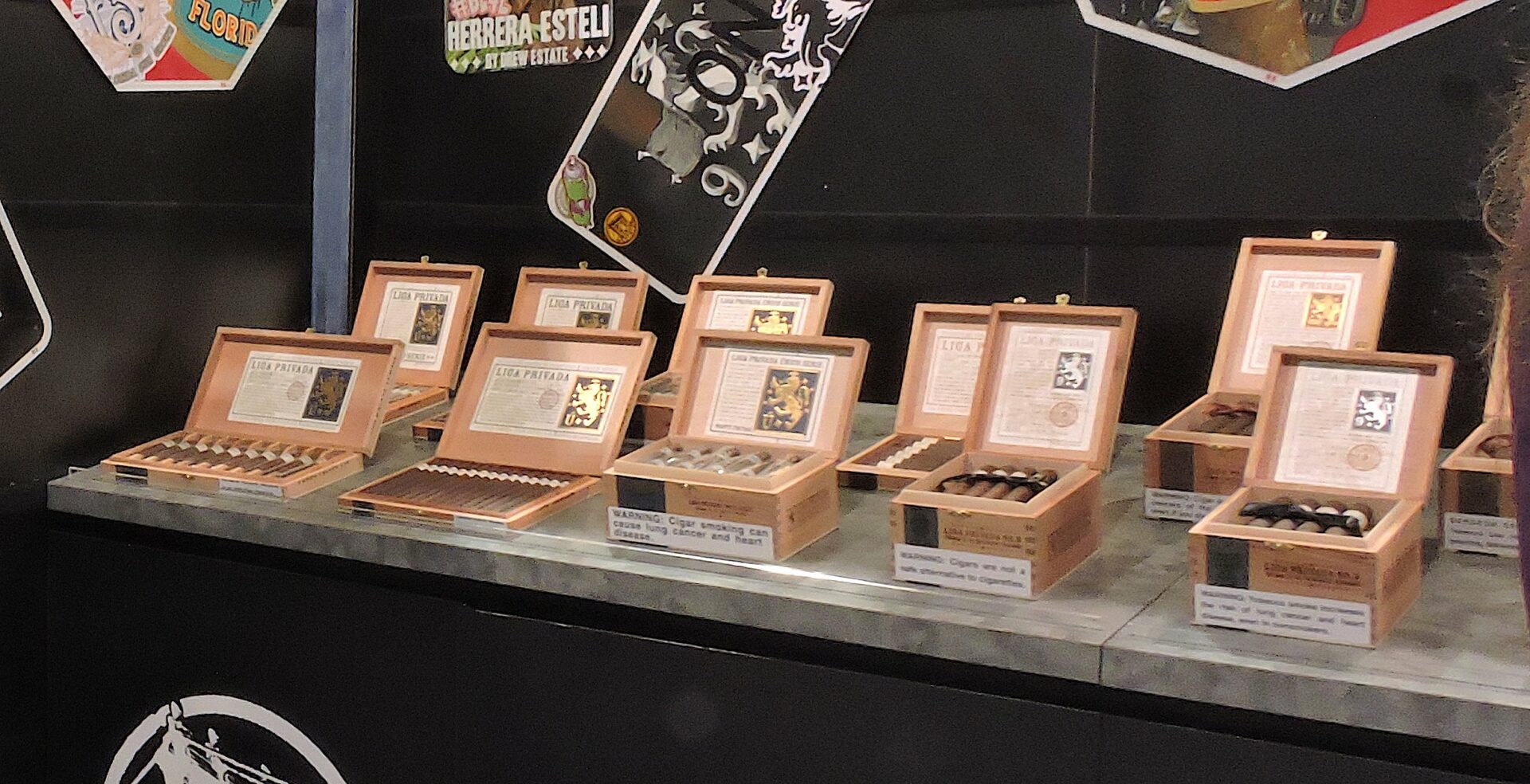 Finally, the Liga Pravda Unico Series receives a new addition with Nasty Fritas. Like the current Liga Privada Unico Series Papas Fritas offering, Nasty Fritas is a short filler offering produced from trimmings of the tobaccos used for the Liga Privada No. 9 and while Papas Fritas was a 4 1/2 x 44 corona offering, the Nasty Fritas uses a 4 x 52 figurado format made popular from Drew Estate's ACID Nasty offering. It has been a cigar previously made available to participants of Drew Estate's Cigar Safari da
The blend for the Liga Privada Unico Serie Nasty Fritas is also similar to Papas Fritas. It features a Connecticut Broadleaf Oscuro wrapper, Brazilian Mata Fina binder, and Honduran and Nicaraguan tobaccos that make up the "tripa corta", Nasty Fritas will be packaged in 50-count boxes.
Undercrown
Undercrown saw one line extension to the Undercrown Maduro line called Dogma. The Undercrown Dogma was originally a limited edition cigar released in 2014. It was a project done in conjunction with Cigar Dojo and was sold exclusively through Smoke Inn. Now it will be available on a nationwide basis to Drew Diplomat retailers.
The cigar is a 6 x 56 Box Pressed Gran Toro that features a San Andres Mexican wrapper, Connecticut Stalk Cut Habano binder, and a combination of Nicaraguan and Brazilian Mata Fina filler. Dogma is based off the Undercrown Corona ¡Viva!, a slightly tweaked version of the original Undercrown line. It will be sold in ten-count soft bundles.
The packaging of the cigar still maintains elements of Cigar Dojo.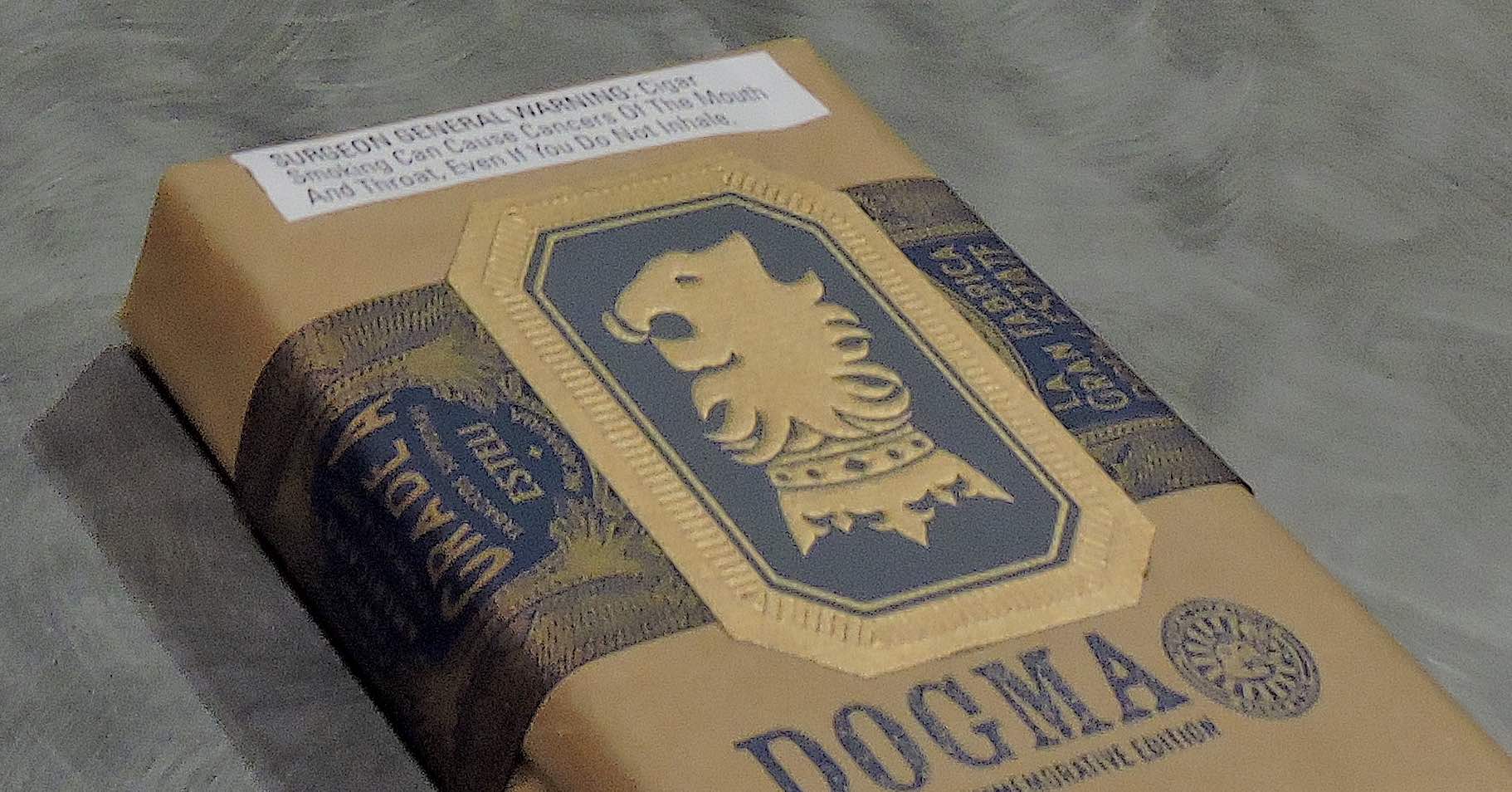 Herrera Estelí
While I wouldn't call it a major overhaul, the Herrera Esteli brand is getting an overhaul. This is the namesake brand for Drew Estate Master Blender Willy Herrera.
First up, the original Herrera Estelí line has now been rebranded as the Herrera Estelí Habano. Meanwhile, Norteño officially joins the Herrera Estelí family as it will be known as  the Herrera Estelí Norteño.
Herrera Estelí Miami, a limited edition line that Willy Herrera did in conjunction with his old stomping grounds, El Titan de Bronze, is returning. This time it's on-going limited production. It will still come out of El Titan de Bronze and will feature the same blend: Ecuadorian Habano wrapper, Ecuadorian Sumatra wrapper, and a combination of Nicaraguan and Dominican filler. One change is the original size of the Herrera Estelí Miami, the Corona Larga is not returning. Instead there will be an expanded line consisting of five sizes: Robusto Grande (5 1/4 x 52) Toro Especial (6 x 52) Lonsdale (6 x 44), Piramide Fino (6 x 52, and ) Short Corona Gorda (5 7/8 x 46). These are the same sizes as the Herrera Estelí Habano line.
Finally, there is a new addition to the brand with the Herrera Estelí Brazilian Maduro. The cigar is highlighted by a Brazilian Mata Fina wrapper. The blend also features a Connecticut Broadleaf binder and fillers from Nicaragua. The cigar will be available in five sizes in 25-count boxes – and the packaging and branding will be consistent to the new-look Herrera Esteli brand being rolled out at the 2018 IPCPR Trade Show. It will also be available in the same five sizes as Herrera Estelí Habano:  Robusto Grande (5 1/4 x 52) Toro Especial (6 x 52) Lonsdale (6 x 44), Piramide Fino (6 x 52, and ) Short Corona Gorda (5 7/8 x 46).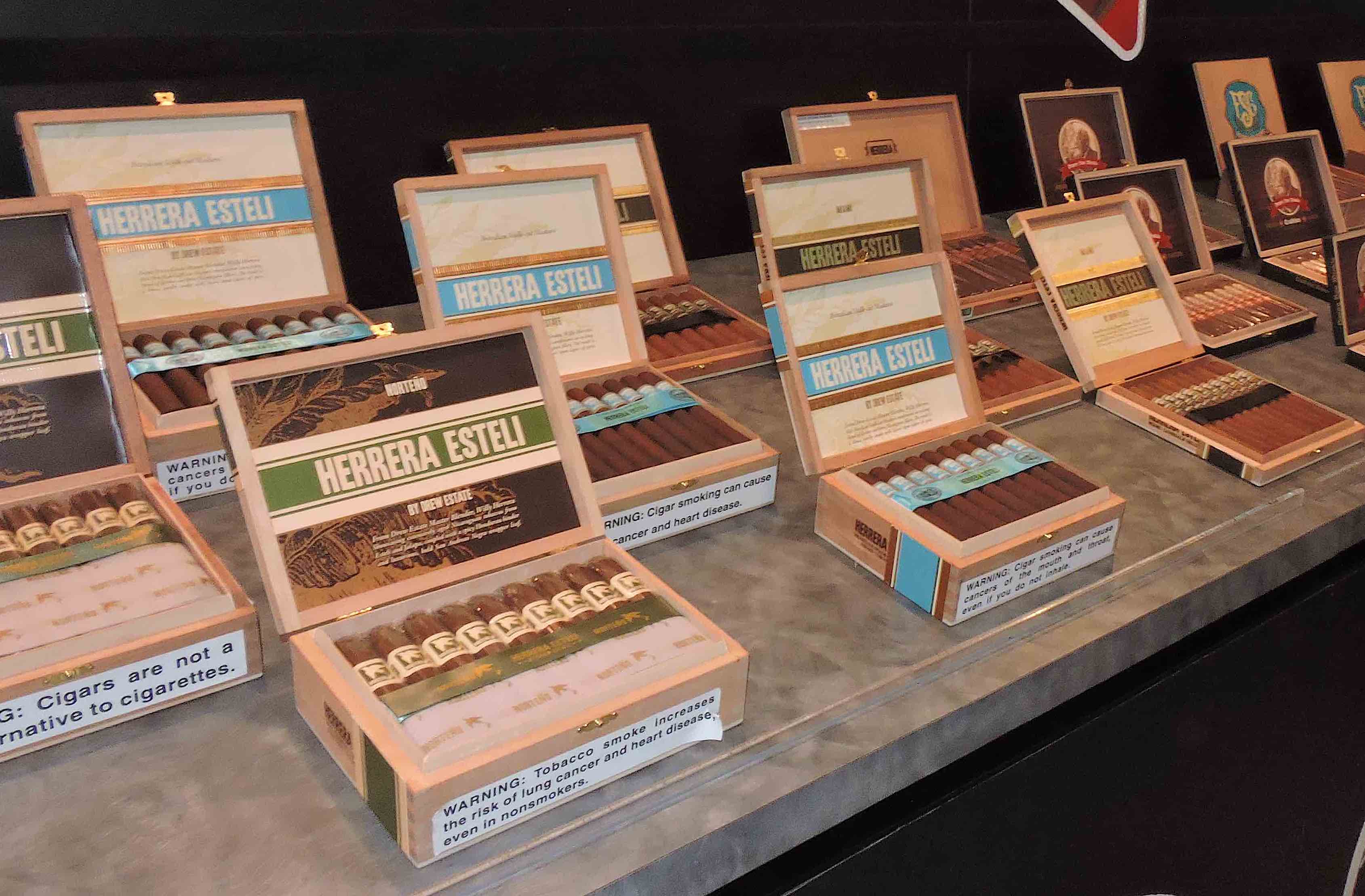 Finally, all of the Herrera Estelí packaging will have a common look and feel in terms of packaging – differentiated by color scheme – although Norteño keeps its existing green and white band with the motmot bird on it.
Kentucky Fire Cured
Drew Estate's Kentucky Fire Cured (KFC) line saw the introduction of a sweet-tipped cigar over a blend containing its signature fire-cured tobacco known as Kentucky Fire Cured Sweets.
Kentucky Fire Cured Sweets is a completely different blend. It features Kentucky seed tobacco that is grown and fired cured in Hopkinsville, Kentucky combined with Nicaraguan fillers and finished with a Mexican San Andres wrapper with a sweetened cap. Kentucky Fire Cured Sweets is available in three sizes packaged in soft count bundles that can be used in refillable boxes: Chunky (4 x 46), Fat Molly, (5 x 56), and Just a Friend (6 x 52).
One note is that while the original Kentucky Fire Cured branded cigars featured MUWAT branding, the Sweets does not incorporate this.
Factory Smokes
This is a new brand in the Drew Estate portfolio that will introduces a value-priced bundle offering into the portfolio. Factory Smokes by Drew Estate will consist of four distinct blends: Factory Smokes Sweet, Factory Smokes Maduro, Factory Smokes Shade, and Factory Smokes Sun Grown.
Pricing will be quite aggressive. The Factory Smokes Sweets will range from $36.00 to $48.00 for a 20 count bundle while the other three blends will be priced $40.00 to $52.50 for a 25 count bundle.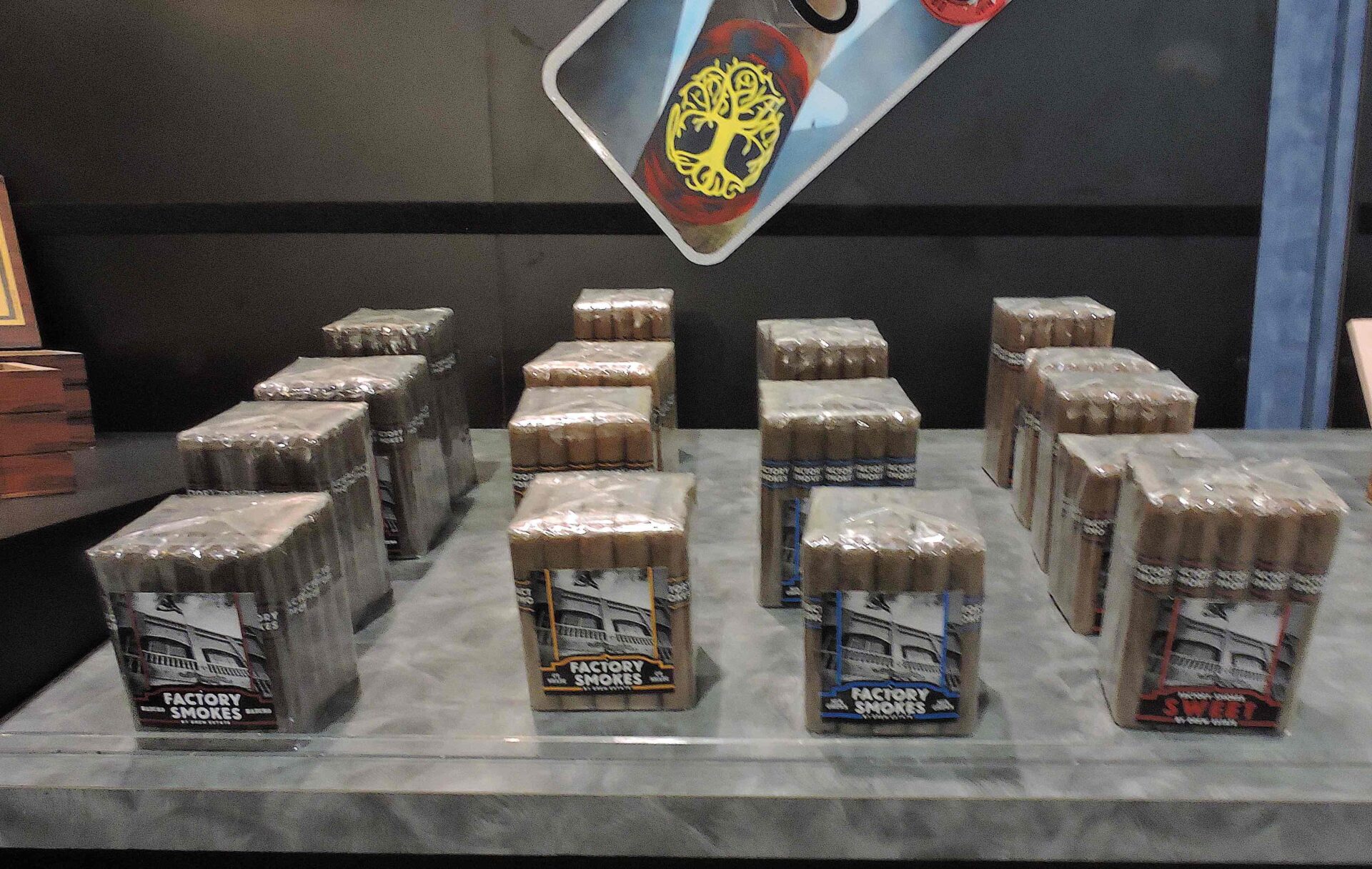 Isla del Sol
While it was somewhat of a quieter year for Drew Estate's infused brands, one brand that got some focus this year was Isla del Sol – a value priced line that has been a staple in the Drew Estate portfolio for many years.
This year, Drew Estate added the Isla de Sol Maduro.  It's the first maduro offering in the brand and it will also feature a sweetened cap. it will be available in four sizes: Robusto (5 x 52, MSRP $50/box); Toro (6 x 52, MSRP $54.00/box); Gran Corona (5 x 44, MSRP $46/box), and Churchill (7 x 50, MSRP $58.00).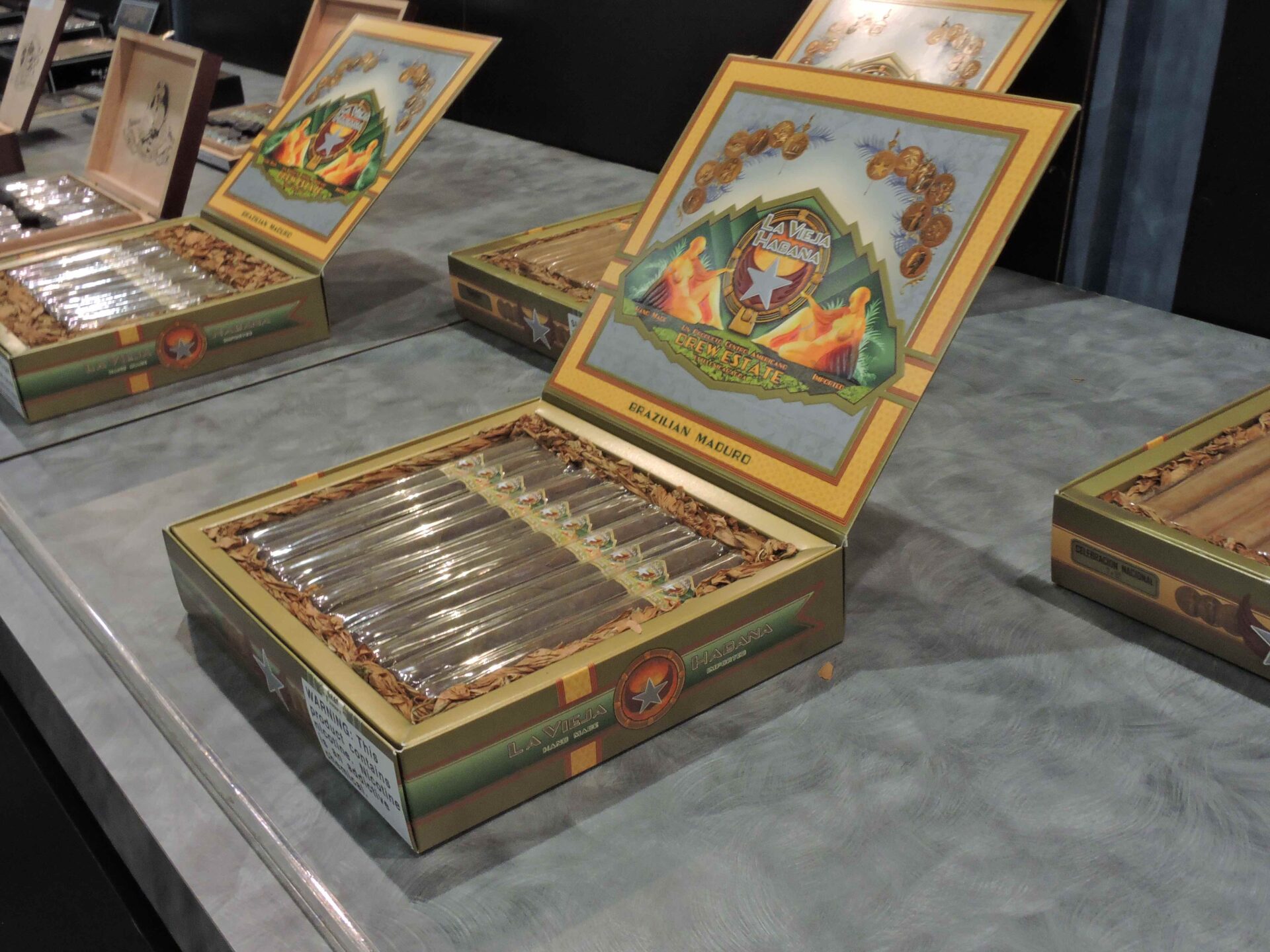 With the introduction of the Isla del Sol Maduro, the current Isla del Sol line is being re-branded as Isla del Sol Sun Grown. This year, Drew Estate has also added a 6 x 60 Gordito offering into Isla del Sol Sun Grown.
Coronets
Last year, Drew Estate introduced a series of 4 x 32 offerings packaged in tins across several of its brands known as Coronets. This year 14 new offerings were introduced. This includes 11 new Drew Estate offerings across six more of its brands as well as three Joya de Nicaragua offerings. This will bring the total number of Coronet offerings to 27.
Undercrown Sun Grown Coronets
Deadwood Baby Jane
La Vieja Habana Maduro Bomberito
La Vieja Habana Shade Bomberito
La Vieja Habana Sun Grown Bomberito
Isla del Sol Sun Grown Breve
Isla del Sol Maduro Breve
Ambrosia Clove Tikis
Kentucky Fire Cured Sweet Ponies
Kentucky Fire Cured Swamp Thang Ponies
Kentucky Fire Cured Swamp Thang Sweet Ponies
JOYA Black
JOYA Red
Joya de Nicaragua Antano 1970
There were a few additional items that were unveiled at the trade show. The Coronets cover a wide range of brands from value priced to premium ones. In order to offset the price point on some of the more value ones, there will be soft-packs introduced for brands falling into this category. The more premium offerings will remain in tins priced at $18.00 while the soft-packs are priced at $13.00. The premium offerings introduced in 2018 include Undercrown Sun Grown, Deadwood Baby Jane, and the Joya de Nicaragua Antano 1970.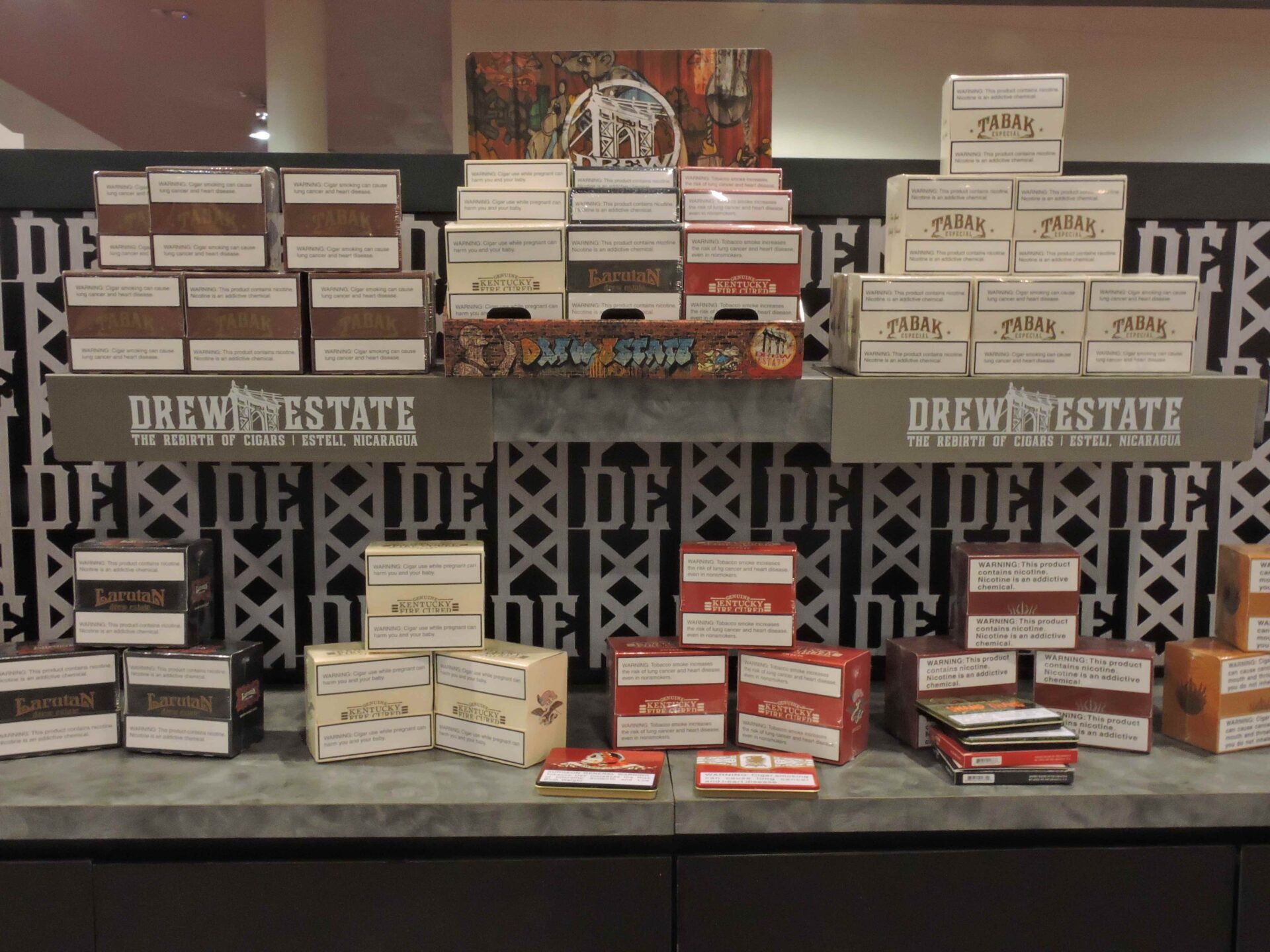 The new Coronet offerings still fit into the Water display tower that was introduced last year.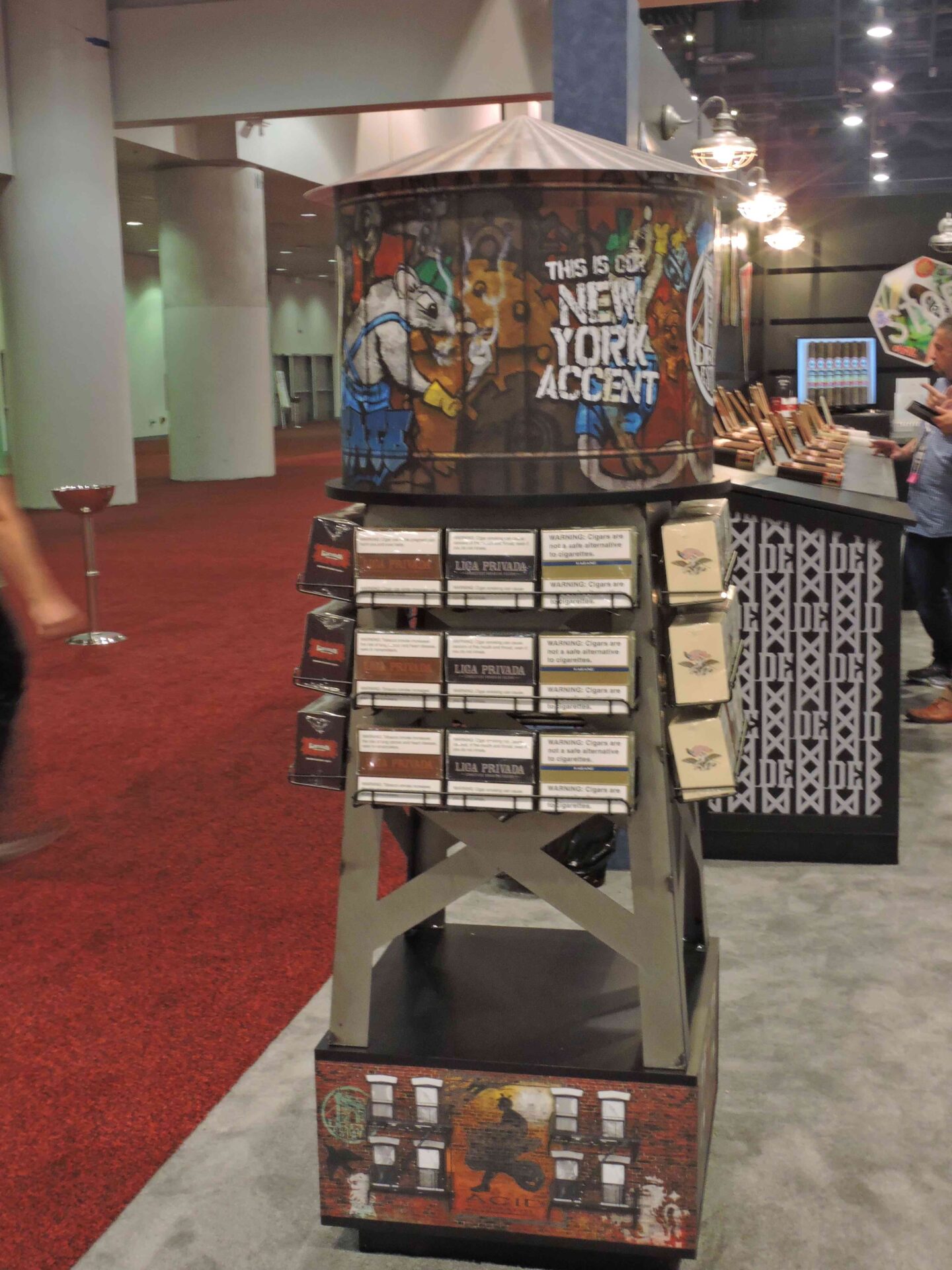 In addition, there were other water tower displays introduced designed to help retailers display the coronets who might not have the space available in their shops.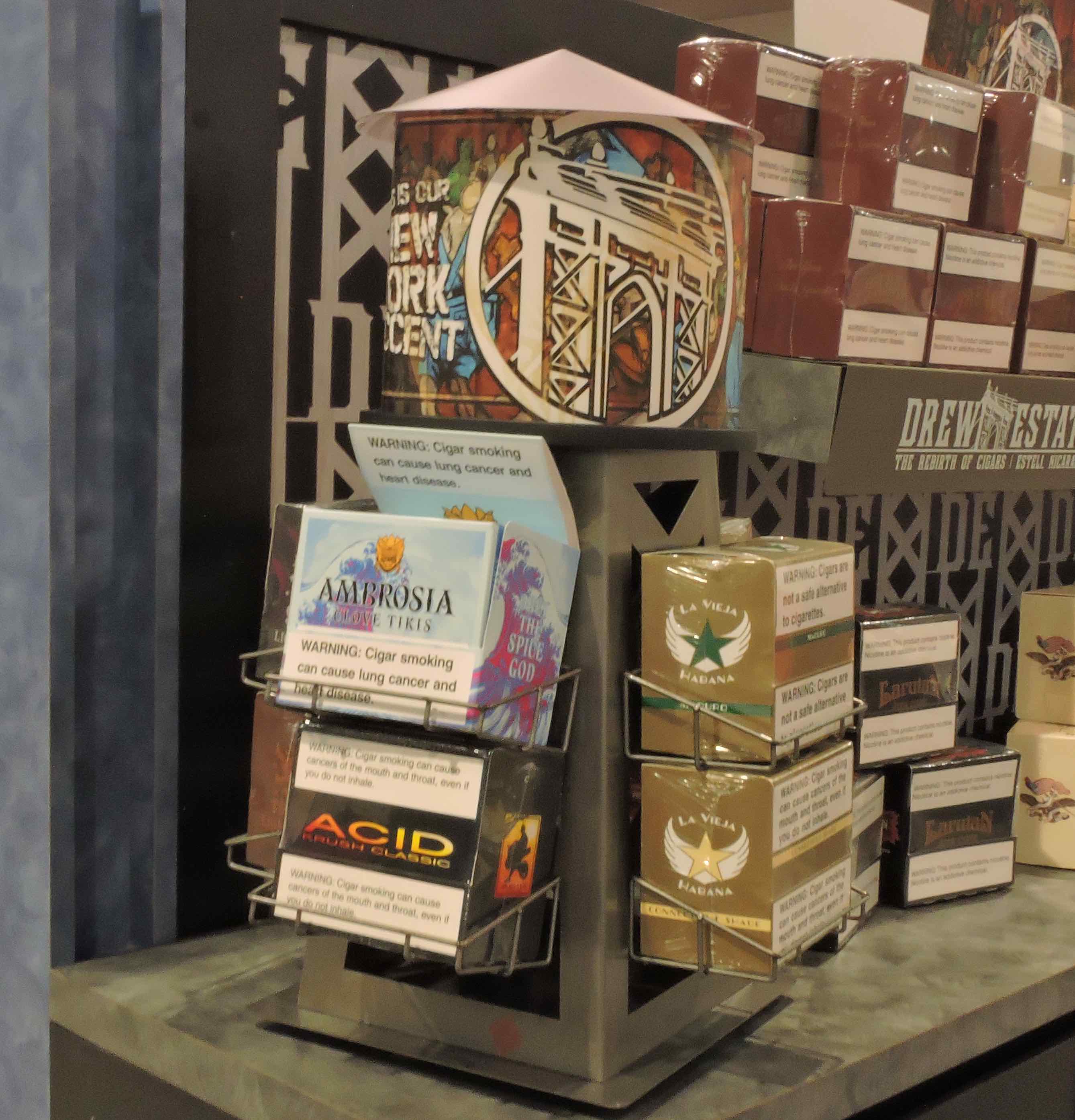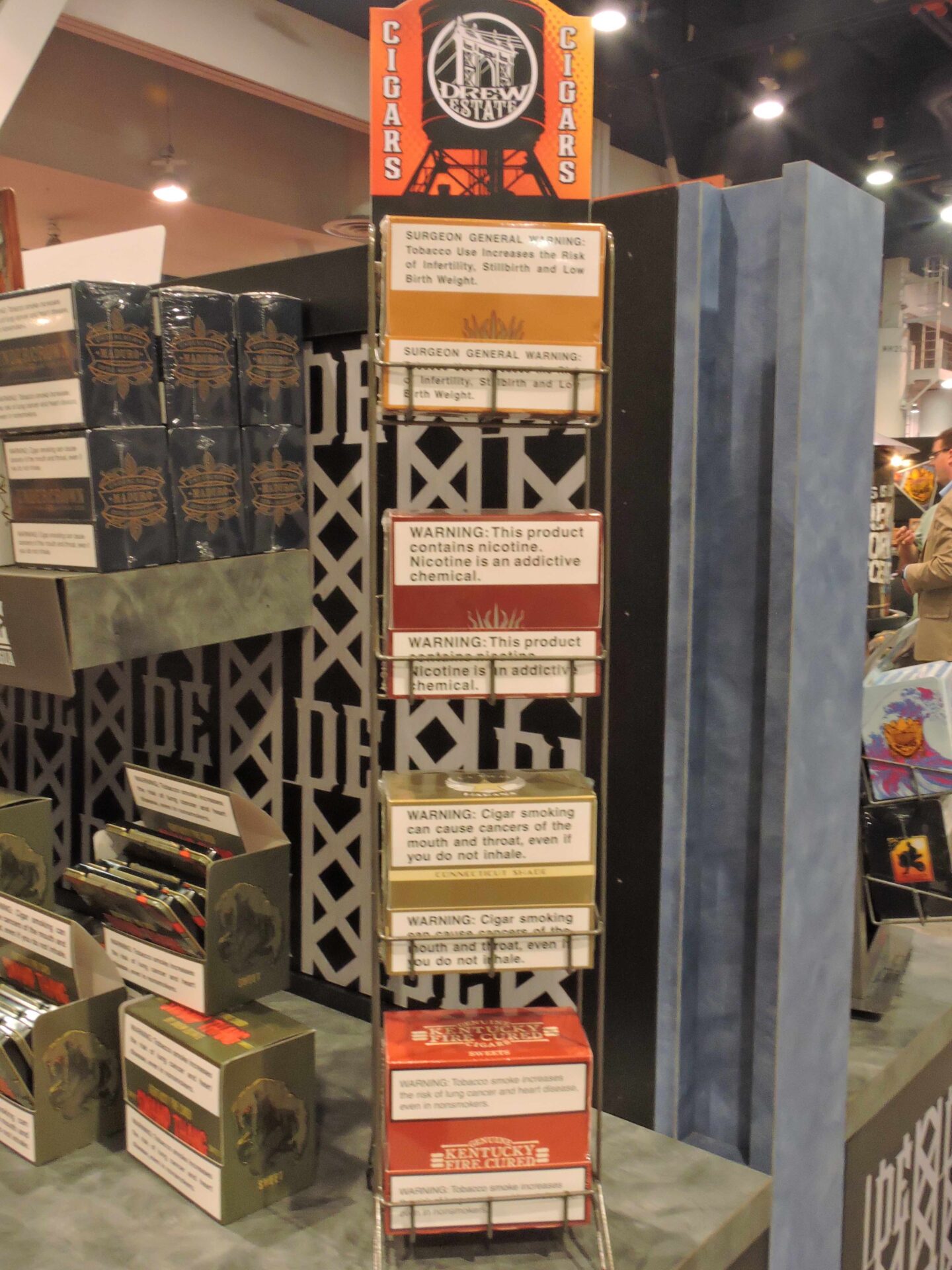 Joya de Nicaragua
We covered details of Joya de Nicaragua in our "Spotlight on Joya de Nicaragua at the 2018 IPCPR" Feature Story.
Debonaire
We covered details of Debonaire in our "Spotlight on Debonaire House at the 2018 IPCPR" feature story.
Who is Rick Ross?
As I was touring the Drew Estate booth, a crowd starting forming and a storm of cameras formed. I was curious to see what was happening at the booth, and the next I saw Drew Estate President and co-Founder Jonathan Drew engaged in a conversation with someone. I was not sure who that person was. When I was told it was Rick Ross, I replied "Who is Rick Ross".
I was extremely confused because Ross' badge said "William Roberts" on it. I learned Rick Ross is the stage name for Roberts who Hip Hop artist and producer.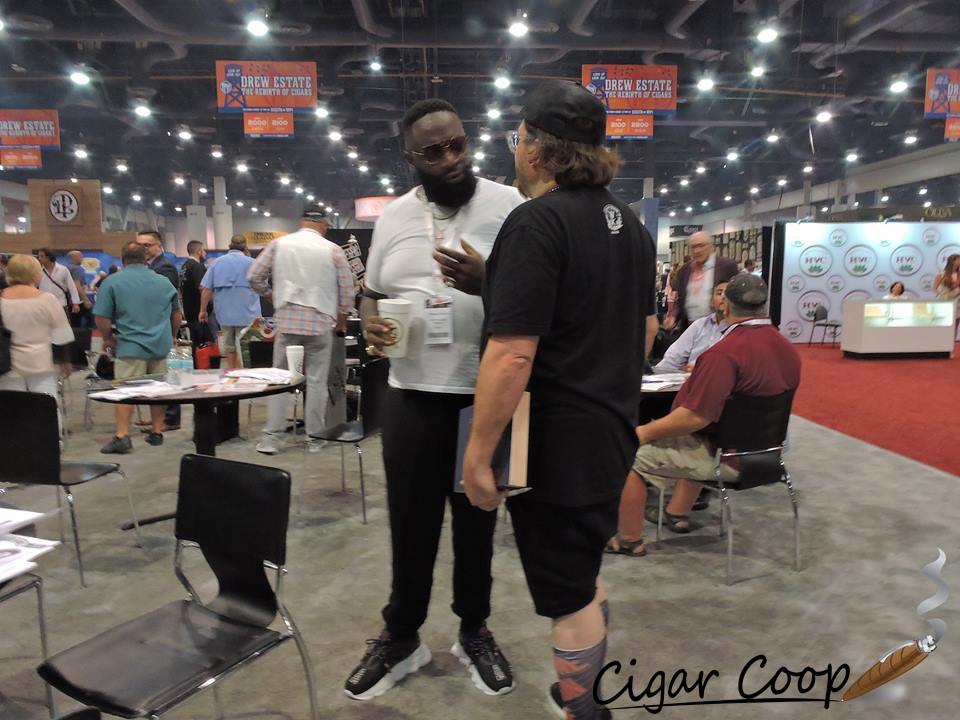 This was the second time in three years we saw someone of celebrity status a the Drew Estate booth. Two years ago, then World Flyweight Champion Ramon Chocolatito Gonzalez showed up at the booth.
2018 Product Reports
Photo Credits: Cigar Coop, except where noted