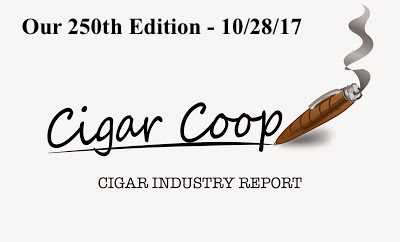 The Cigar Industry Report is a one-stop place to catch up on the activity here at Cigar Coop. It is a combination of the news reports, cigar reviews, and assessment updates we do throughout the week. In addition, each week we will look back at Cigar Coop history. Look for this report every Saturday morning at 8am Eastern Time.
Cigar Industry Report: Volume 6, Number 49 (Edition 250 10/28/17)
Feature of the Week: Milestone
Originally called Cigar Week Wrap, on January 19th, 2013 we launched a week in review on everything Cigar Coop and cigar industry related.  We've renamed it the Cigar Industry Report, but we have never missed a Saturday publishing. Today we are proud to publish the 250th consecutive week of this integral part of Cigar Coop. Thank you to our audience, partners, and sponsors for their support.
News and Previews
---
Assessments
Agile Cigar Reviews
House of Representatives: H.R. 564 is a proposed piece of legislation that calls for an exemption from FDA Regulation for premium handmade cigars. This week four new sponsors were added including Tom McClintock [R-California], Scott Perry [R-Pennsylvania], Luke Messer [R-Indiana], and Roger Williams [R-Texas]. The total number of sponsors is now 132.
U.S. Senate: S.294 is the Senate companion bill to H.R. 564.This week no new co-sponsors were added. The total number of sponsors remains 18.
House Bill 1136: H.R. 1136 is the legislation to change the Grandfather Date for Deeming Tobacco products subject to FDA Regulation from February 15, 2017, to 21 days after enactment of the regulations. This week no new co-sponsors were added. The total number of sponsors is now 88.
Cigar Coop Coffee Collection
Reminder, we have partnered with Layne Coffee to offer two unique coffee blends. We have the details here. You can also order your coffee here.
---
Prime Time Show
This week, we welcomed Fabian Ziegler of Drew Estate for Episode 27. In our Debonaire Ideal segment, we talked horror movies Finally, in our full Deliberation segment, we talked about Aaron Loomis' article "When a 90 is a not a 90".
We also had Prime Time Special Edition #15 where we welcome Jonathan Carney as our special guest.
Our shows are available on YouTube, Podbean, iTunes, Tune In Radio, and Google Play.
Upcoming Schedule (Subject to Change)
Episode 28 (11/2/17): Live from La Zona Palooza, Miami Florida
Episode 29 (11/9/17): Jeff Borysiewicz, Corona Cigar Company
Episode 30 (11/16/17): Ram Rodriguez, El Artista
Episode 31 (11/21/17): Oliver Niveud, United Cigars
Episode 32 (11/30/17): Carson Serino, Serino Cigar Company
Episode 33 (12/5/17): The Big Cigar Aficionado Top 25 Pre-Game

---
On this date October 28th…