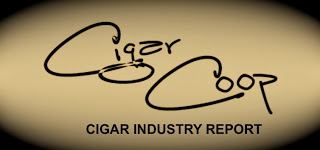 The Cigar Industry Report is a one stop place to catch up on the activity here at Cigar Coop and Stogie Geeks. It is a combination of our news reports, cigar reviews, and assessment updates we do throughout the week. We will also recap what happened on our Stogie Geeks show. Finally, each week we will look back at Cigar Coop history. Look for this report every Saturday morning at 8am Eastern time.


IPCPR 2014


Our 2014 IPCPR Digest is live. Follow this to keep track of all products and news related to this year's trade show in July.
We have completed our installments of our 2014 IPCPR Preview Series.
Part 1: "The Five Boutiques to Watch."
Part 2: The Potential Cigar Trends
Part 3: Manufacturer Spotlight
Part 4: Around the Show Floor (First Pass)
Part 5: Around the Show Floor (Second Pass)
Part 6: Predictions for the Five Hottest Cigars
Part 7: Around the Show Floor (Third Pass)
Feature of the Week: IPCPR Trade Show


The 82nd Annual Trade Show and Convention took place this week in Las Vegas. We will have continuing features and stories over the next couple of weeks. We took a look at the kickoff to the trade show.
IPCPR News and Previews
.
This following are stories from the IPCPR Trade Show:
Other News
Legislative News
Stogie Geeks