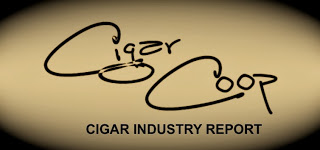 The Cigar Industry Report is a one stop place to catch up on the activity here at Cigar Coop and Stogie Geeks. It is a combination of our news reports, cigar reviews, and assessment updates we do throughout the week. We will also recap what happened on our Stogie Geeks show. Finally, each week we will look back at Cigar Coop history. Look for this report every Saturday morning at 8am Eastern time.


IPCPR 2014


Our 2014 IPCPR Digest continues to have recap content from the trade show added to it on a daily basis.
Feature of the Week: Moves

Two major changes in personnel occurred at companies this week. First up, Nate McIntyre, National Sales Director of House of Emilio announced his resignation from the company and that he was moving to Cubanacan Cigars as the Eastern U.S. Sales Manager.
Secondly, Grace Sotolongo, who was partnered with Christian Eiroa's CLE Cigar Company to found the Sotolongo Cigars brand has announced she is leaving the company.
IPCPR News and Previews
.
This following are stories from the IPCPR Trade Show:
Other News
Legislative News
FDA: Two new co-sponsors: Vance McAllister [R-Louisiana] and Colleeen Hanabusa [D-Hawaii] signed on to HR792. The total is now at 161 co-sponsors (162 total sponsors)
The period for Public Comment to the FDA's Deeming Document has been extended 30 days until August 8th. If you are looking for guidance on how to comment, follow the links below:


We have a digest below of our links and other useful links when making your response:
Assessments
Stogie Geeks Episode 104