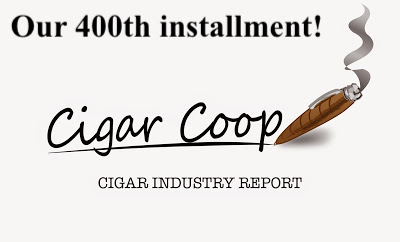 The Cigar Industry Report is a one-stop place to catch up on the activity here at Cigar Coop. It is a combination of the news reports, cigar reviews, and assessment updates we do throughout the week. In addition, each week we will look back at Cigar Coop history. Look for this report every Saturday morning at 8am Eastern Time.
Cigar Industry Report: Edition 400 (9/26/20)
The Headlines
TODAY IS THE 400th INSTALLMENT OF THE CIGAR INDUSTRY REPORT!
On January 26, 2013, we introduced a Saturday feature called "Cigar Wrap Week" meant to summarize all of the activities on Cigar Coop for the previous week. Eventually this morphed into the "Cigar Industry Report." For nearly each Saturday (with the exception of some IPCPR coverage), this has been a feature on Cigar Coop. Today we have published our 400th installment of this series.
Trump Administration to Stop U.S. Visitors from Importing Tobacco Products From Cuba
You won't be able to bring cigars back from Cuba anymore. In fact visiting the island nation 90 miles from Key West got more difficult. We've got the details here.
Cigar Coop Battle of the Bands Sampler Pack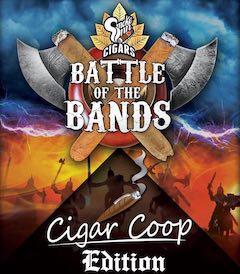 We are participating in a competition sponsored by Smoke Inn with other media brands to see who can build the best sampler pack. You can find out the details here and how to get the samplers.
The News
Summer of '20 Coverage
Our Summer of '20 product coverage wrapped up on September 16. We are still publishing additional Spotlight reports.
Summer of '20 Spotlights
Product Coverage
Other News
Legislative News
U.S. Senate: S.9 is a proposed piece of legislation that calls for an exemption from FDA Regulation for premium handmade cigars. This week no new co-sponsors were added. The total number of sponsors remains at 15.
U.S. House of Representatives: H.R.1854 is the House Companion Bill to S.9. This week no new co-sponsors were added. The total number of sponsors remains 85.
Cigar Reviews
Assessments
Features and Blog
The Blog
Prime Time Podcasts
Prime Time Show
Prime Time Special Edition
Prime Time Jukebox
Upcoming Schedule
9/28: Prime Time Jukebox Episode 19: Live in Concert!!
10/1: Prime Time Episode 158: Luis Falto, Falto Cigars
10/6: Prime Time Special Edition 85: Cigar Media & Aging Experiment #3
On This Date…
On this date Sept 26…
Sept 26, 2011: We assessed the Tatuaje Private Reserve (Tatuaje Black Label) Petit Lancero
Sept 26, 2012: We did an Assessment Update on the Tatuaje Little Boris.
Sept 26, 2013: We assessed the La Flor Dominicana Factory Press Limitado 2013
Sept 26, 2013: We reported an update on the shipping of the Camacho Liberty 2013.
Sept 26, 2013: We reported on three line extensions to the Quesada Heisenberg.
Sept 26, 2014: We assessed the Cigar Oasis Ultra 2.0.
Sept 26, 2015: We published the Cigar Industry Report: Volume 4, Number 44 (9/26/15)
Sept 26, 2016: We assessed the MBombay Vintage Reserve Lancero 1973
Sept 26, 2016: We reported on Clint Aaron joining City Place Cigar
Sept 26, 2017: We assessed the Todos Las Dias Double Wide Belicoso by Dunbarton Tobacco and Trust
Sept 26, 2017: We reported on Global Premium Cigars hiring Peter Gaudenzi as Director of European Development
Sept 26, 2017: We reported on the Camacho Imperial Stout Barrel-Aged to having a second release
Sept 26, 2018: We reported on Gurkha opening its first European Lounge in Berlin
Sept 26, 2018: We reported on the Oliva Serie V Melanio Edición Limitada 2018 making its debut at Inter-Tabac 2018
Sept 26, 2018: We reported on the Casa Turrent OSOK San Andres
Sept 26, 2019: We reported on Habanos S.A. announcing dates for XXII Festival Del Habano
Sept 26, 2019: We assessed the Henry Clay War Hawk Toro
Sept 26, 2019: We reported on the CRA voicing opposition to Dayton's Employment Policy around smokers and nicotine Users
Sept 26, 2019: We reported on Altria and Philip Morris International Merger talks ending