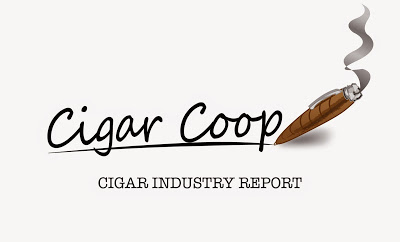 The Cigar Industry Report is a one-stop place to catch up on the activity here at Cigar Coop. It is a combination of the news reports, cigar reviews, and assessment updates we do throughout the week. In addition, each week we will look back at Cigar Coop history. Look for this report every Saturday morning at 8am Eastern Time.
Cigar Industry Report: Edition 504 (9/24/22)
The Headlines
El Septimo Announces Plan to Open 30 Cigar Retail Stores and First Cigar Lounge in U.S.
El Septimo Geneva today announced a plan to open 30 cigar retail stores in the United States. The company also announced it is opening a new lounge in Los Angeles. We got the details here.
Ace Prime Rebrands as Luciano Cigars; Crowned Heads Files Cease and Desist
Last week we reported th 2 1/2 year old strategic partnership between Crowned Heads and Ace Prime has come to an end. This past week Ace Prime has rebranded as Luciano Cigars, but its clear there is an acrimonious split as Crowned Heads announced it has filed a cease and desist against Luciano Cigars.
The News
Summer of '22 Reports
This week we wrapped up our Summer of '22 Reports
Product Reports
Other News
Legislative News
Cigar Reviews
Assessments
Agile Cigar Reviews
The Smoking Syndicate
Features and Blog
Feature Story
The Blog
Prime Time Podcasts
Prime Time Show
Prime Time Special Edition
Prime Time Jukebox
Upcoming Schedule
9/26 Prime Time Jukebox Episode 79: You Have to Hear This!
9/29 Prime Time Episode 243: Tim Ozgener, Ozgener Family Cigars
TBA Prime Time Special Edition 128 Aging Experiment #4 Conclusion
On This Date…
On this date Sept 24th…
Sept 24, 2010: We visited Nero's Cigars in Haddonfield, NJ
Sept 24, 2010: We took a look at Tropical Storm Matthew and its potential impact to Central America.
Sept 24, 2010: We assessed the Nestor Miranda's Art Deco Gran Toro.
Sept 24,2011:  We assessed the Gurkha Royal Challenge
Sept 24,2011:  We did assessment updates on the Room 101 Namakubi, Torano Loyal, and CAO OSA Sol.
Sept 24,2012: We previewed the CLE Connecticut.
Sept 24, 2012: We reposted the press release announce that Emilio Cigars would distribute Global Premium Cigars.
Sept 24, 2012: We did a pre-release assessment on the La Flor Dominicana Limitado V.
Sept 24, 2012: We previewed the Tatuaje TAA 2012.
Sept 24, 2013: We reported on the launch of MLB Cigar Ventures.
Sept 24, 2013: We assessed the Casa Fernandez Miami Reserva Maduro.
Sept 24, 2013: We reported on the Sons of Anarchy by Black Crown.
Sept 24, 2014: We assessed the Regius of London Claro Especial Exclusivo U.S.A. Fat Perfecto.
Sept 24, 2014: We did a Feature Story on "Enrique Sanchez Discusses 1502 Nicaragua and More"
Sept 24, 2015: We assessed the Gurkha Heritage Toro.
Sept 24, 2015: We reported on FedEx ending tobacco shipments.
Sept 24, 2016: We published Cigar Industry Report: Volume 5, Number 44 (9/24/16)
Sept 24, 2017: We assessed the Crux Passport Ninfamaniac
Sept 24, 2018: We reported on the Black Works Studio Boondock Saint returning for 2018
Sept 24, 2018: We reported on Gurkha Cigars naming Christine Martinez de Castro as Director of Marketing and Public Relations
Sept 24, 2019: We assessed the Crowned Heads Court Reserve XVIII Corona Gorda
Sept 24, 2020: We published the story, CAA Attests to Financial Leadership Role in Legal and Legislative Battles
Sept 24, 2020: We assessed the Rocky Patel Number 6 Robusto
Sept 24, 2020: We reported on the Plasencia Alma Del Campo Travesía Box Press
Sept 24, 2020: We published Summer of '20 Spotlight: MoyaRuiz Cigars
Sept 24, 2021: We reported on Ethan Holt joining Southern Draw Cigars
Sept 24, 2021: We reported on a proposed 96 Billion Dollar Tobacco Tax Increase clearing the Ways & Means Committee
Sept 24, 2021: We reported on Southern Draw Cigars seeking outside investors and expanded Sales Representation
Sept 24, 2021: We published Summer of '21 Report: General Cigar Company