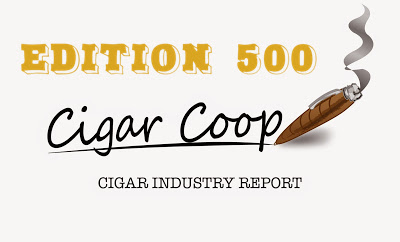 The Cigar Industry Report is a one-stop place to catch up on the activity here at Cigar Coop. It is a combination of the news reports, cigar reviews, and assessment updates we do throughout the week. In addition, each week we will look back at Cigar Coop history. Look for this report every Saturday morning at 8am Eastern Time.
Cigar Industry Report: Edition 500 (8/27/22)
The Headlines
TODAY IS THE 500th INSTALLMENT OF THE CIGAR INDUSTRY REPORT!
On January 26, 2013, we introduced a Saturday feature called "Cigar Wrap Week" meant to summarize all of the activities on Cigar Coop for the previous week. Eventually this morphed into the "Cigar Industry Report." For nearly every Saturday since then (with the exception of some IPCPR/PCA coverage), this has been a feature on Cigar Coop. Today we have published our 500th installment of this series.
Caraballo Splits from Tarazona; Tarazona Loses U.S. House Bid
Mario Caraballo has split from Tarazona Cigars. This week Caraballo announced he has launched Casa Caraballo Cigars, and he has taken the Caraballo branded cigars with him. Meanwhile, Tarazona Cigars' owner Eddie Tarazona has lost his bid for the U.S. House of Representatives as he was defeated in the GOP Primary.
The News
PCA Product Coverage
We are entering the home stretch.
PCA Post Game Reports
Other News
Legislative News
Cigar Reviews
Assessments
Agile Cigar Reviews
The Smoking Syndicate
Features and Blog
Feature Story
The Blog
See above (Cigar Coop 12 Year Anniversary)
Prime Time Podcasts
Prime Time Show
Prime Time Special Edition
Prime Time Jukebox
The Smoking Syndicate Roundtable
Upcoming Schedule
8/30 Prime Time Special Edition 126: Andy Yaffee, Micallef Cigar
9/01 Prime Time Episode 239: Casa 1901 Cigars
TBA Prime Time Jukebox Episode 78: TBA
On This Date…
On this date Aug 27th…
Aug 27, 2010: We covered an installment from Tales from the IPCPR – A Review of the 7-20-4 Cigar
Aug 27, 2011: We assessed the Viaje Platino Reserva VPR DT (Double Torpedo).
Aug 27, 2012:  We published Dan Tiant of Tiant Cigar Group.
Aug 27, 2012: We did a pre-release assessment of the Herrera Esteli by Drew Estate.
Aug 27, 2013: We reported on Jorge Padron and Jim Young being named to the CRA Board
Aug 27, 2013: We reported on new Executive Appointments at Joya de Nicaragua.
Aug 27, 2013: We assessed the 262 Revere Lonsdale (a J. Shepherd Retail Exclusive)
Aug 27, 2013: We posted a press release announcing Blessed Leaf.
Aug 27, 2013: We reported on D'Crossier Diplomacy Series Presidential Collection line extensions.
Aug 27, 2014: We reported on the Viaje Oro Reserva and Viaje Platino Reserva Churchill "Aficionado" line extensions.
Aug 27, 2014: We broke news on the return of My Father Cigars' El Rey de Los Habanos Returns as a shop exclusive to The Pipe and Pint in Greensboro, North Carolina.
Aug 27, 2014: We reported on the Viaje White Label Project (WLP) TB#7.
Aug 27, 2014: We assessed the 601 La Bomba Warhead II by Espinosa Cigars.
Aug 27, 2014: We reported on Camacho Cigars' distribution agreement in Canada.
Aug 27, 2015: We assessed Tatuaje The Jackal.
Aug 27, 2016: We reported on the Perdomo Edicion de Silvio Relaunch
Aug 27, 2016: We reported on the JC Newman Brick House Maduro Toro
Aug 27, 2016: We reported on the La Aurora 107 15 Minute Break Showcased at the 2016 IPCPR
Aug 27, 2016: We published Cigar Industry Report: Volume 5, Number 40 (8/27/16)
Aug 20, 2017: We published the feature story, Spotlight on D'Crossier Cigars at the 2017 IPCPR Trade Show
Aug 27, 2018: We published the feature story, Spotlight on Caldwell Cigar Company at the 2018 IPCPR
Aug 27, 2018: We published the feature story, Spotlight on PDR Cigars at the 2018 IPCPR
Aug 27, 2018: We assessed the La Palina Number Series LP01 Robusto
Aug 27, 2019: We reported on the Drew Estate ACID 20
Aug 27, 2019: We reported on the return of the My Father El Hijo
Aug 27, 2019: We published the feature story, IPCPR 2019 Spotlight: Oveja Negra Brands
Aug 27, 2019: We reported on Altria and Philip Morris International Merger Talks
Aug 27, 2020: We published The Blog: Summer of '20 "The Big Board" (8/27/20) – Winding Down?
Aug 27, 2020: We published Summer of '20 Spotlight: Aganorsa Leaf
Aug 27, 2021: We published PCA 2021 Report: Casa 1910
Aug 27, 2021: We published The Smoking Syndicate – Camacho Factory Unleashed